The Microsoft Management Console (MMC), which is represented by the process mmc.exe manages administrative snap-ins for Windows. If any of the concerned snap-ins like Device Manager, Group Policy Editor, Disk Management, etc, crash, it is quite possible that the MMC is responsible. In such a situation, you might get to see an error dialog box that says:
Microsoft Management Console has stopped working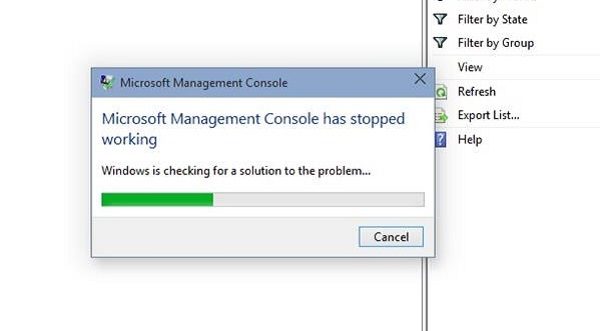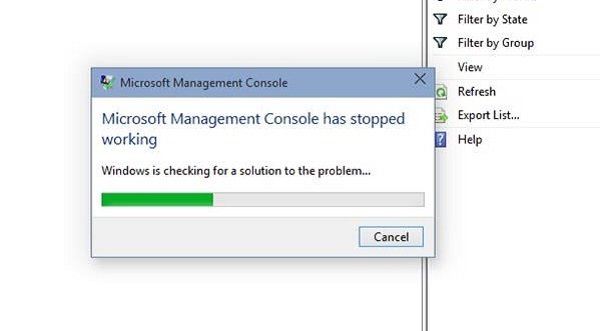 When Snap-ins or DLL cause MMC.exe to get blocked or cause a crash error. Such crashes might be related to incompatible application DLLs attached to the mmc.exe process.
The first step upon encountering this error should be to reboot the system. There's a chance that it would actually help. Try updating Windows and rebooting the system again if that helps. If not, we could proceed with the following troubleshooting steps:
1] Troubleshoot in Clean Boot State

Suppose you installed a software any recent and you suspect it might be causing a problem, try uninstalling it and restarting the system. Should that not resolve the problem, you could perform a Clean Boot and try to identify the offending program that may be causing MMC to not open.
When you start the computer in clean boot, the computer starts by using a pre-selected minimal set of drivers and startup programs, and because the computer start with a minimal set of drivers, some programs may not work as you expected. Clean-boot troubleshooting is designed to isolate a performance problem. To perform clean-boot troubleshooting, you must take a number of actions, and then restart the computer after each action. You may need to manually disable one item after another to try and pin point the one that is causing the problem. Once you have identified the offender, you can consider removing or disabling it.
Fix: MMC could not create the snap-in
2] Run System File Checker scan
The error is associated with the mmc.exe process and might occur when the DLL's attached to the process are corrupt or incompatible. Try the system file checker scan to repair the corrupt DLL's and verify if it resolves the issue.
3] Repair Windows System Image

Ideally, the System File Checker scan should be able to repair the corrupt and incompatible DLL's, but if not, then run DISM to repair a possibly corrupt system image.
4] Check for error in the Event Viewer
The Event Viewer log displays system error log files, so that you can go through them and identify the errors and messages:
To open the Event Viewer program, search for the program in the Windows search bar.
If you find events marked as an error with a red exclamation mark, double-click on the event for the details of the issue and resolve them accordingly.
I hope something helps.