Microsoft 365 Groups is a service that works with the Microsoft 365 tools such as Outlook. However, one of the most significant issues reported with the service is that the Microsoft 365 groups are not visible in Outlook. This post looks at the possible solution that will help users to make the Microsoft 365 Groups visible and use them efficiently.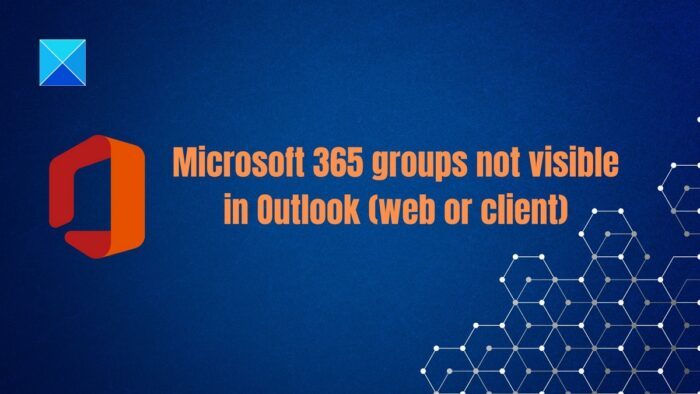 Why are Microsoft 365 groups not visible in Outlook?
The problem is that there is no switch on the interface that can enable and disable it. The group is not visible on the left-hand navigation or the global address list (GAL). Added to this, users cannot search or browser based on the name or nor can they find it using the discover option. Since the default setting is false, the groups are not visible.
Microsoft 365 Groups not visible in Outlook Client or On The Web
Follow these suggestions to make the Microsoft 365 groups visible on the web or client.
Check if you are a group member
Turn off cached exchange mode
Enable Unified Group Switch
You will need to have enough permission to run the PowerShell command.
1] Check if you are a group member
Even if you are the creator of the Microsoft 365 group, you need to add yourself to the group. Only when you do that, the group is visible in Outlook. In Microsoft 365, owners and members are treated differently. You can be the admin or owner of the group, but when you add your account to it, it becomes available in Outlook.
2] Turn off cached exchange mode
Outlook also has a built-in cache mode for Exchange accounts like any other software. The mode keeps copies of your mailbox and message groups on your PC. It helps when you quickly want to access your data. If the cache has become stale or is not updating, then it can be why you cannot see the Microsoft 365 groups.
To turn off or disable cache mode, follow these steps:
Click File > Account Settings > Account Settings
Click Exchange or Microsoft 365, and then click Change
It will open the Exchange account settings.
Uncheck the option that says Use Cached Exchange Mode to download email to an Outlook data file
Click on the More Settings button, and switch to the Advanced Tab
Uncheck the following options

Use Cached Exchange Mode
Uncheck Download Folders

Apply the changes.
Close Outlook and restart. Check if the issue has been resolved.
3] Enable Unified Group Switch
The last suggestion is to run the Unified Group Switch from elevated PowerShell or Windows Terminal. This option is unavailable through the user interface and can only be changed using PowerShell commands.
Set

-

UnifiedGroup

 groupname 

-

HiddenFromExchangeClientsEnabled

:

$false
The switch specifies whether the Microsoft 365 Group is hidden from Outlook clients connected to Microsoft 365. It will also help the users to subscribe or unsubscribe to a Microsoft 365 Group.
Conclusion
It would have been great if Microsoft had an option available on both the client and the web. It becomes annoying when users can find the option related to features that is part of the experience. I hope the post was easy to follow and you were able to fix the problem related to Microsoft 365 groups not visible in Outlook.
What are Microsoft 365 groups?
The Microsoft 365 group feature lets you create a collection of resources for people to share and collaborate with. Resources such as an Outlook inbox and a calendar can be shared to collaborate on files.
When you add members, the permissions they need for your group's tools are automatically assigned to them. Furthermore, groups are a new and improved way to do what used to be done through distribution lists or shared mailboxes.
What are the types of groups in Microsoft 365?
The list includes Microsoft 365, Distribution groups, Security groups, Mail-enabled security, Shared mailboxes, and Dynamic distribution groups. Shared mailboxes are used when multiple people need access to the same mailbox, while Microsoft 365 Groups are used for collaboration between users inside and outside your company.
What is the difference between SharePoint groups and Office 365 groups?
Office 365 Groups grant permissions to all Office 365 applications, including SharePoint Online (there are only two groups: Members and Owners). The SharePoint Groups provide access to only SharePoint content, like lists and libraries (Groups and Permissions are free to customize.