The Media Feature Pack is the primary package which installs the Windows Media Player and other related files which are needed by associated software products. An important DLL file in the package, mfplat.dll is needed by many streaming services and games. If this file goes missing, you may receive any one of the following error messages:
mfplat.dll missing
The application failed to start because mfplat.dll was not found
The program can't start because mfplat.dll is missing from your computer.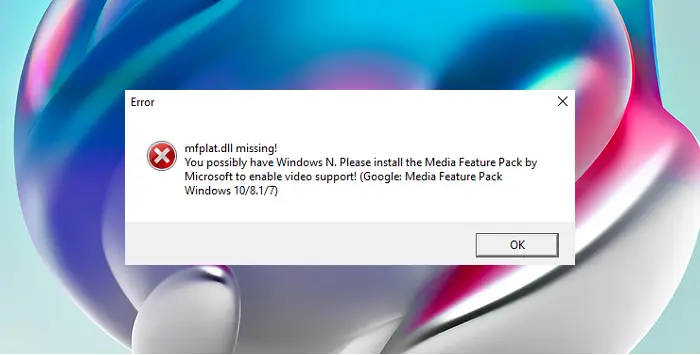 In some cases, especially for those who use Windows N, the Media Feature Package doesn't come pre-installed with the main Windows package, thus causing the error:
Mfplat.dll was not found
The main cause is that users who use Windows 11/10 N do not get the Media Feature Pack pre-installed with the installation package. Other than this, the installation package could go missing if after a few Windows updates or if it is accidentally uninstalled.
The resolution primarily involves reinstalling the package and activating it. Try the following:
1] Install the Media Feature Pack from the installation website
In case you are using Windows N, the Media Feature Pack wouldn't come pre-installed with the operating system.
To verify the version of Windows, go to Start  > Settings >  System >  About, and check the details.
If it is Windows 11/10 N, download the Media Feature Pack for your Windows version
Remember to select the version which matches with the build of your operating system. Reboot the system after the installation.
This method also works with other versions of Windows in which the Media Feature Pack isn't present for some reason.
2] Enable the Media Feature Pack using elevated Command Prompt
You might receive the error in the discussion even if the Media Feature Pack is installed. This is because, at times, some Windows disables this feature. You can enable it again through elevated Command Prompt as follows:
Search for Command Prompt in the Windows search bar. Right-click on the option and select Run as administrator.
Type the following command in the elevated Command Prompt window and hit Enter to execute it:
dism /online /enable-feature /featurename:MediaPlayback
Reboot the system once the command has executed.
This should help!
NOTE: Please do not download the mfplat.dll file separately from the internet.
Related: Download Media Player for Windows 10 K and KN Editions.