If Malwarebytes is causing high CPU and Memory usage issues on Windows 11/10, follow these troubleshooting tips and tricks to fix it. There could be various reasons why Malwarebytes is in such an unusual state. However, here are some of the possible causes and corresponding solutions that you can perform on your computer.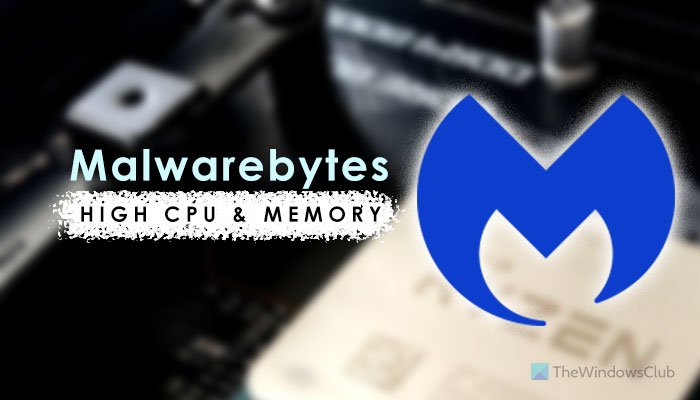 Fix Malwarebytes high CPU and Memory usage
To fix Malwarebytes high CPU and Memory usage on Windows 11/10, follow these steps:
Close Malwarebytes process from Task Manager
Disable auto malware quarantine
Restore default Exploit protection
Increase Update threat intelligence time
Search for updates
Restart Malwarebytes service
Reinstall Malwarebytes
To learn more about these solutions, continue reading.
1] Close Malwarebytes process from Task Manager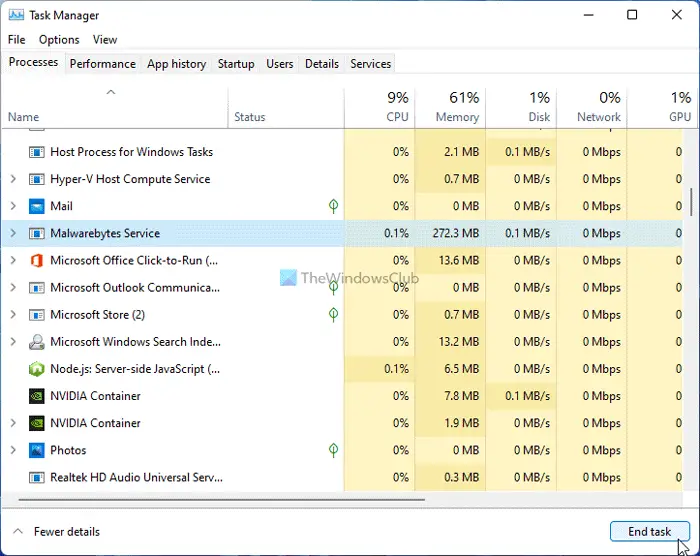 It is not a permanent solution, but you can do this to fix the issue temporarily. When Malwarebytes consumes a high amount of resources, you won't properly access the computer. That is why you should end all the Malwarebytes processes from Task Manager to go ahead with other solutions. For that, you can open the Task Manager on your computer, find out the Malwarebytes processes one after one, and click the End process button.
2] Disable auto malware quarantine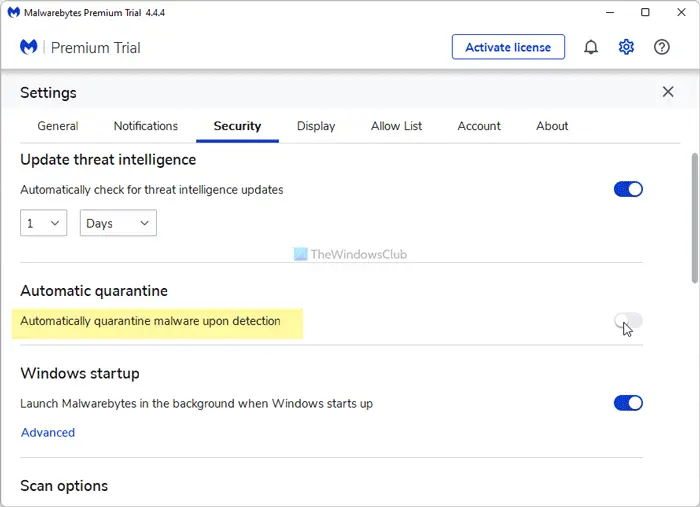 Malwarebytes automatically quarantines malware when detected on your computer. It is the standard behavior of anti-malware software, and this security tool follows the same method. However, the same feature can cause high CPU and Memory usage on your computer, making it slower than usual. Therefore, do the following:
Open Malwarebytes on your computer.
Click the settings gear icon visible on the top-right side.
Switch to the Security tab.
Toggle the Automatic quarantine button.
Disabling this option might solve the problem, but it makes your computer partially vulnerable since you need to do the quarantine job manually.
3] Restore default Exploit protection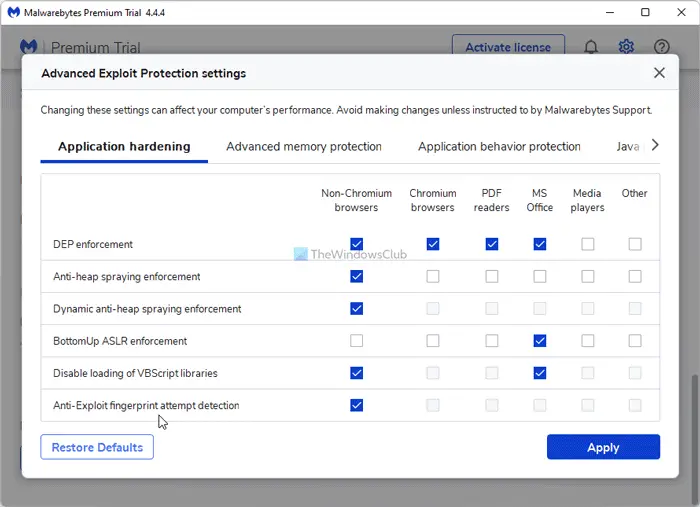 Malwarebytes offers tons of options, allowing you to set various things as per your needs. You can enable or disable a certain feature according to the app or other filters. However, these changes may cause a high resource usage issue on your computer. Therefore, follow these steps to restore the default settings:
Open the Malwarebytes app on your PC.
Click the settings gear icon.
Go to the Security tab.
Click the Advanced settings button.
Click on the Restore Default button.
Click the Apply button.
Now follow the first solution on this list to close all the processes of Malwarebytes and restart it.
4] Increase Update threat intelligence time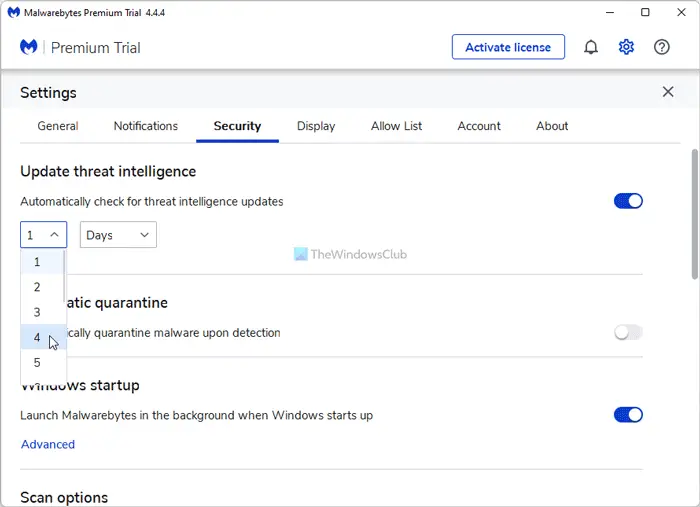 By default, Malwarebytes searches for new threat intelligence updates every hour. For that, it requires some amount of CPU resources and an internet connection on your computer. If you increase the interval, it won't search for the update as frequently as the default setting. For your information, you can set it anything from 1 minute to 14 days. To do that, follow these steps.
Click the settings icon in the Malwarebytes window.
Go to the Security tab.
Find out the Update threat intelligence label.
Choose a time from the drop-down menus.
Now, restart Malwarebytes and check if the problem resolves or not.
5] Search for updates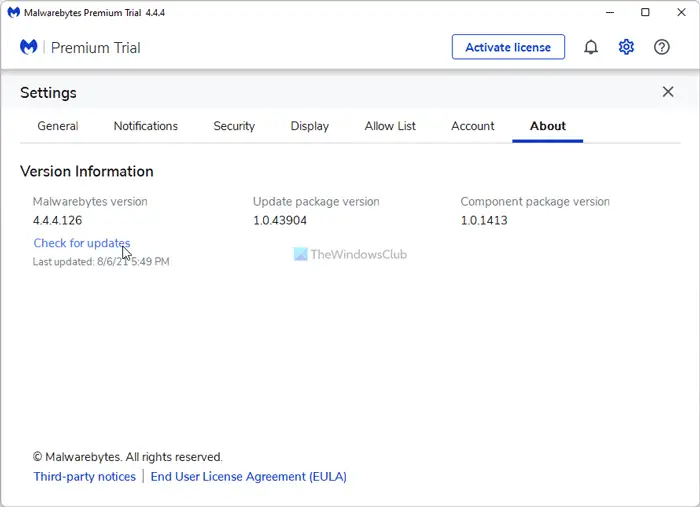 Malwarebytes repeatedly acknowledged the high CPU usage problem in the past. They released minor updates to fix the issue earlier. If the same thing is happening now, you might get this problem on your computer. Therefore, search for updates and install them accordingly. To search for available updates, do the following:
Click on the settings icon.
Switch to the About tab.
Click the Check for updates button.
If an update is available, it will be downloaded and installed automatically.
6] Restart Malwarebytes service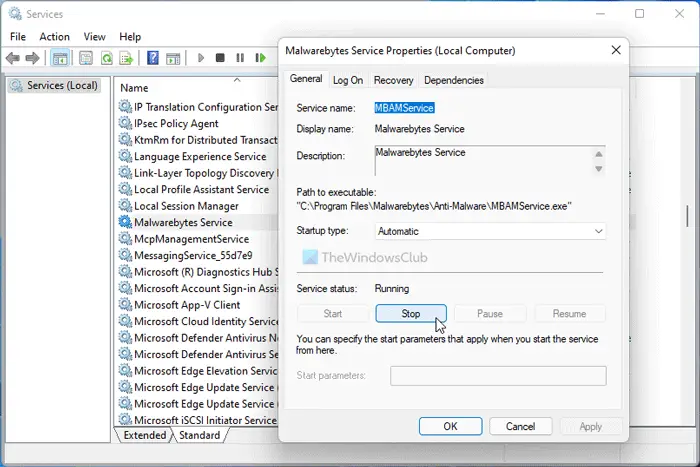 There is a Malwarebytes service in the Services panel that you can restart to check if that resolves your problem or not. For that, do the following:
Search for services in the Taskbar search box.
Click on the individual result.
Double-click on the Malwarebytes Service.
Click the Stop button.
Click on the Start button.
Click the OK button.
Now check if Malwarebytes is consuming the same CPU and Memory as before or not.
7] Reinstall Malwarebytes
It is probably the last solution you want to follow. However, countless threads on the official Malwarebytes forum suggest that doing the reinstallation has fixed this issue. However, you should remove all the leftovers before reinstalling the app. Although Malwarebytes Support Tool may help you in this case, it is recommended to use third-party software uninstaller, such as Revo Uninstaller, CCleaner, etc.
Following that, you can download the app from the official website and activate it with your product key.
Read: Malwarebytes won't open.
Why does Malwarebytes use so much CPU?
Malwarebytes requires running various processes in the background to provide the most secure environment for you. When a program runs so many processes, it automatically starts consuming more than usual resources on any computer.
Can Malwarebytes slow down your PC?
Yes and No. Yes – Many people have claimed that their PCs got slower after installing Malwarebytes. However, it depends on the hardware configuration, other software, etc. No – it is not the intention of Malwarebytes to slow down your computer. However, things might go wrong on your computer, causing high CPU and Memory usage issues.
That's all! Hope these solutions helped you fix the Malwarebytes high CPU usage problem on your computer.