When the screen is set to a high resolution, you may find it hard to view items on your screen especially, if they are small in size. The blinking cursor in Windows 11/10/8/7 may appear too thin, small, or slim for your eyes. Nevertheless, you can configure the thickness of the blinking cursor at your convenience so that you do not strain your eyes much.
We will follow the traditional route for this configuration, i.e. via Control Panel. Via the Control panel, you can make your blinking mouse cursor larger, bigger, or thicker and easier to see, in Windows 11/10/8/7.
Make Mouse Cursor Bigger
The blinking cursor in Windows is thin, and sometimes it can be very hard to find. In case you want it to be made a little thicker, you can do it as follows :
Go to Control Panel > Ease of Access > Optimize visual display.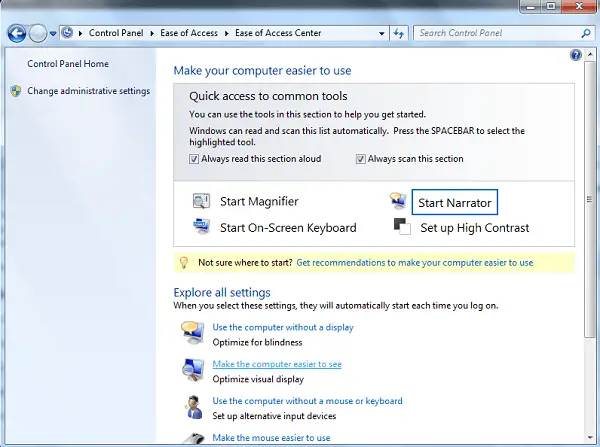 Towards the bottom of this page, you will see a "Make things on the screen easier to see or Make the computer easier to see".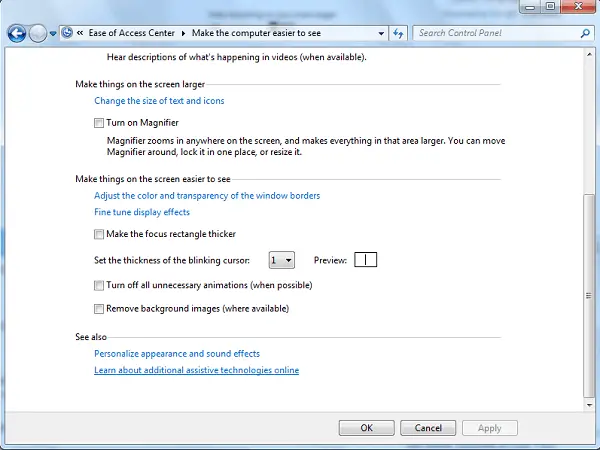 From here, you can make your cursor thicker.
The default is 1. Even making it '2' is good enough. See what suits you.
You can also make the Windows cursor blink faster using Registry.
TIP: Learn how to change Windows 11/110 Cursor Thickness & Blinking Rate to make it more visible. Go here if you want to make the cursor blink faster.