Windows 10 too lets you quickly launch the pinned taskbar programs quickly using Hotkeys. Windows by default assigns shortcut key combinations to the first ten items you place in the Taskbar or the Quick Launch Bar. We will also show you how to launch pinned taskbar programs using Hotkeys in Windows. This post will also show you how to assign a shortcut key to any program and open it with keyboard shortcuts.
Launch Pinned taskbar programs using Hotkeys
To launch pinned taskbar programs, press the Windows Key and the number corresponding to the icon. For instance, to launch the 5th pinned program in the taskbar, press Win+5.
These would be the Windows Quick Launch Hotkeys, in the following image:
Win+1 – Internet Explorer
Win+2 – Windows Explorer
Win+3 – Windows Media Player
Win+4 – Firefox.
Open program with keyboard shortcut
You can also assign a quick-launch hotkey to any installed program. All a user interest in assigning a hotkey has to follow this simple procedure.
Right-click the program's icon, choose Properties, and then click the Shortcut tab.
Next, click once in the Shortcut key field, then press the hotkey combo you want to assign (Ctrl-Shift-F, for instance). Then, click OK, and you're done!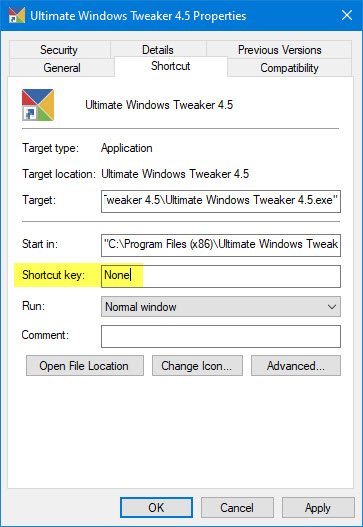 Launching of programs doesn't get any faster than this!
Windows 10/8/7 appears to be the most keyboard-friendly operating system. Without even holding the mouse in your palm, you can dock any window, launch your favorite software, and do a lot more.
All you need to have is a good memory (not computer memory – but your own memory) to remember different key-combos, but believe once you get through, doing or completing your daily tasks becomes much simple and who knows, you might even find it hard to get along without them.