In this post, we will show you how to find and list all assigned Shortcut Keys (hotkeys) for Shortcuts for your account in Windows 11/10. There are many such hotkeys and it is always a good idea to know them all.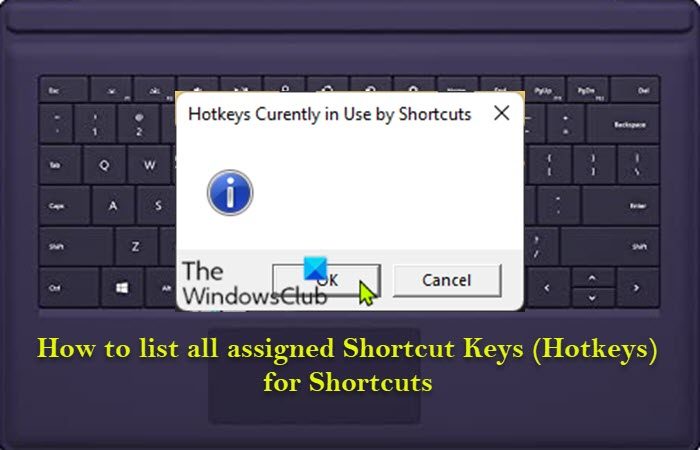 List all assigned Shortcut Keys (Hotkeys) for Shortcuts in Windows 11/10
A shortcut is a link to an item (such as a file, folder, or app) on your PC. You can create and assign a keyboard shortcut to open your favorite Website, to open a shortcut on your desktop, taskbar, and Start menu. There are quite a number of Windows 11 Keyboard shortcuts every PC user should know. To list all assigned Shortcut Keys for Shortcuts on your Windows 11/10 PC, do the following:
Press Windows key + R to invoke the Run dialog.
In the Run dialog box, type notepad and hit Enter to open Notepad.
Copy and paste the winhelponline code below from GitHub into the text editor.
Option Explicit
Dim objFSO: Set objFSO = CreateObject("Scripting.FileSystemObject")
Dim WshShell: Set WshShell = WScript.CreateObject("WScript.Shell")
Dim arrFolders, objFolder, fldr, colfiles, colFolders
Dim objFile, objSubFolder, oShellLink, strHotKey

arrFolders = Array ( _
WshShell.SpecialFolders("AllUsersDesktop") _
, WshShell.SpecialFolders("Desktop") _
, WshShell.SpecialFolders("AllUsersStartMenu") _
, WshShell.SpecialFolders("StartMenu") _
, WshShell.SpecialFolders("AppData") & _
"\Microsoft\Internet Explorer\Quick Launch" _
)

For Each fldr In arrFolders
If objFSO.FolderExists (fldr) Then Call GetHotKeys (fldr)
Next

Sub GetHotKeys (strFolder)
Set objFolder = objFSO.GetFolder(strFolder)
Set colFiles = objFolder.Files
For Each objFile In colFiles
If LCase(objFSO.GetExtensionName(objFile.Name)) = "lnk" Then
Set oShellLink = WshShell.CreateShortcut(objFile.Path)
If Trim(oShellLink.Hotkey) <> "" Then
strHotKey = strHotKey & "[" & Trim(oShellLink.Hotkey) & _
"]" & vbCrLf & objFile.Path & vbCrLf & vbCrLf
End If
End If
Next
Set colFolders = objFolder.SubFolders
For Each objSubFolder In colFolders
GetHotKeys(objSubFolder)
Next
End Sub

WshShell.PopUp strHotKey,,"Hotkeys Curently in Use by Shortcuts", 65
Set WshShell = Nothing
Set objFSO = Nothing
Now, click the File option from the menu and select Save As button.
Choose a location (preferably desktop) where you want to save the file.
Enter a name with .vbs extension (eg; ListHotKeys.vbs).
Choose All Files from the Save as type drop-down list.
Now, double-click the saved .vbs file to run the script.
If you have hotkeys assigned, you will now get an output listing all hotkeys currently in use by shortcuts; otherwise, you'll receive a blank prompt as you can see on the lead-in image above.
Use free tools to list Hotkeys
You can also use HotKeysList from Nirsoft or ActiveHotkeys from Donation Coder to display the Global Hotkeys list in Windows.
That's it on how to list all assigned Shortcut Keys for Shortcuts in Windows 11/10!
Related post: Assign common hotkeys to all Media Players on your Windows PC
How do I see all keyboard shortcuts?
There are tons of shortcuts hidden inside your keyboard. To see all keyboard shortcuts for your system, press Ctrl + Alt + ? on your keyboard – this action wil now open up the Keyboard shortcut overview.
What are the 10 shortcut keys?
Below are the top 10 keyboard shortcuts we recommend everyone memorize and use:
Ctrl+C or Ctrl+Insert and Ctrl+X. Both Ctrl + C and Ctrl + Insert will copy highlighted text or a selected item.
Ctrl+V or Shift+Insert.
Ctrl+Z and Ctrl+Y.
Ctrl+F and Ctrl+G.
Alt+Tab or Ctrl+Tab.
Ctrl+S.
Ctrl+Home or Ctrl+End.
Ctrl+P.
What is Ctrl F for?
"Control+F" (or "Command+F" on a Mac) is the keyboard shortcut for the Find command. If you're in a document or in a web browser, pressing the Ctrl key + the F key will bring up a search box in the top right corner of the screen.
What is Ctrl R in Chrome?
F5 or Ctrl + r. Reload the current page, ignoring cached content. Shift + F5 or Ctrl + Shift + r. Stop the page loading. Ctrl+Shift+R is a keyboard shortcut used to perform a hard reload of a web page in Google chrome.
PS: On your Windows 11 or Windows PC, you can customize Keyboard Shortcuts for Word, create Keyboard Shortcut to open USB Drive, open programs with keyboard shortcut, and so on.