How many Media Players have you installed on your Windows PC? I bet more than one. The most popular of them are Windows Media Player, VLC, Classic Media Player, Winamp, and others. Everyone knows that different media players have different hotkeys or shortcut keys, and remembering all and using them correctly each time becomes difficult. Common actions like Play, volume high, volume low, next, previous, mute, and pause require different shortcut keys on each media player.
Wouldn't it be great if we could define a common set of shortcut keys, that would work for almost all media players on your computer? If so, then you will definitely find this post useful.
I have found an application called MPH  or Media Player Hotkeys that allows you to define custom shortcut keys or Hotkeys that can be used to control various media players on your computer. Now that simplifies things!
MPH – Media Player Hotkey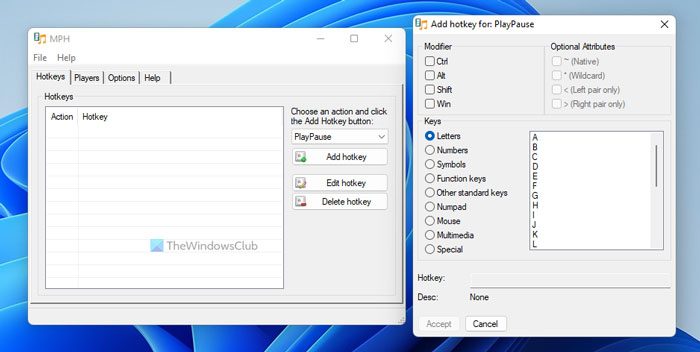 Media Player Hotkeys is a portable and free Windows application that requires no installation. You download a ZIP file, extract it in a folder and run the executable file. Once you run it, you will see the following window with four tabs namely
Hotkeys
Players
Options
Help
Hotkeys: This is the key section that does the trick. On the right section, you can see a drop-down list and three buttons towards its bottom. All you have to do is choose an action from the list be it play, pause, next, previous, and so on, and then click "Add HotKey" button. This makes another window appear. Choose an appropriate key by checking checkboxes/radio buttons and list items. Click "Accept".
That's it; you can now use the shortcut key on all media players. Likewise, you can assign hotkeys for different actions available under the drop-down list and use them irrespective of the media player in use currently.
Players: This is the section that tells you about the software support for different players. Note that MPH doesn't provide full support to some of the older media players. They are listed under this tab. Currently, 19 media players are supported and include 1×1, AIMP, AIMP3, ALPlayer, ALSong, Billy, CoolPlayer, Foobar2000 WA, Foobar2000, KMPlayer, Light Alloy, Media Player Classic, PotPlayer, Quintessential Media Player, Screamer Radio, STP, Spider Player, Trout, VLC, Winamp, and Windows Media Player.
Options: Provides settings and options to use MPH.
Help: Tab gives some general tips.
You can visit developers' website here to download MPH.
How do I add HotKeys to Windows Media Player?
Although there is no in-built option, you can give Media Player Hotkey a try. It helps you set various keyboard shortcuts even when your media player doesn't support them. This freeware is compatible with Windows Media Player, VLC, Classic Media Player, etc.
Are there keyboard shortcuts for Windows Media Player?
Yes, there are multiple keyboard shortcuts for Windows Media Player. Whether you use Windows 11 or Windows 10, you can use those keyboard shortcuts easily. For example, Ctrl+7 helps you add a song to play, Ctrl+F helps you play the next item, etc.
Deleting the shortcut keys
In order to delete the keys assigned you to need to delete the folder in which you had extracted the application zip file. Just delete the folder and you can remove all hotkeys.