The Internet undoubtedly is a wonderful resource for kids, whether it is about helping with their homework, making projects, playing games online, watching videos, listening to music, or more. However, we as parents always worry about the online safety of kids and want them to stay away from the objectionable content online. Cyber-criminals, malicious websites, obnoxious content may harm kids mentally. Cyberbullies specifically target kids, and stats say that one in every five kids using the internet are exposed to unwanted sex-oriented pictures or are approached with sexual solicitation.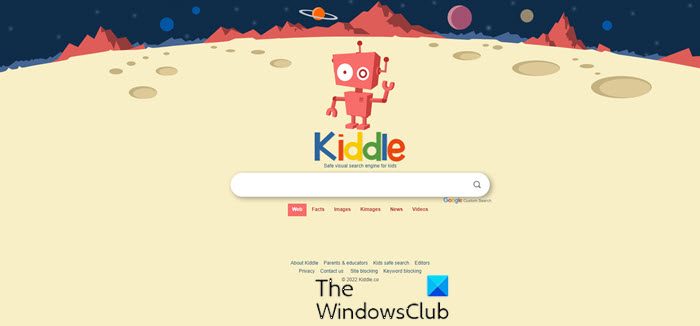 We as parents can talk to kids about internet perils and explain to them about safe web browsing but using a child-friendly search engine can help more. Kiddle.co, a website has recently launched a child-friendly search engine for kids which promises safe search and web browsing for kids.
Kiddle Kids friendly Search Engine
How is Kiddle designed specifically for kids? Check out its features:
Cute Design- Kiddle comes in a lovely child-friendly interface that contains some cute child-like designs. Instead of the plain white background like most of the popular search engines, Kiddle showcases a robot alien and a fun outer space theme.
Safe Search– Kiddle filters the search results and desists the websites with explicit or deceptive content. The Kiddle editors actually handpick and check the search results. A specially designed Google Custom Search bar is embedded within the Kiddle search engine so as to filter out the adult material or obnoxious web content.
Simple Content– Kiddle shows the websites having relevant but simple content written in an easy and understandable way. It shows the kids-oriented results explained in simple words.
Big Thumbnails- Kids love pictures and thus Kiddle gives a big thumbnail with each of its search results so as to make them illustrative. The big thumbnails in search results serve as a visual clue and help kids in finding what they are looking for.
Privacy– Kiddle doesn't collect or store any of your personal information and details. Powered by Google Custom search this kids-oriented search engine uses Google cookies to serve search results.
Site Blocking– Kiddle comes with a built-in feature of site blocking where you can block any inappropriate websites. To block a website, you need to fill out a form giving the details like sites you want to block and the reason for blocking. Team Kiddle will then review your request and do the needful.
Keyword Blocking– Not just the inappropriate sites but you can also block the objectionable keywords in Kiddle. Just fill out the form with your email id, the keywords you want to block, and the reason for blocking.
Kiddle.co is often mistaken to be a part of Google. It is powered by Google Safe Search, but not owned by the tech giant.
Is Kiddle safe for kids to use?
Yes, Kiddle is pretty safe for kids to use. It uses various security measures to make it entirely safe for kids. Whether they want to search for text, images, or facts, they will get correct information from this search engine. It is more like a visual search engine so that kids find it interesting.
TIP: You might want to also check out KidRex, a Safe Search Engine for Kids.
What is Kiddle for kids?
Kiddle is a search engine for kids, which excludes all the toxic contents and offers a kid-friendly environment. No matter whether you want to show it to a five or ten years old, you can allow him/her to use this search engine without any problem. It is possible to find images, videos, facts, etc., from this website.
Let us know what you think of it.
These People Search Engines to find anyone easily.