In all my years of experience as a content writer, covering scores of free programs, I have learned it's the need that makes developers design applications and tools for users' convenience. Add to that laziness also! Some programs are created to make your work much easier. Of course, why one must take extra effort for doing tasks if you have a tool beforehand to get the job done. Instant File Opener is one great tool that I came across during my browsing excursion.
Instant File Opener for Windows PC
Instant File Opener is a simple tool designed to help you create a list with files, folders, applications, and URLs that you want to be opened every time you start a Windows session.
The lightweight tool settles just for 2 MB of space. The installation too is quick and requires no registration. Upon launch, you find a dedicated menu appearing on your computer screen allowing you to add and manage items on the list easily using the commands there. The application's main window boasts a taskbar, toolbar, table list, and a few drop-down lists and buttons.
You can add files you want to be displayed during the startup or add list items by right-clicking the mouse button on the table/dragging and dropping files and folders into the table.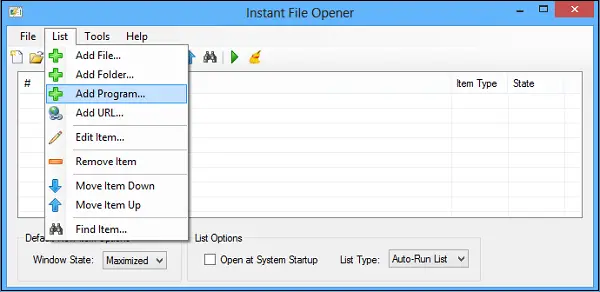 The list created is not final as you get an edit option to make the changes as and when required. How you want each list to be opened can be selected from the list type drop-down box. If you tick the 'open at system startup' check box, it will create an entry for you on the windows start-up application list.
You can edit individually the running options for each item on the list. Each item in the list can be opened in three states,
Normal
Minimized
Maximized
When running a program, you can select the arguments you want the program to run with. Instant File Opener is also equipped with a handy clean-up tool. The tool upon activation scans through the list for any non-existent files and folders and removes them completely if found.

Instant File Opener does not require special skills. It can be easily mastered in an hour. Besides, there's a helping guide provided with the tool for your reference.
Go get it from its home page.