Many times we want to open more than one app, website, etc. at once. If you are looking for a solution that can help you open multiple files, folders, apps, URLs, etc. at once, you can check out this tool called Open Multiple Files. Although this is not unique software, it does the job pretty well.
Open multiple files, folders, apps, URL at once
Open Multiple Files is entirely free software, and you do not have to spend a lot of time understanding the features. As it comes with only one primary function, you can set it up and get started with it right after installing on your computer. As mentioned earlier, it supports files, folders, subfolders, apps, webpages, etc.
To open multiple files, folders, apps, etc. on Windows 10/8/7, you can follow these steps-
Download and install Open Multiple Files on Windows
Set up Open Multiple Files with the proper path of files/folders/apps, etc.
Save the list and open them.
Download and install it on your computer. After opening, you should find a window like this-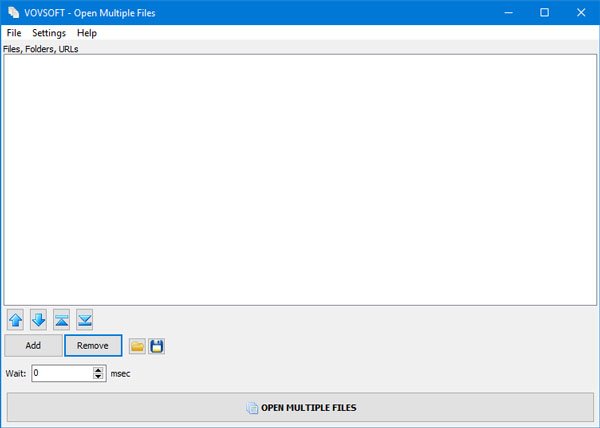 You have to enter the exact path of files, folders, URLs, etc. There is no direct option to choose an installed application, but you can use the 'Files' option to select a .exe file.
To select a file or so, click the Add button and choose what you want to add. If you choose the file or folder option, it will show a prompt to navigate to the file or folder and select it. However, if you select Add URL(s), it will show a different prompt, where you need to paste the correct webpage link(s).
For your information, this software uses the default browser to open a webpage. That said, if you have set Microsoft Edge as your default browser, it will use it to open the websites. If you set Chrome or Firefox as your default browser, it will use that to open your selected web pages.
Read: How to create multiple folders at once in Windows 11/10.
As you are using this tool, it means you need to open those files, folders, etc. frequently. It is, therefore, a good practice to save the list and settings. If you want to save the list, you can click the Save icon visible next to the Remove button. This is handy when you need to create multiple lists for a different set of apps/files/folders.
If you do not want to create multiple lists and you want to save the current paths as default, you can go to Settings > Remember Settings.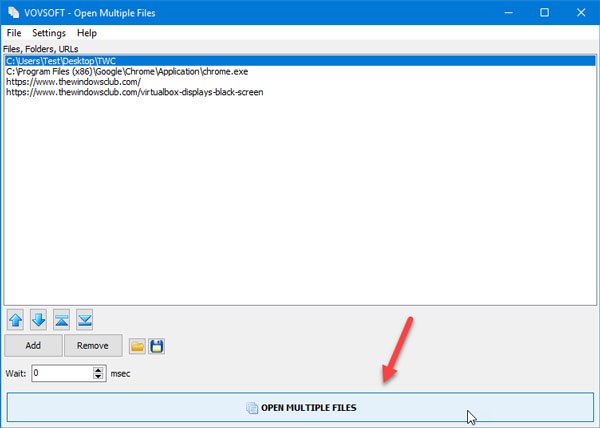 After that, whenever you open the Open Multiple Files tool, you can find all the paths you selected earlier.
To open them all, click the OPEN MULTIPLE FILES button. That's all!
If you like this software, you can get it from vovsoft.com.
Read next: Instant File Opener: Open multiple files, folders, applications, and URLs quickly.