There are many Mac users who may want to install the Windows operating system on their Mac computers, to get the best of both worlds. Well, using Boot Camp Assistant, you will be able to easily install Windows 10 on your Intel-based Mac computer. You will have a dual-boot system with your Mac OS on one partition and Windows on the other.
Install Windows on Mac using Boot Camp Software
On your Mac computer, navigate your Safari browser to the Boot Camp Assistant download page and download the application. Before downloading it, check if any updates for it are available. Download them also if necessary.
Open 'Finder' window, Choose 'Applications' > 'Utilities' and double-click on 'Boot Camp Assistant'.
Hit 'Continue' to initiate the setup procedure. By default, the software informs you to install the most current drivers for Windows.
The next step is to set the partition size for Windows. Windows 10/8/7 itself requires at least a 16GB of partition space and to accommodate more applications; you will be required to offer additional free space for the new OS. Make a rough estimate and if satisfied with the scheme, hit 'Partition'. After this action, partitioning of the hard-drive will be initiated. The process may take some time to complete.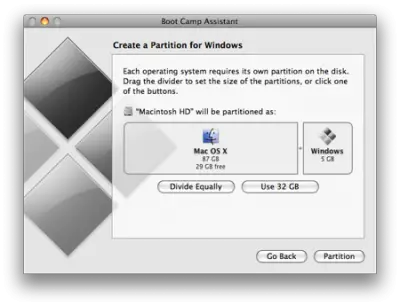 Upon its completion, you will observe a new 'BOOT CAMP' drive icon on your Mac computer.

Now, insert the Windows 7 DVD and click 'Start Installation' button.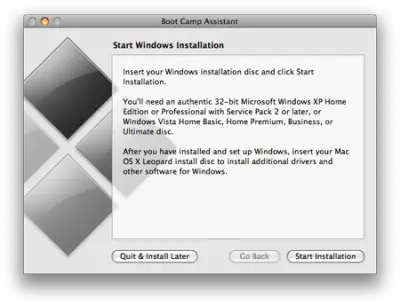 In a few seconds, your Mac computer will restart and boot to the Windows DVD. Here, you'll be prompted with a window. It will ask you which partition you want to install Windows on. Select the partitions labeled 'BOOTCAMP' and simply click on Drive options.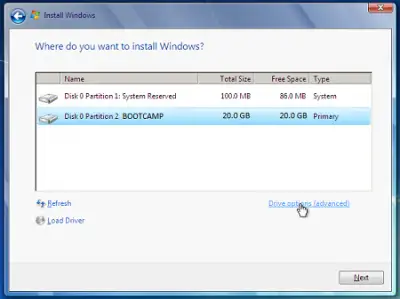 Then, with the 'BOOTCAMP' volume still selected, click 'Format'.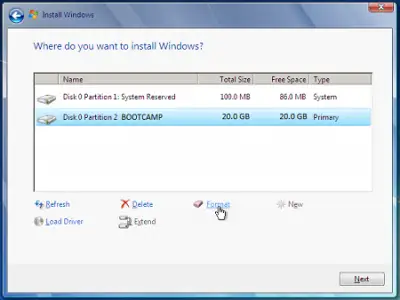 A warning will be issued with the following message 'files will be lost', click 'OK'. Soon, Windows will begin to install. Take care to remove the Windows DVD as your system will reboot during the installation. Your Mac will automatically boot back into Windows, and will continue the installation, until complete.
Insert and run OS X Lion DVD by selecting RunSetup.exe after that.
When the Boot Camp installer is launched, click 'Next'. Do the same after agreeing to the terms in the license agreement.
Check the 'Apple Software for Windows' and only after that click 'Install'. Click 'Finish' after the driver installation is completed.
Remove the OS X DVD from the drive and hit 'Yes' to restart your Mac computer.
Shortly after the software installation, you get the choice either to run Windows or Mac OS X as the installation turns your Mac computer into a dual-boot system with Mac OS on one partition and Windows on another.
Requirements:
All firmware updates installed on your Mac
A Windows 10 installation DVD with a Product ID (Full version, not an Upgrade version)
A macOS installation DVD
A copy of the latest Boot Camp.
The Intel-based Mac computers have the ability to support both new installs, as well as update installs of Boot Camp Assistant.
Additional details and help can be found at Apple.com. Image source: Microsoft Support.
Read next: Download Boot Camp drivers for Windows 10 without Boot Camp Assistant.