Google Authenticator is one of the best applications that you can use to protect your computer. However, there is no official Google Authenticator application for Windows computers. In this post, we will sort this out and see how you can use Google Authenticator on a Windows PC.
Use Google Authenticator on a Windows PC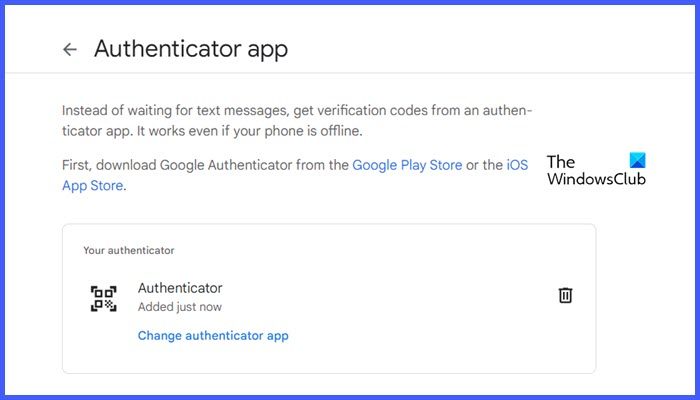 In order to use the Google Authenticator, one needs to generate a PIN. This will be a unique code that only you should have access to. Before doing the same, you should download the Google Authenticator app on your phone. The app is available for both Android and iOS, so, go to PlayStore and App Store respectively to download the application. So, go ahead and download one for your device.
Follow the steps given below to generate Google Authenticator Pin or Code.
Open a browser of your choice and navigate to myaccount.google.com.
Once you are on the Security page, go to the "How to sign in to Google section".
Click on 2-Step Verification.
Now, click on Get Started.
You will be asked to log in using your password just to protect your account from unauthorized access, do that, and proceed to the next step.
Select your phone and click on Continue.
Enter your phone number, select Text message, and click on Send.
You will get an OTP, enter it, and proceed.
Once you have set up the two-factor authentication, go to "Add more second steps to verify it's you" and click on Authentication Apps.
Click on Set up authenticator.
Now, click on Can't scan it?
You then have to find the code that will be used for third-party applications and it will be labeled as "Enter your email address and this key (spaces don't matter)".
That's how you can set up Google Authenticator on your computer. However, we would not recommend you do this, instead, simply generate a code from the Google Authenticator application from your phone.
Next up, we are going to see how you can use the Google Authenticator.
Read: Enable Two Step Authentication in Firefox for Windows
Use Google Authenticator in WinAuth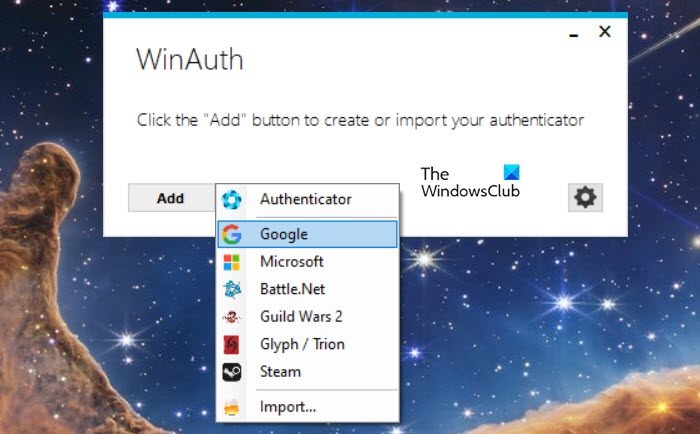 WinAuth is an authenticator for Windows computers. It is an open-source application and can use the code generated by Google Authenticator. Follow the steps given below to set up WinAuth using Google Authenticator.
Download, install, and open WinAuth on your computer.
Click on Add and then click on Google.
Once the Google Authenticator screen is presented to you, go to the code that we just generated, enter the code in the given field, and click Verify Authenticator.
Now, go back to the security page of Google and click on Next.
Enter the code that you get in WinAuth.
This will set up the authenticator for you. Do keep in that this is not the application that supports Google Authenticator, services such as Authy and WinOTP also support this security protocol.
Read: How to add Work/School accounts to Microsoft Authenticator app
Download and set up the Authenticator extension for Chromium browsers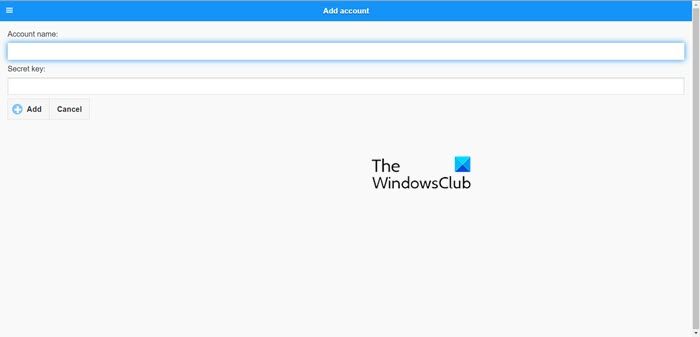 You also have the privilege of adding the Authenticator extensions to Chrome, Edge, and other Chromium-based browsers. The Authenticator extension is nothing but a Google Authenticator for browsers. Follow the steps given below to do the same.
Go to chrome.google.com to download the Authenticator extension. Do keep in mind that this link will work for every single Chromium-based browser.
Now, install and add that extension.
Once the extension is installed, open it and click on the Pencil icon.
You will then be asked to enter an account name and password, do to set up your Google Authenticator.
That's it!
Also Read: Use Microsoft Authenticator app to Backup and Restore credentials
Can I install Google Authenticator on my desktop?
Google does not provide a particular application of Google Authenticator for desktop users. However, one can actually generate a code from Google Authenticator using their desktop and a browser of their choice. The only demerit here is that the process to generate the PIN will be a little longer than usual. You can also make use of an extension called Authenticator, which is nothing but a Google Authenticator for Chromium-based browsers.
How do I install Google Authenticator on Chrome?
It is pretty simple to install Google Authenticator on Chrome. The extension for it is called Authenticator and one can simply add it to their browser to set up. If you want to know more about it, we recommend checking the mentioned above.