Windows 10 ships with many useful apps like the Calculator app. However, we rarely use the ones for which we already have better alternatives installed. Example, if you have a good Calculator app alternative installed, there's no point in keeping the original Calculator app offered by Microsoft. So, here's a brief tutorial explaining to you how to uninstall the Calculator App on Windows 10.
Uninstall Calculator App on Windows 10
Before you uninstall Windows' default app, make sure you do not need the Calculator app. If yes, proceed further to remove the app by any of the four methods given below:
Uninstall the app from the Start Menu
Uninstall the app via Settings
Use a third-party freeware
Use a PowerShell command.
It's important to highlight here that the removal of a built-in Windows 10 app may not be permanent. A future update to the OS may reinstall them.
1] Uninstall Calculator App from the Start Menu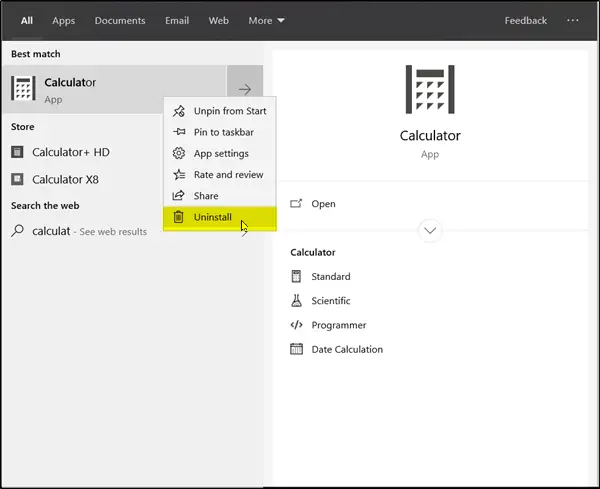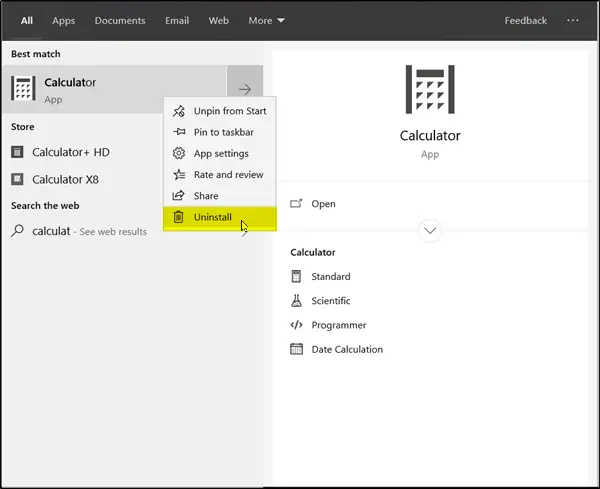 A straight-forward way to uninstall apps is with a right-click. There two ways, one which is new with recent feature update of Windows.
This happens to be one of the simplest ways to remove a built-in Windows app.
Click on the 'Start' button and type Calculator in the 'Search' box.
If the App is visible, right-click it and select 'Uninstall' option.
2] Uninstall Calculator App via Settings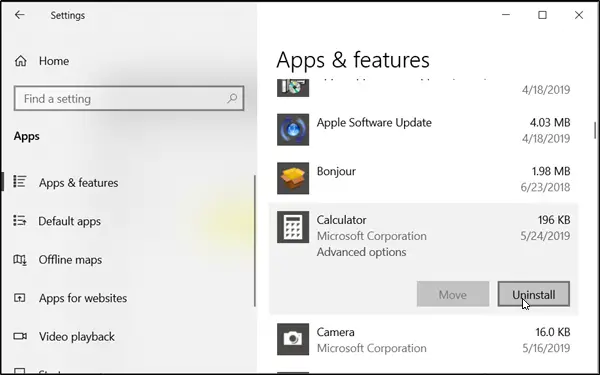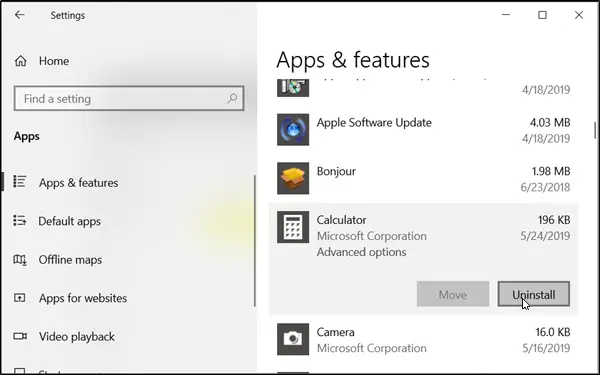 This is yet another method to remove the default apps that come installed with Windows.
Click on the 'Start' button and choose 'Settings'.
Next, go to the 'Apps' section and select 'Apps & Features' from the left pane.
Find the entry for Calculator app in the right-pane and when found, click it to make the 'Uninstall' tab visible.
Simply press the tab to uninstall the Calculator App.
3] Use a third-party freeware
There are several freeware like CCleaner, AppBuster, Store Applications Manager, 10Apps Manager that allow you to easily uninstall unwanted apps like Windows Calculator and others.
4] Use a PowerShell command to uninstall the Calculator app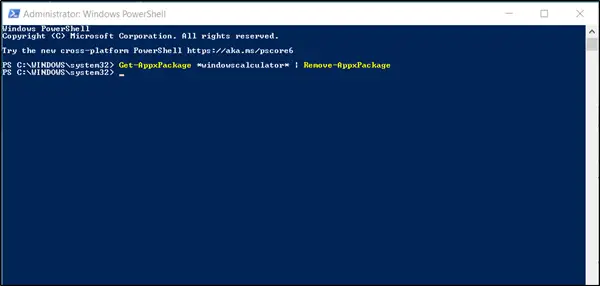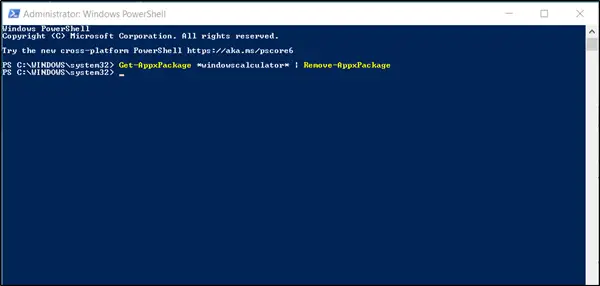 Press Windows + X key in combination and choose 'Windows PowerShell (Admin).
Enter the following command and hit Enter.
Get-AppxPackage *windowscalculator* | Remove-AppxPackage
Once the operation is complete, the app will be removed from Windows.
At any point of time, if you wish to reinstall apps, you may do so via the Microsoft Store – or use these PowerShell commands to reinstall pre-installed apps.