AppBuster is a good app to use if you want to reclaim the lost storage space and improve the overall performance of your Windows 11/10 powered system. The AppBuster aims at offering a comprehensive solution to uninstalling Windows apps. Most of us have a nasty habit of installing a ton of apps and then forgetting about it. These useless apps tend to bloat the operating system and end up slowing down your Windows 10. The solution to this is very straightforward. All you need to do is uninstall the apps.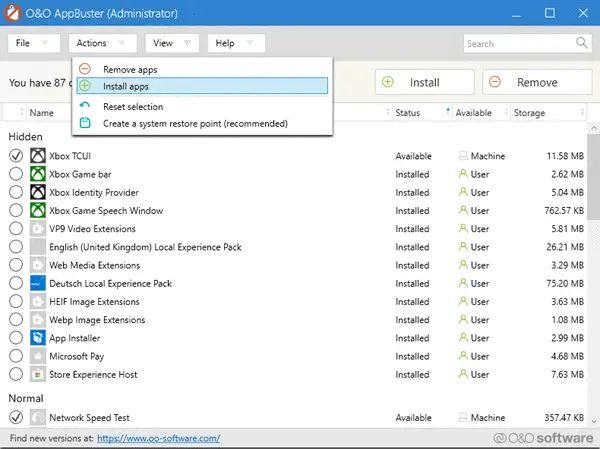 Uninstall unwanted apps in Windows 11/10
While you can uninstall most of the apps from the Windows setting menu the same is not true for hidden, pre-installed or unwanted Windows apps. As you may have already noticed Microsoft bundles in a ton on apps with the operating system. Apps like this end up consuming space and slowing down your computer, whether you like it or not.
O&O AppBuster is a free Windows 11/10 tool that scans your PC and detects all the apps installed. Unlike other programs, the app buster freeware also detects hidden apps and displays the same on the dashboard. The app displays the program along with the version of the app and the location.
The scanning takes some time and once done the AppBuster displays all the apps along with the location. O&O also lets you create a restore point so that you are covered just in case. I was taken aback when the AppBuster showed me a slew of apps that I didn't know about.
Apps like Skype, Xbox Game Bar, and even Microsoft Play took up considerable space and finally I was able to get rid of them. Interestingly the app also offers functionality that lets you restore accidentally deleted apps.
I tried the reinstall feature and it worked flawlessly. At this point its worth mentioning that AppBuster still displays System and Framework apps which cannot be uninstalled.
O&O AppBusterfree download
I have used a handful of application uninstaller in the past. O&O AppBuster is free of charge and is pretty effective at what it does. The app lets you uninstall all the useless apps and reclaim the wasted storage. Moreover, the app is portable and doesn't slow down your system. You can download O&O AppBuster from the official website.