Microsoft Edge offers a free built-in VPN powered by Cloudflare. In this post, we will show you how to enable & use the free VPN in the Microsoft Edge browser in Windows 11. Microsoft Edge Secure Network is a built-in browser VPN service similar to commercial VPN services.
Is there free VPN in Microsoft Edge?
Yes, Microsoft Edge now offers a free VPN service. You can enable and configure it on Windows 11/10 and get 5 GB free every month. A VPN allows you to hide your IP address by redirecting your traffic through a remote server, providing an added layer of privacy and security.
How to get free VPN on Edge browser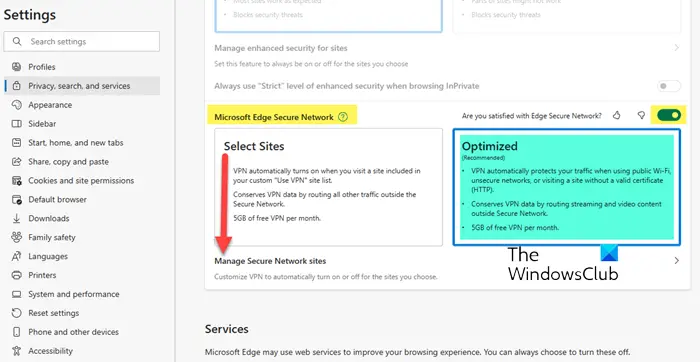 To get the free built-in VPN on Edge browser, you have to turn on Microsoft Edge Free VPN Secure Network Service, by following these steps:
Sign in to your Microsoft account
Launch Edge browser
Click on the Menu button (three dots) and select Settings and more
Scroll down to the Privacy, search, and services section
Turn on Microsoft Edge Secure Network switch
Choose Optimized to activate the VPN service across all your browsing activities
Restart Microsoft Edge.
To turn the VPN on for select sites only, click on Select Sites and add the sites you want to visit with the VPN turned on.
Now, when you use Public WiFi or an Unsecured network or visit a site without a valid certificate, the VPN will enabled. You will be able to see the VPN Shield icon in the top-right corner.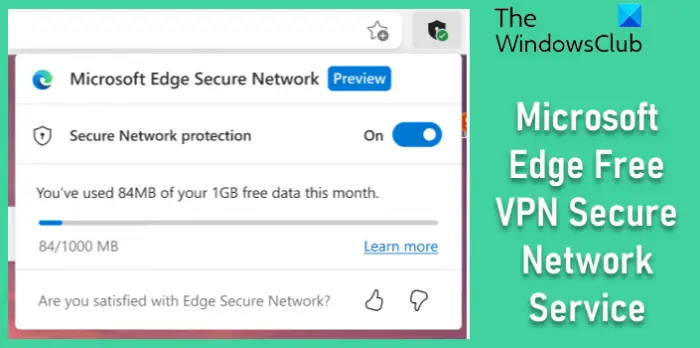 The feature will turn off automatically when you close Microsoft Edge.
Microsoft Edge Secure Network features
Microsoft Edge Secure Network is a built-in VPN that can help secure your network connection from online hackers, protect against online trackers and keep your location private. This service will offer the following features:
It is free to use: You will get 5 GB of free data monthly when you sign into Microsoft Edge with your Microsoft Account.
Encrypts your connection: It will encrypt your internet connection to help protect your data from online threats like hackers.
Helps prevent online tracking: Edge will then help prevent your internet service provider from collecting your browsing data like details about which websites you visit.
Keeps your location private: The feature will let you browse with a virtual IP address that masks your IP and replaces your geolocation.
Commercial VPN services, although safe and useful, come at a price and sometimes with additional downloads. When using Microsoft Edge Secure network, your data will be routed from the browser through an encrypted tunnel to create a secure connection, even when using a non-secure URL that starts with HTTP. This arrangement will make it harder for hackers to get any access to your browsing data on a shared public Wi-Fi network.
What is a VPN?
A VPN, or Virtual Private Network, allows you to create a secure connection to another network over the Internet. VPNs can be used to access region-restricted websites, shield your browsing activity from prying eyes on public Wi-Fi, and more. In very simple terms, a VPN connects your PC, smartphone, or tablet to another computer (called a server) somewhere on the internet, and allows you to browse the internet using that computer's internet connection. So if that server is in a different country, it will appear as if you are coming from that country, and you can potentially access things that you couldn't normally.
Why use a VPN for security and privacy
A VPN is used by people for several purposes. Some of these purposes are with good intentions, while others may be considered illegal by law. These include:
Taking the remote connection of an organization's private network
When using public Wi-Fi, protecting the data
Hiding BitTorrent piracy
Hiding from government censorship or surveillance
Accessing Netflix library from other countries.
Read: Edge browser Tips and Tricks.
What is best free VPN for Microsoft Edge?
Using the built-in free VPN on Microsoft Edge is your best bet. However, if you wish to use free third-party VPN software, you may do so. Good paid VPNs like NordVPN, Surfshark, IPVanish, PrivateVPN, or PureVPN can also provide good security and privacy features for browsing.
Also read: Best free VPN extensions for Edge, Chrome and Firefox browsers.