Many users often test Office 365 Personal before opting for the Office 365 Home edition to allow other family members to install it on their devices. If you want to switch Office 365 Personal to Home or vice versa, you can do that by following this step by step tutorial.
If you subscribe to Office 365 Personal, only you can use it on your devices. However, the Home edition allows up to six people to use it and get all the benefits simultaneously. On the flip side, let's assume that you purchased the Office 365 Home plan for you and your family, but your family members do not need it anymore. You can downgrade from Office 365 Home to Personal plan as well. Before checking out the steps, you should know some essential details regarding the change of plan.
What happens when you upgrade from Office 365 Personal to Home
You start getting all the additional benefits of Office 365 Home. In case you do not know, here is a list that might be helpful.
You can share your subscription with five other family members, which makes six people in total.
All the users can install the Office 365 apps (Word, Excel, PowerPoint, etc.) on all their devices, including mobile, PC, etc.
Each user can be signed in to Office apps on up to five devices at a time.
Each person can get 1 TB of storage on OneDrive (total 6 TB for six users).
Each user can get 60 Skype minutes every month.
What happens when you downgrade from Office 365 Home to Personal
In case you are downgrading from Home to Personal plan of Office 365, you should know about all the things that you are going to miss.
You cannot share your subscription with other people anymore.
One user will get 1 TB OneDrive storage.
One user will get 60 Skype minutes.
How does the Office 365 plan switching work
In one line, the new subscription will be added to the existing subscription automatically but the billing cycle should be the same.
Let's assume that you have two months of Office 365 Personal subscription, and you purchase 12 months of Office 365 Home subscription. As a result, you will get 14 months (2 months of old subscription + 12 months of new subscription) of Office 365 Home subscription.
The steps are the same for both switchings. However, you need to remove all the sharing from Home subscription before you opt for the Personal subscription. The best thing is that you do not need to re-activate the existing Office 365 installation on your PC or mobile. Also, you do not need to install the apps again.
How to change Office 365 Subscription Plan
To switch Office 365 Personal to Home, follow these steps-
Open Microsoft Account management page
Go to All subscriptions window
Click the Upgrade to Office 365 Home
Choose the billing cycle and confirm it
Pay for the new subscription
Let's look at the steps in detail.
Open the Microsoft Account management page and sign in to your Microsoft account that you used to purchase the subscription earlier. Here you need to click the All subscriptions button under the Subscriptions panel.
Following that, you should get an option called Upgrade to Office 365 Home.

Click on it and choose a billing cycle. You can select either monthly or yearly billing date. It is also possible to choose your credit card if you included more than one card in your account. Therefore, click the Confirm button and make the payment.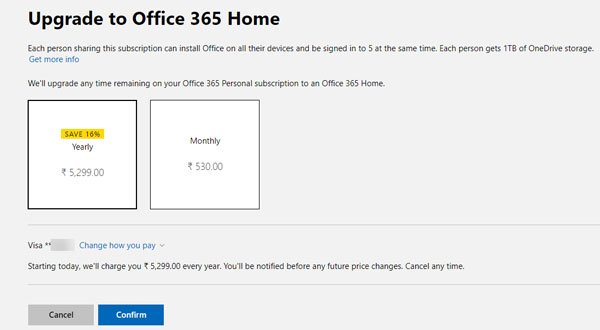 Following the successful payment, you can share your Office 365 subscription with five other people, and they will get all the benefits, as mentioned earlier.
I hope this guide will help you upgrade or downgrade Office 365 plan quickly.