Android has improved for the past few years, especially when it comes to permissions.  In the upcoming Android 11, you can give temporary permission to apps, the consent of unused apps will reset with time, and so on. In Android 10, anyone accessing hardware such a Microphone needs to show prompt and take consent from the user about using it all the time or when the app is open.
However, since Android is from Google, the doubt remains if it is listening to you. The problem is not just from Google because now apps ask for specific permission; many users give full permission out of habit. It can be an app from Google or any other service. Coming to the point, if you are concerned about Google listening to you, then there are few steps you can take to minimize it. It may not be possible to completely stop it.
How apps listen? Is Google Assistant listening to you?
So how does Google listens to you? It may not be exactly listening, but it boils down to Google Assistant.  It is the best assistant to date thanks to the all-powerful algorithms, which can also be awakened by saying, "Ok, Google." It merely means that it is always listening, your phone is still listening, and Google is still listening. Simply put, even though they claim can be denied,  keywords might be getting picked up, and the device is being profiled up.
Where is your Google Voice History stored? How do I delete it?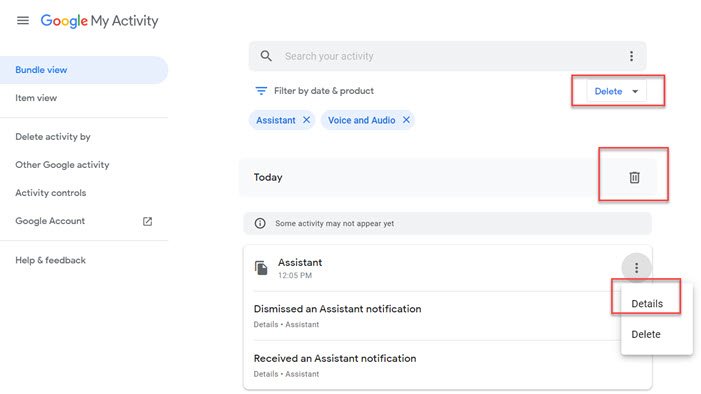 Go to My Activity page on your Google Account.
Click on Filter by date and product, and then select Google Assistant and Voice & Audio.
Click on the Apply button, and then wait for the result.
The result will display a timeline of all activities using the products. You can choose to delete them individually by clicking on the Trash icon or click on the Delete button to remove everything for the two products.
How to stop Google from listening
You can toggle off, to stop Google from listening on Android or iPhone for ads, etc.. Follow these methods to stop Google from listening to a great extent.
Turn off OK Google
Disable Google Assistant
Turn of Microphone access from all apps
Turn Off Google Voice History
Automatically delete Google History
Do note that as Android 11 rolls out, the permission issues will be less severe with more power given to the user.
1] Turn off OK Google or Disable
Open Google App on your phone
Click on More menu, and then tap on settings
Tap on Voice > Voice Match > Turn off the toggle next to Ok Google.
2] Disable Google Assistant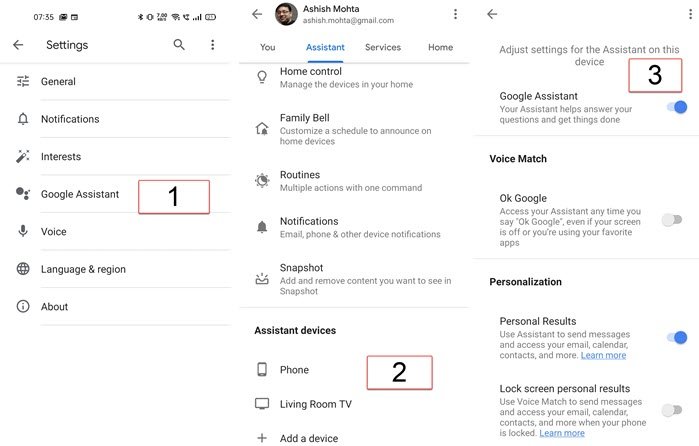 Open Google App Settings > Google Assistant > Assistant
Scroll till the end till you find Assistant devices
Tap on Phone, and then turn off Google Assistant
You can achieve this from the Voice Match section, but when you need to enable Google Assistant, you need to allow it from these settings.
3] Turn of Microphone access from all apps
Open Settings > Privacy > App Permissions
Tap on Microphone and toggle off access to apps listed here.
The location of App Permissions might vary from phone to phone.
4] Turn Off Google Voice History
Go to My Activity page on your Google Account.
Tap on Data and Personalization > Web and App Activity
Uncheck the box next to "Include audio recordings" to turn the setting off.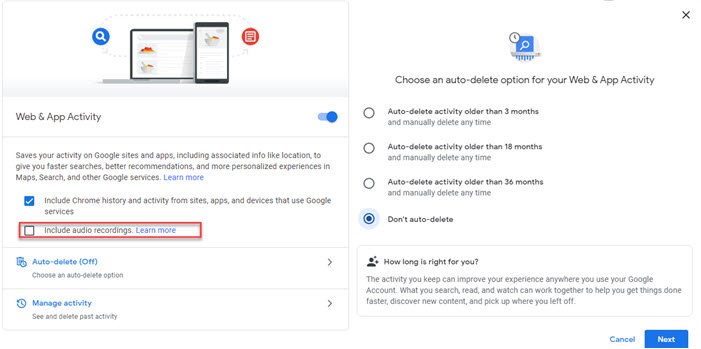 Once turned off, voice inputs from interactions with Google Search, Assistant, and Maps won't be saved to your Google Account, even if you're signed in. It takes care of all devices where you have signed-in using this account.
5] Automatically delete Google History
At the same place where you turn off Google Voice History, you have the option to delete Google History automatically. You can auto delete activities older than three months, 18 months, and 36 months. It is probably the best option to keep deleting every few months, so a profile is not built up.
All this should give you enough coverage against voice recordings, and once you have auto-delete in place, it is even better. That said, a lot will change when Android 11 rolls out to the majority of the phones.  If the users give their attention and make sure to give permission when required, and not all the time, all this may not be necessary, except for history deletion.