Outlook offers a feature called MailTips that allows when and how to display the MailTip bar and which MailTip to display. You can configure the following sections in the MailTip settings, such as  Sending Restriction MailTips, Undelivered Section MailTips, and Informational MailTips. This feature requires a Sever Exchange account that supports this feature.
MailTips are informative messages generated by the server that appears in the window, which alerts you about the several conditions that apply to the message. Let us see wee what MailTips can be selected to display in Outlook.
How to use MailTips option in Outlook
Open Outlook.
Click File on the menu bar.
On the Backstage View, click Options.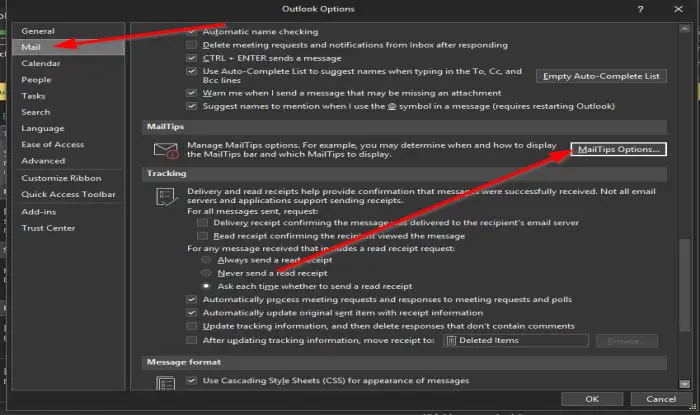 An Outlook Options dialog box will appear.
Inside the dialog box, click Mail on the left pane.
On the Mail page, scroll until you see the section MailTips.
Under the MailTips section, click the Mailtips Options button.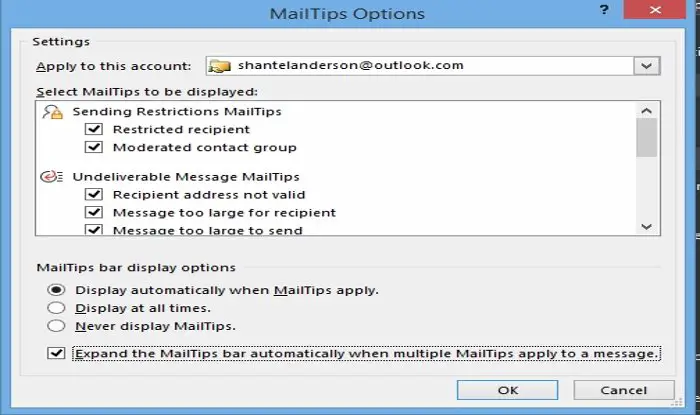 A MailTips Options dialog will pop.
Inside the MailTips Options dialog box in the Apply to this account list box, you can select any one of the Microsoft exchange accounts you want to apply to the MailTip settings.
In the Select MailTips to be displayed section, you can check and uncheck the checkboxes you want.
If you check the checkboxes, this is the type of MailTips you want Outlook to display.
If you uncheck the checkboxes, the MailTips that were displayed will be removed.
In the MailTips bar display options section, you can choose how you want to display the Mail Tips.
You can choose to select  Display automatically when MailTips apply, display at all times, and Never display MailTips.
Check the checkboxes for the one you desired.
You can also check the checkbox for Expand the MailTips bar automatically when multiple MailTips apply to a message if you want.
Then OK.
We hope this tutorial helps you understand how to set MailTips preferences in Outlook.
Read next: How to clear the Autocomplete list in Outlook.