Did you perform a System Restore only to find that many files are missing? Then follow this easy guide to restore deleted files after System Restore.
Whenever Windows faces any error, System Restore emerges as a go-to fix. It is a built-in feature that allows you to revert your computer's current state to any other saved state in the past. In other words, it rolls back the system files, settings, installed apps, etc.
However, performing a System Restore will not delete your computer's personal files and other data since you created a System Restore point. Unlike System Image creation, System Restore only captures and restores critical system files.
Similarly, performing a System Restore point will not affect the files stored on your external drivers or network locations.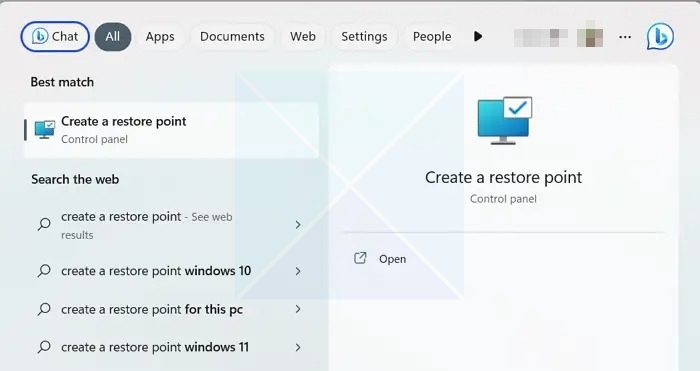 What System Restore can recover, and what can it not?
What System Restore can recover:
System Configuration: System settings, Registry entries, and configuration files.
System Components and Software Applications
Windows Updates
What System Restore cannot recover after the creation of the restore point
Personal Files
Installed programs
User account changes
How to restore Deleted Files after System Restore?
When restoring deleted files after performing System Restore – the options are limited. But Windows offers a few ways to recover lost files. These options are:
Recover Files from OneDrive
Check with the Backup and Restore Feature
Windows File Recovery
Now let us talk about these steps briefly below:
1] Recover Files from OneDrive
Almost all Windows users have set up OneDrive as their go-to backup solution for personal data like documents, images, music, and other files. By doing so, Windows automatically takes a backup of specific files from time to time and allows you to restore the files when deleted.
So if you did have OneDrive setup, you can quickly recover files using it by following the below steps:
First, visit onedrive.live.com and log in using your Microsoft account credentials.
Next, you should see all the available files backed up by OneDrive.
Right-click on the data you wish to recover and select Download.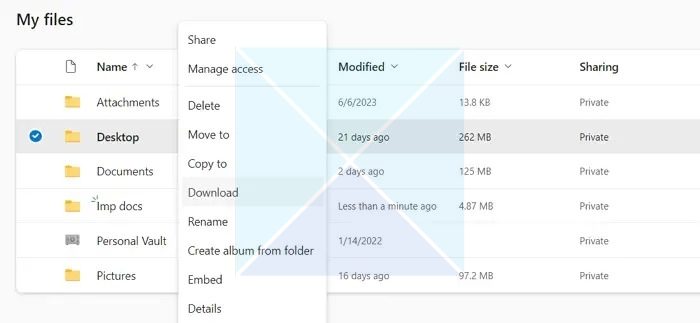 It will start downloading a Zip file which you can later execute and restore your files.
However, the only drawback of this method is that there is no automatic way to restore the backup in its respective folders or directories. So you have to do that manually.
Read: OneDrive Shared folder not syncing or updating
2] Check with Backup and Restore Feature
You can quickly restore your files if you have created a backup using the Backup and Restore or File History feature.
However, this feature needs to be enabled before you can use it. So if you have luckily had the feature enabled, here is how you can recover your files:
First, connect the external storage device that contains your backup files.
Next, use Windows search to find Control Panel and launch it.
Next, in the Control Panel search, type File History and click on Save backup copies of your files with File History from the search results.
Now on the sidebar, click on Restore personal files.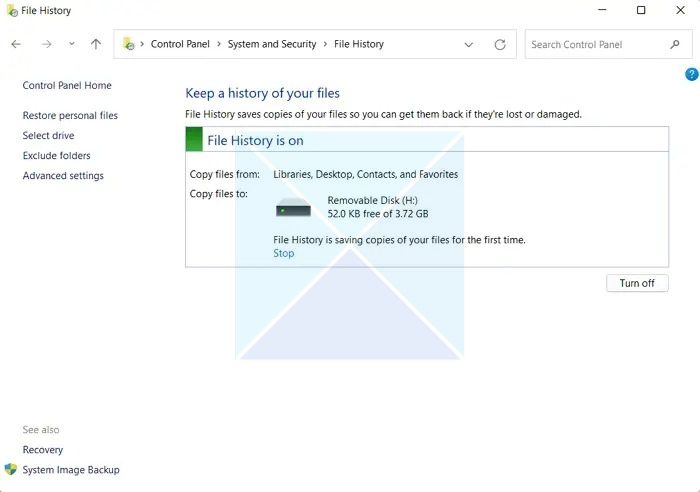 Next, you should get to see all your backup files. Select them and restore the files back to your computer.
Read: How to use Version History on OneDrive for all File Types to recover files
3] Windows File Recovery
Microsoft offers a Windows File Recovery tool that works on a command line interface. You can use it to recover accidentally deleted files from various internal or external storage devices without needing third-party data recovery solutions. It can recover all data types- photos, documents, videos, and more.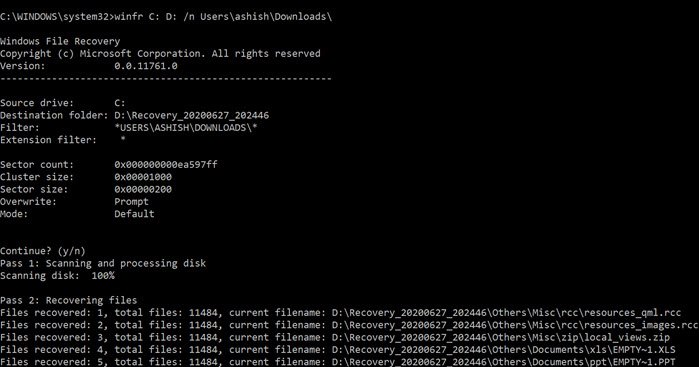 The command line interface offers various options, types of recovery modes, and support for NTFS, FAT, exFAT, and ReFS file systems. Please read our complete guide on how to use it to recover deleted files.
If nothing else works, you can check out some of the best recovery software that can scan and help to restore files if they are still available on the drive.
Conclusion
So those were three quick ways to restore deleted files after System Restore. The above steps will help you to recover and restore your data from various incidents. However, in the future, back up your essential data from time to time to enjoy a smoother data restoration process.
Is it possible to recover permanently deleted files?
Yes, there is a partial change that you can recover deleted files. If you use the right recovery software and do not use the PC from which the files had been deleted, there is a bright chance to get back the files.
How to recover permanently deleted files in Windows using the command prompt?
You can use the Windows File Recovery tool to recover deleted files in Windows using Windows Terminal or command prompt. The tool offers various options to help you scan and recover the files. However, make sure to learn it by deleting a file and then try to recover it.