WMA or Windows Media Audio is a series of audio codecs. Microsoft develops it along with its corresponding audio coding formats. You can play WMA files on Windows 10 using Windows Media Player which comes preinstalled in Windows 10. So if you have Windows 10 on your computer, WMP 12 is all you need to play. In this post, we are looking at how you can play WMA files on Windows 10, and what to do if WMA doesn't play in WMP.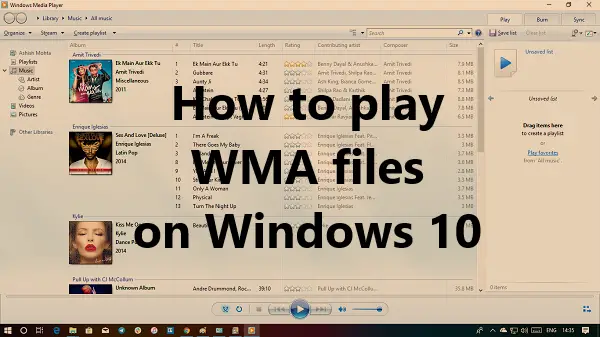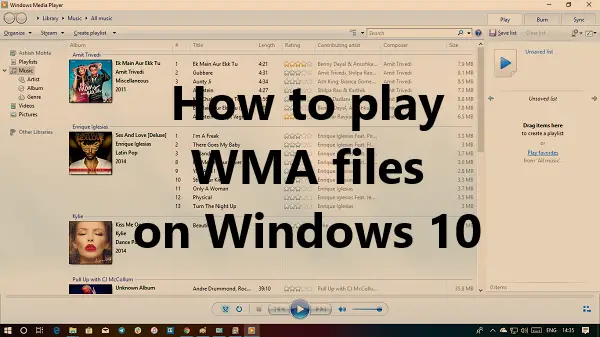 How to play WMA files on Windows 10
This post discusses the following topics:
How to install Windows Media Player
How to set WMA as the default player in Windows 10
What to do if WMA does not play in WMP.
How to install Windows Media Player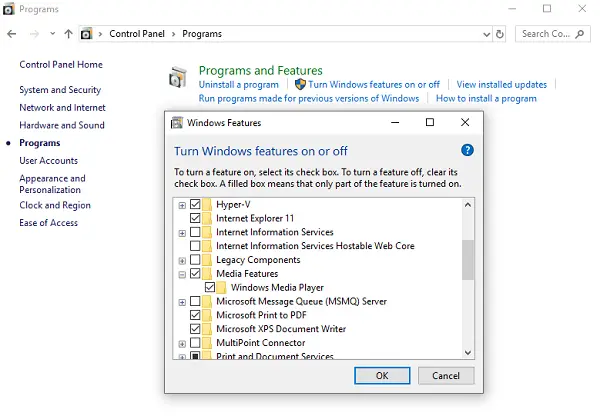 WMP is included in clean installs of Windows 10 as well as upgrades to Windows 10 from Windows 8.1 or Windows 7. However, in some editions of Windows 10, it's included as an optional feature. Follow the steps to install Windows Media Player:
Click on the Start button, and type Control Panel
Click on the "Control Panel Desktop App" which comes in the list.
Navigate to Programs and then click on Turn on Windows Features on or off
In the pop-up windows look for Media Features.
Click on the plus icon and select Windows Media Player
Click on, and it will install the WMP on Windows 10
Once installed, you can play the WMA files right away.
How to set Windows Media Player as the default player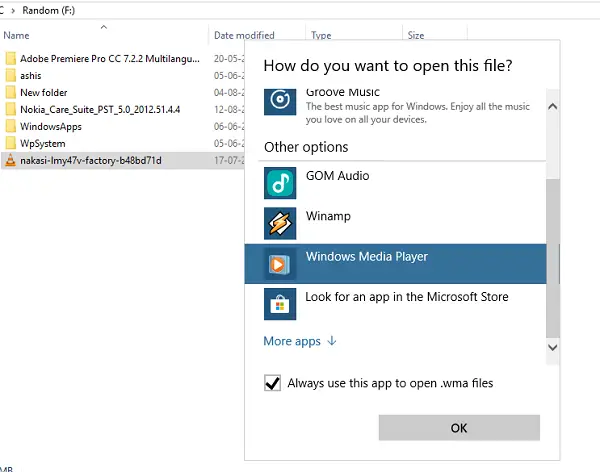 Windows Media Player includes support for some of the most popular codecs, like MP3, Windows Media Audio, and Windows Media Video.
WMP supports WMA out of the box, and all you need to open the file with Windows Media Player. It is possible that it is WMP is not the default player for WMA files. Here is how to change it:
Right-click on the WMA file.
Navigate to Open with > Choose another app.
It will open a prompt with a list of players installed on the computer.
In the prompt, first Check the box which says "Always use this app to open .wma files."
Next select Windows Media Player, and click on the Ok button.
Notice the icon of the WMA file will look related to the Windows Media Player icon. Double click and it will play WMA files on Windows 10 using Windows Media Player.
Read: How to enable DVD playback for Windows.
What to do if WMA does not play in WMP
Even after setting WMP as the default player for WMA, if Windows 10 doesn't play the format, then the problem is somewhere else. The codec is available with WMP, and there is no need to install it separately. However, if it still cannot play, here is what you can do:
1] Folder Permission
WMP 12 needs at least read permission to play music files on your computer. If you have included your music folder, make sure it has read permissions. This problem usually happens when you have moved folders from another computer or upgraded Windows. You may need to change folder permissions.
2] License cannot be downloaded
It is a bit odd one. One of forum user reported that when it tried to play music which is available on its NAS server, he got a license validation error. The player tried to open a URL in the edge browser but resulted in – "Web browser is not supported problem."
Internet Explorer is available as a desktop app in Window 10. Search, open and paste the URL in the IE browser, and it may resolve the problem.
3] Microsoft Movies & TV app
Install the brand new Movies & TV app from Microsoft Store. It is capable of playing all the codecs WMP 12 can play.
4] Install third-party players
There are many free media players available on the Internet. You can use them play both audio and video files on Windows 10.
Lastly, I have seen many recommendations where you are asked to download codecs. The option is however not available anymore in Windows Media Player > General tab.
Let us know if this helped you to play the WMA files in Windows 10.