In this post, we will talk about what is a DST file and how can you open and view it in Windows 11/10. Just like a PES file that we discussed before, DST is also an embroidery file format. It is used to store and provide stitching commands to an embroidery machine to control the sewing needle. Let us check out this format in detail.
What is a DST file?
DST is an acronym for Data Stitch Tajima. The DST file format is a proprietary embroidery file format developed by Tajima. It is quite a popular embroidery format that contains stitching commands for different embroidery machines. It basically consists of the stitching information and metadata on how the sewing needle should be managed and controlled by the software.
Each DST file is composed of two parts; header and body. The header is 512 bytes long and consists of contents including labels, stitches, color change records, and more. In the body part, there are DST commands like Control Codes, TRIM Command, Sequin Command, and more that are stored.
What program can open a DST file?
Now, the question arises that what program can open a DST file? Well, to answer your question, we will be mentioning some free programs and online tools that allow you to open and view a DST file on Windows 11/10. There is no native app on Windows 11/10 that let you open DST file, thus the need of using a third-party tool to view DST embroidery file.
Let us now check out the third-party tools to open and view DST files on your Windows 11/10 PC.
How to open a DST file in Windows 11/10?
Since there is no default app on Windows to view files with the .dst file extension, we will be using some third-party software and online tools to open them. Here are the freeware and web services to use to open a DST file on Windows 11/10:
BERNINA ArtLink
Coats EDV
my editor
Embrilliance Express
joshvarga.com
Let us discuss these programs in detail now!
1] BERNINA ArtLink
BERNINA ArtLink is a free embroidery viewer and converter software that lets you open and view DST files in Windows 11/10. In it, you can view a wide range of embroidery files including PES, PEC, ART, EMD, ARX, VIP, SEW, and more.
Simply use its File > Open Design function to browse and import a DST file and then view the design using various tools. It offers standard viewing features including zoom, pan, rotate, artistic view, show/ hide hoops, show/ hide grid, show/ hide needle points, measure tool, etc. You can also check out details like the number of stitches, colors, fabric name, fabric type, author, title, comment, and more about a DST file in it.
Apart from these standard tools, you can find a Stitch Player (Slow Redraw) feature in its View menu. This feature basically enables you to play an animation of the entire stitching process of a DST embroidery design. You can review the process as well as alter and correct the stitching sequence. You can control the sequence using the options like Speed, Reverse, Auto-scroll, and more.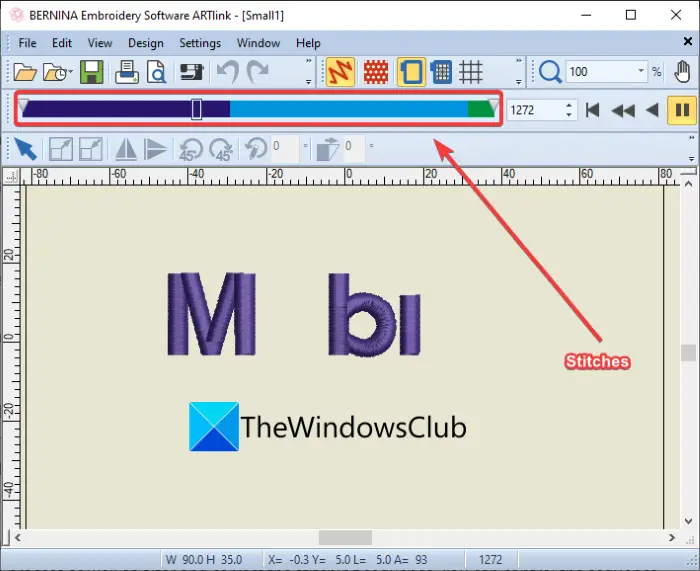 If you want to export DST embroideries to some other formats, you can do that too. It provides a dedicated Export Machine File option that you can access from the File menu. This option lets you convert DST to EXP, ART, SEW, PES, PCS, EMD and a few more file formats.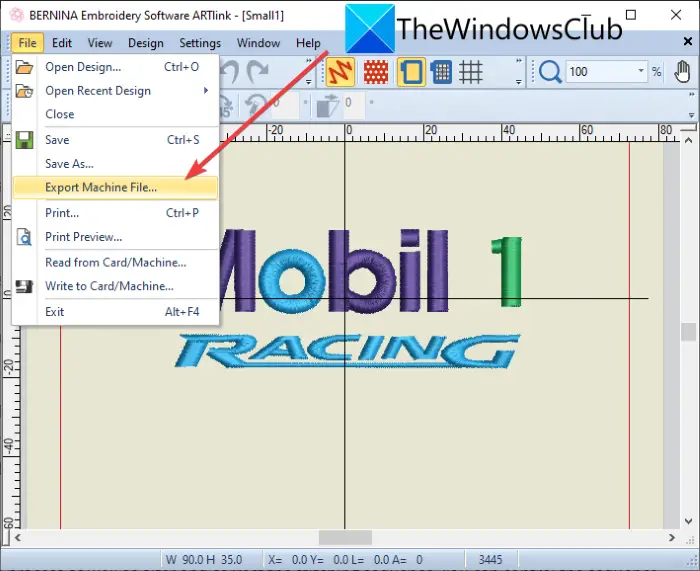 You can download this free DST file viewer and learn more about it on bernina.com.
See: Best Free Fashion Design software for Windows
2] Coats EDV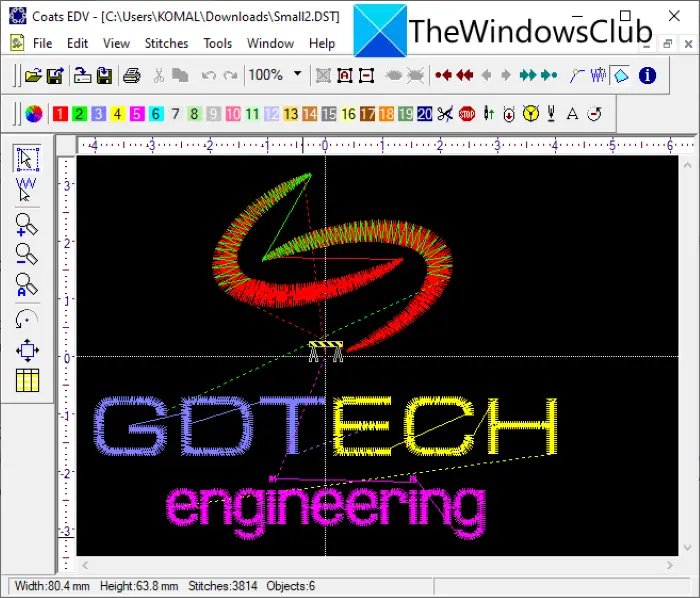 You can also use this free embroidery viewer called Coats Embroidery Design Viewer (EDV). It is a dedicated software designed to open and view embroidery files like DST on Windows 11/10 PC. You can import a DST file into it using its File > Open feature and then start viewing the embroidery and details using available tools.
It lets you preview the embroidery in 3D view, customize grid options, rotate design, scale design, zoom in/ out, show/ hide object and stitches, etc. You can also use its View > Redraw option to view the stitching process. Furthermore, it lets you see the design properties by going to the File > Design Info option.
From the Stitches menu, you can remove small stitches from the design. This software also lets you save the DST file in other formats like NGS, EXP, KSM, etc. You can get this handy DST viewer from coats.com.
Read: What is a CDR file?
3] my editor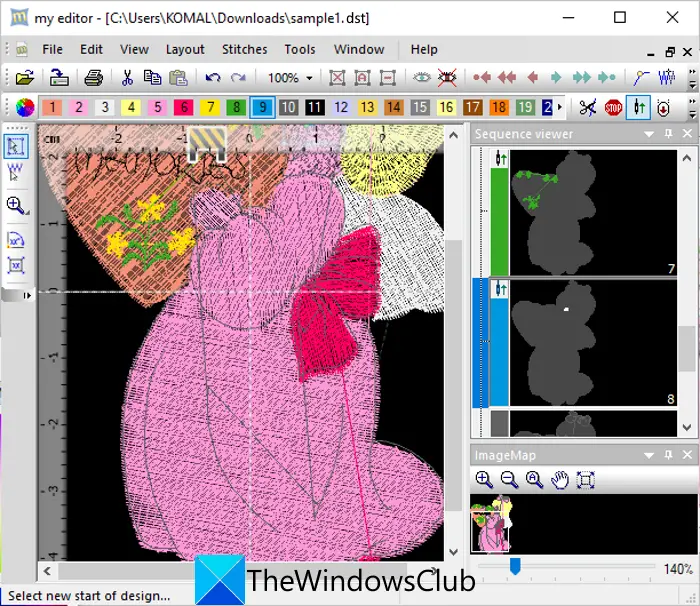 Another software that lets you open and view a DST file is my editor. It is embroidery software that supports various embroidery files to view and edit. As you open a DST file, it shows an embroidery map, a sequence Viewer, and the actual embroidery design. In it, you can play the whole stitching process from the imported DST file using the Slow Redraw feature.
Zoom, scale, rotate, 3D view mode, show/ hide filled outlines, hide selected objects, show/ hide stitch marks, etc., are some of the viewing options in this software. Plus, it also offers few handy tools like auto-density, change fabric, remove small stitches, check embroidery statistics, and more.
All in all, it is good freeware to view DST files and make a few adjustments to them. You can download it from here.
See: What is a STEP file?
4] Embrilliance Express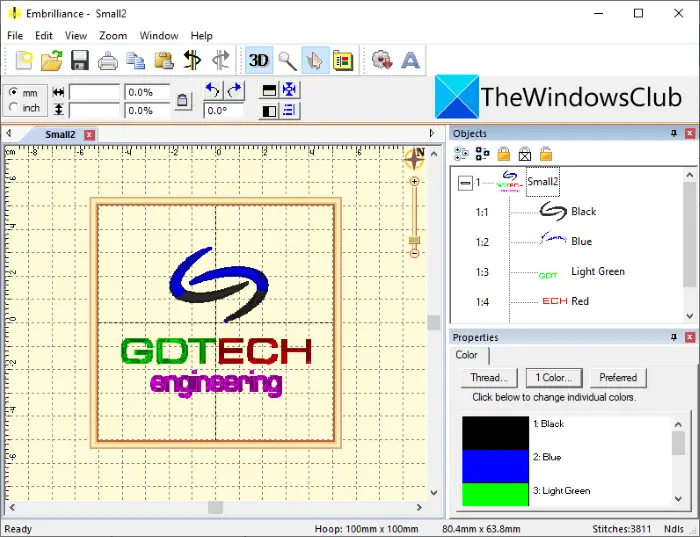 Embrilliance Express is a free simple embroidery viewer using which you can open and view DST files in Windows 11/10. It provides you all the required tools to view and analyze DST designs on PC. When you open the DST file, it will show an Objects panel where you can explore and view all the objects used in the embroidery design. A Properties panel is also provided to let you view and convert thread color. The actual design can be viewed in the center.
You can zoom in/out or rotate the design, toggle 3D view mode, show or hide stitch points, jumps, measure, hoop, grid, etc., and analyze the DST file. It also lets you create letters in the design. You can even Print the embroidery design.
Some features (e.g., save) of this software are disabled in the free version. You can download the free version or buy the paid one from its official website
5] joshvarga.com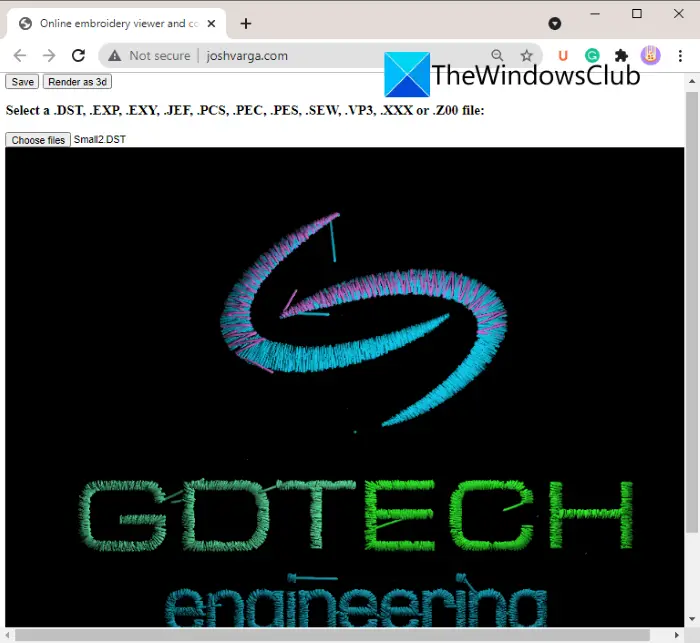 joshvarga.com is a dedicated online embroidery file viewer. It lets you open and view DST files online. Additionally, some other embroidery files can also be viewed through it, such as PES, EXP, JEF, SEW, PCS and more.
To open the DST file in it, simply launch a web browser and then head to the joshvarga.com website. Now, click on the Choose files option and then browse and import the DST file you want to view. It will display the embroidery in the browser. You can visualize the DST embroidery in 3D mode by clicking on its Render as 3D option.
It provides a Save button too that you can use to convert DST to PEC embroidery format.
Check: Best Mbox Viewer Tools
How do I convert EMB to DST?
Both EMB and DST are embroidery files. To convert EMB to DST, you can use the BERNINA ArtLink that we discussed above in this post. Simply open an EMB file and then go to the File > Export Machine File option to save it to the DST file format.
Hope you find the article helpful!
Now read: What is an IGS/ IGES file?