In this tutorial, we will show you how to make a slideshow with music on Windows 11 without using third-party tools or apps. While there are so many options available to create a slideshow with cool effects, generating a photo slideshow natively or using a built-in feature in Windows 11 PC would be a good option to try. If you want to do that, you can use the Microsoft Photos app in Windows 11 to make a slideshow with music. You can add background music and/or custom audio files to the slideshow and then export the slideshow with music as an MP4 format file in high quality.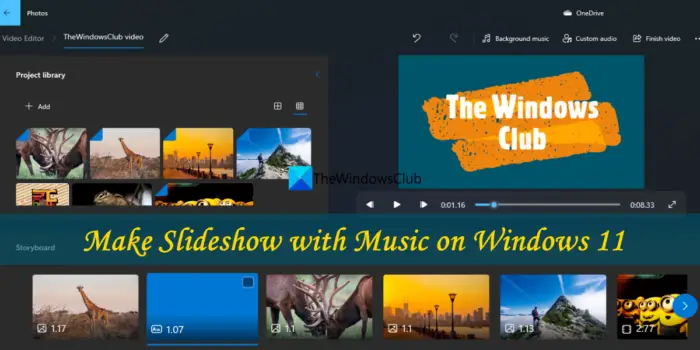 The built-in Photos app is improved further in Windows 11 and it has some amazing features. It lets you watch a slideshow, edit pictures,  create a video from images, rotate an image, crop an image, compare images, and more. Making a slideshow video with music using the Photos app is also fun and easy. It supports a lot of image formats such as JPG, THUMB, TIFF, DNG, JFIF, JXR, WDP, ICO, HEIC, PNG, HEIF, DIB, HIF, GIF (including the animated GIF), BMP, MEF, etc., to create a video slideshow. There will be no watermark on your slideshow that makes it more useful.
Make a Slideshow with Music on Windows 11
The steps to make a slideshow with music on Windows 11 PC using the Photos app are given below:
Open the Photos app
Create a new video project
Add images or photos for your video slideshow in the Project library section
Place the added photos in the Storyboard section
Use options for slideshow
Add background music or custom music to the slideshow
Preview the slideshow
Finish the slideshow video and export it as an MP4 video.
Each step mentioned above contains multiple sections. So, let's check all these steps in detail.
First, you need to open the Photos app. You can use the Windows Search box, Start menu, or any other way to open it. After that, create a new video project. For this, click on the Video Editor option which is available next to the Folders option.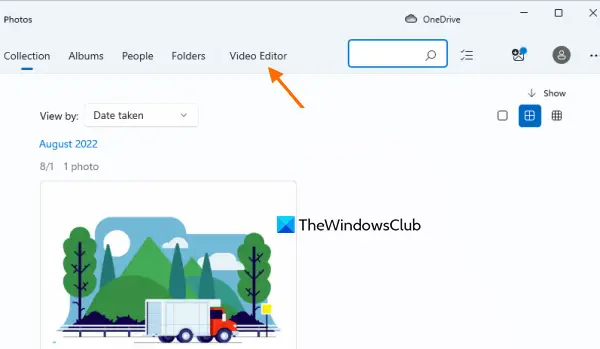 Press the New video project button. A pop-up will open where you need to give a name to your video or slideshow. After that, use the OK button in that pop-up.
Press the Add button present on the top left side in the Project library section. It will open a drop-down menu where you need to click on the From this PC option to add images or photos stored in a folder on your Windows 11 computer. You can also add online images (using From the web option) or images from your collection if you want.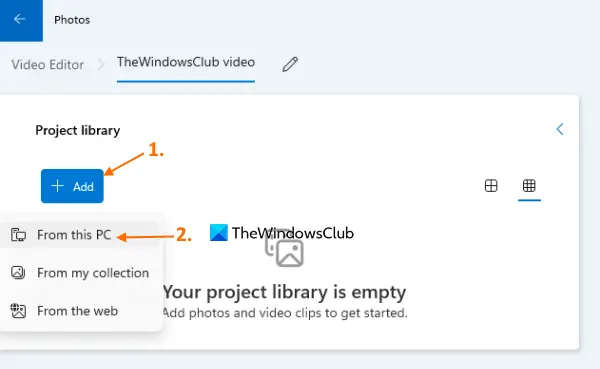 The thumbnails of added images will visible in the Project library section. You can delete some photo(s) if added by mistake.
Now, this is one of the main steps for making a slideshow with music using the Photos app. Once the required images are placed, drag and drop the selected images from the Project library section to the Storyboard section. And then, for the slideshow, you will have important options available in the Storyboard section.
You can also right-click on a photo to access them. All those options will help you generate a beautiful and meaningful slideshow. Available options are:
Rotate photo
Set how long a photo should appear using the Duration option
Add a title card with custom text and/or background
Resize photo (shrink to fit or remove black bars)
Add Text, Motion, 3D effects, Filters, etc.
Related: How to view Photos as a Slideshow on Windows
Now comes the main part where you need to add music to your video slideshow. Once the photos are added and options are set, you can play or preview the slideshow. There is a separate section for this present on the top right part of the Photos app interface. Of course, there will be no audio in the slideshow. So, click on the Background music option if you want to add a music track that will automatically adjust based on the length of the video slideshow.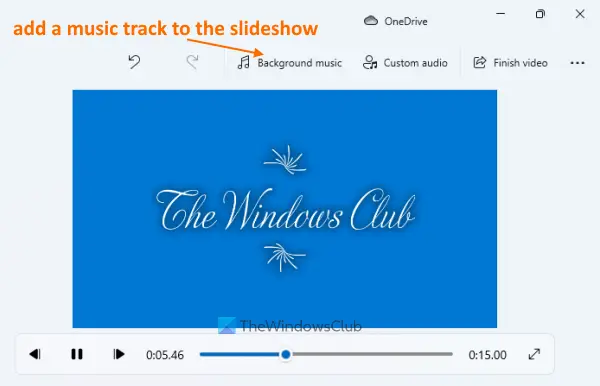 There are pre-added music tracks available to choose from. You can also set the music level and the option to preview a music track is also there.
If you don't want to use a music track and want to add custom audio of your choice in the slideshow, then it can also be done. For this, click on the Custom audio option (available just next to the Background music option) in the slideshow preview section. After that, use the Add audio file button (available on the top right section) and add an audio file of your choice from your Windows 11 computer. Supported formats are MP3, AAC, MKV, WMA, 3G2, M4V, M2TS, WAV, AAC, ADTS, etc.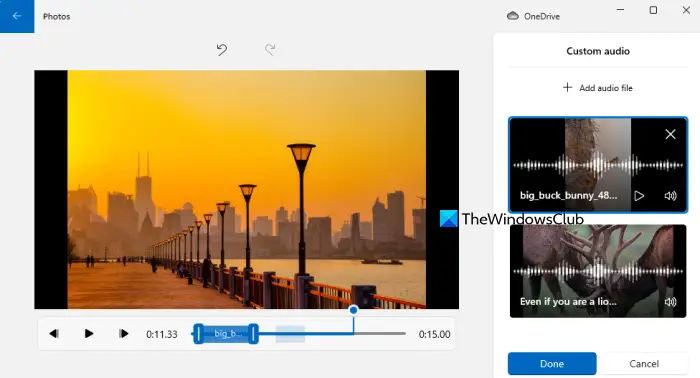 Here, the best part is you can also adjust the audio length and put the audio file in the desired place. Also, multiple audio files can be added and placed in the slideshow. You need to do a little bit of work to adjust the audio position and preview the slideshow to make sure the audio fits with the slideshow.
After that, press the Done button.
Also read: How to add Favorites to Photos app in Windows
Finally, click on the Finish video option. A pop-up will appear. Here, you can select the output video quality to Medium (720p), Low (540p), or High (1080p) using the drop-down menu. You can also expand the More options section and then use the hardware-accelerated encoding option to make the slideshow export process faster.
In the end, press the Export button, and then you can save your slideshow with added music as an MP4 file to a folder or location of your choice.
Does Windows 11 have a slideshow maker?
Yes, definitely. Windows 11 have a built-in slideshow maker that can be accessed and used using the Photos app. You can create a slideshow with music. You will have the choice to use background music or add a custom audio file in the slideshow. Text effects, title card, 3D effects, etc., can also be added to the slideshow and then you can export the final output as an MP4 video. You can check the detailed guide covered in this post for making a video slideshow along with music in Windows 11.
How do you make a video with pictures and music on Windows 11?
If you want, you can use some free software like Ezvid, PhotoFilmStrip, etc., that can help you make a video with pictures and music on Windows 11. On the other hand, you can also use the native Photos app of Windows 11/10 to create an MP4 format video (or slideshow) with selected pictures and custom music. This post covers a step-by-step guide for making a video with pictures and music using the Photos app.
Read next: Best free Slide Presentation Maker software for Windows PC.