When it comes to making a slideshow, Microsoft PowerPoint tops the list every time. However, if you do not have Office subscription and you want to make a simple image slideshow for school or office project, you can check out this free slideshow maker for Windows 10/8/7 called PhotoFilmStrip. You do not need expert knowledge or a lot of time to get started with this portable image slideshow maker.
PhotoFilmStrip slideshow maker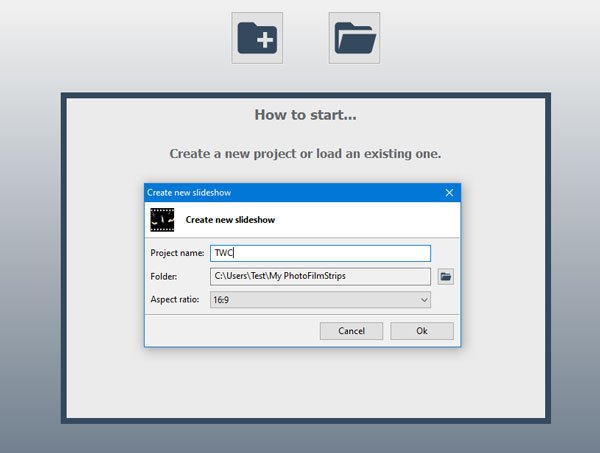 Although you cannot get the same number of features or options like Microsoft PowerPoint or Icecream Slideshow Maker in this tool, you can see all the essential options so that you can make an attractive presentation.
Talking about specific features of PhotoFilmStrip, they are:
Aspect ratio: You can play with the aspect ratio so that the outcome fits with the screen on which you would display the presentation or slideshow.
Effect: If you want to add black and white or sepia effect, you can get an in-built option. This option is handy when you do not have a dedicated image editor like GIMP.
Transition: Transition is an integral part of slideshows, and you can add such element while using PhotoFilmStrip. However, you can find only 'Fade' and 'Roll' transitions.
Timeline: A timeline is required for convenient access, and you can find an intuitive timeline in this app where you can place all the images, add transitions, effects, etc.
Music: You might not want to add music in your office project, but sometimes you need to do that to ditch the boredom. PhotoFilmStrip allows you to add music from your computer.
4K output: There are only a few slideshow makers that let you process the presentation in 4K resolution. Nonetheless, you can export slideshow in 4K with the help of this software.
There are other options and features you can find while using it on your computer.
Download and use PhotoFilmStrip on Windows
To get started with PhotoFilmStrip, you can follow these steps-
Download from official website
Extract the .zip file contents
Open executable file
Import image and do the required editing
Export slideshow.
First, you need to download this software to your computer. As mentioned earlier, you do not need to install it because of the portability. After downloading, you have to extract the .zip file and double-click on PhotoFilmStrip.exe file to open the tool.
As you are starting it for the very first time, you have to create a new project. For that, click the respective button on your screen, and enter the project name, a location where you want to save the project, and aspect ratio.
Then, you need to import all the images you want to include in your slideshow. Therefore, you can find effects, movement, transitions, etc. To add music, you need to click the melody icon on the top menu bar and choose a song from your computer.
After adding all the things, you need to click the Render filmstrip button, which is the last option on the top menu bar. It will ask you to choose a format and resolution. Do select your desired options, and click the Start button to commence the rendering.
If you like it, you can download PhotoFilmStrip from the official website. It is available on Microsoft Store too.