Intel Unison is making an effort to overcome the bridge between the two realms, PC and Phones (Android and iOS). The app allows you to send and view images, transfer files, and do all sorts of other things. However, just like any app that connects the devices, configuring and using Intel Unison requires a learning curve. In this post, we will see how to install Intel Unison on a PC and Phone.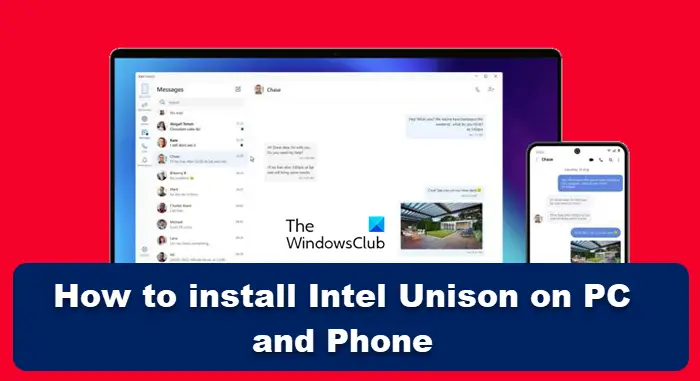 Install Intel Unison on PC and Phone
In order to install Intel and use Intel Unison on your PC and Phone, you need to do the following things.
Install Intel Unison on your PC
Install Intel Unison on your Phone
Pair both devices and start using the app
Let us talk about them in detail.
1] Install Intel Unison on your PC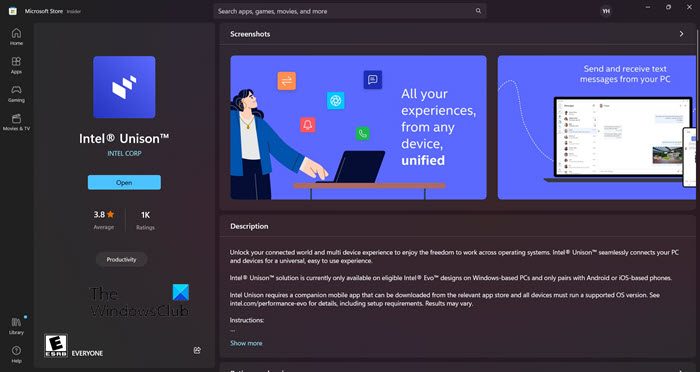 Before we go on installing Intel Unison on our system, there are a few prerequisite requirements that we need to take care of. Do keep in mind though, some of these requirements are flexible, read the listicles mentioned below to know more about them.
Officially at least, Intel Unison is supposed to work just on Intel Evo 13th-generation computers, however, we tries the app on 10th-generation laptops and it worked perfectly. So, regardless of processor, do try installing the app, most likely it will work without any hassle, at least for now.
There are a few other requirements such as a Windows 11 computer. Intel Unison, as of now, is not available for Windows 10 computers, however, we are hopeful for its arrival. As of now, you need to upgrade to Windows 11 in order to use Intel Unison.
Next up, make sure that you have an active Internet connection and an iPhone (running iOS 15 or higher or an Android phone (running Android 9 or higher).
Once you have all the things in place, download and install intel Unison from microsoft.com. It is an official Microsoft Store, and with just one click, the app will get downloaded and installed on your system.
2] Install Intel Unison on your phone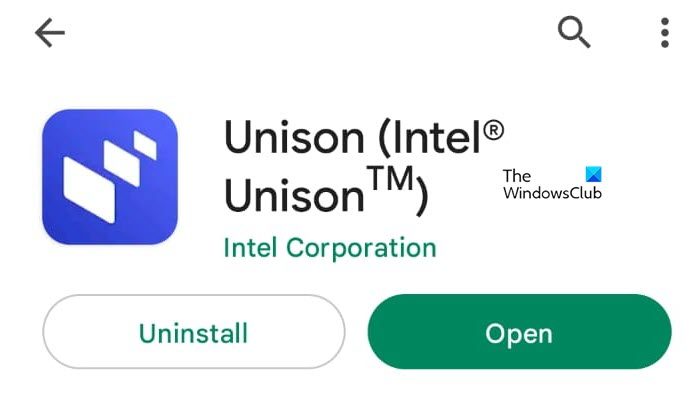 After installing Intel Unison on your system, it's time to do the same on your phone. The good thing about phones is that they are oblivious to nuance prerequisites. All you need is an Android or iPhone with Android version >= 9 or iOS version >=15 respectively. If you do these things, just go to your respective stores, for Android, it is PlayStore, and for iOS, it is App Store.
3] Pair both devices and start the app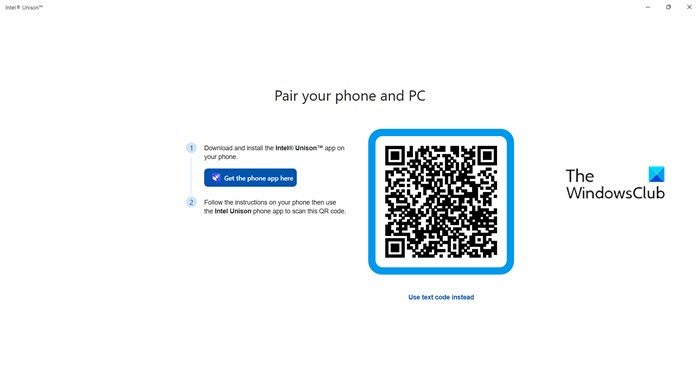 After installing apps on both devices, it is time to connect them and start using the app. Using Intel Unison is pretty simple, just launch the app on both devices and give the required permissions. Now, you will see a QR on your computer's screen, you need to scan it with your phone. After scanning the QR present on your computer's screen, both devices will get attached. You can access photos, files, and videos taken or stored on your phone from your computer.
Note: For iPhones, there are some additional permissions required. For that, go to Settings > Bluetooth > your PC name > i icon > Show Notifications.
Fix: Intel Unison not working on Windows 11
How can I connect my mobile to PC?
There are various apps to connect the mobile to the PC. One of the most famous and easy-to-use apps is Phone Link. It is a Microsoft App and comes preinstalled on Windows PC. If you don't know how to use it, do check our detailed guide on how to connect a mobile with a PC using the Phone Link app.
Read: Your Phone app Notifications are not syncing or working.