You can use different audio outputs on your Windows PC to improve audio performance and quality. 24-bit audio is one of them, and its output guarantees a higher dynamic range, which means louder audio with no distortion or noise. In this article, we will look at how to get 24-bit audio on Windows 11/10, and how important it is.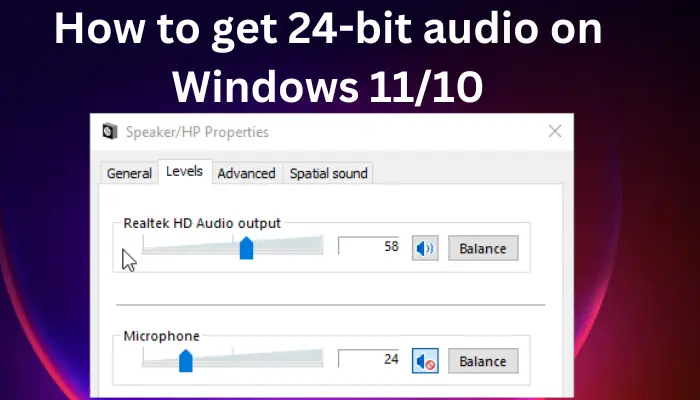 To enable 24-bit audio on a Windows computer, users can use the Audio Output settings on their devices. Even more, users can set bits and sample rates as defaults on their systems to enhance audio quality. The next upgrade from 16-bit audio is 24-bit audio. Bits are processed in terms of bytes, and several groups of 8 bits form a digital output.
Why should I use 24-bit audio on Windows?
The 24-bit audio format has several benefits. First, it has a high dynamic range with no noise or distortion. This means you can reach the highest volume levels with clear sound. 24-bit audio can also achieve a 144 dB dynamic range. Secondly, the 24-bit audio quality is better for editing compared to other lower levels like 16-bit. The optimal binary combination of 24-bit audio is around 16,777,216.
How to get 24-bit audio on Windows 11/10
In a nutshell, 24-bit audio offers higher volumes before distortion, noise reduction, and better audio quality. You can use three methods to get 24-bit audio on Windows 11/10 which are, using audio settings, updating audio drivers, and using the Realtek audio app.
Use Audio settings
Update your Audio drivers
Use Realtek Audio Manager
Let us dive deep into these methods.
1] Use Audio settings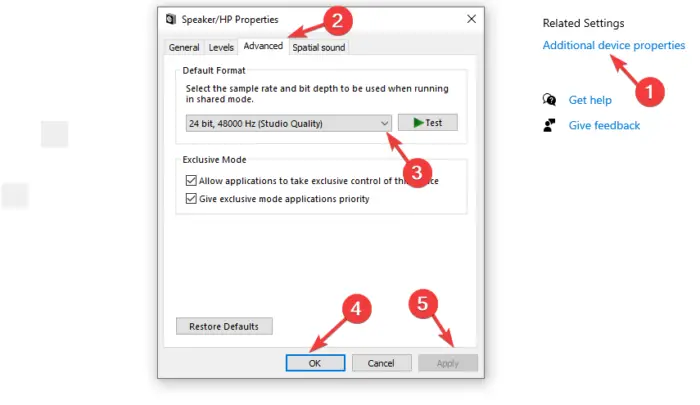 You can get 24-bit audio by setting the bit depth and sample rate in the Audio settings. This method sets 24-bit 44100 Hz studio quality on your PC and uses bit depth and sample rate to improve the device's audio output. Use the steps below to get 24-bit audio on Windows 11/10:
On Windows 11;
Open the Settings app by clicking the setting icon if it's on the toolbar or by pressing the Windows key + I.
On the left side, you will see System; click on it, and then locate and select Sound.
Choose your audio device; it can be a Speaker or Headphones. This will open its properties.
Go to the Output settings and you will see a drop-down list next to Format. This is used to set the bit depth and sample rate. Choose 24-bit 44100 Hz Studio quality. You can also choose another 24-bit audio quality option.
Test your audio setting and if satisfied then you are done.
On Windows 10;
Open the Settings app as we did above and go to Systems > Sound.
Select the audio output on the drop-down menu under Output.
Below that, you will see Device properties; click on it
On the Device properties window, navigate to the right side and click Additional device properties. A new small window will pop up.
Go to Advanced and select any 24-bit audio quality that you want, and click Test.
Click OK and then Apply to save the changes.
2] Update your audio drivers
When you update your audio driver, you add new features and may also fix bugs preventing your PC from processing 24-bit audio quality. You can update your drivers using the Device Manager, Windows Update, or Driver Update software, or manually download and run the driver update setup file. These methods are straightforward, and we covered them in this article:
Once you get the latest audio drivers, you can now use the Settings app to select the 24-bit audio format you want.
3] Use Realtek Audio Manager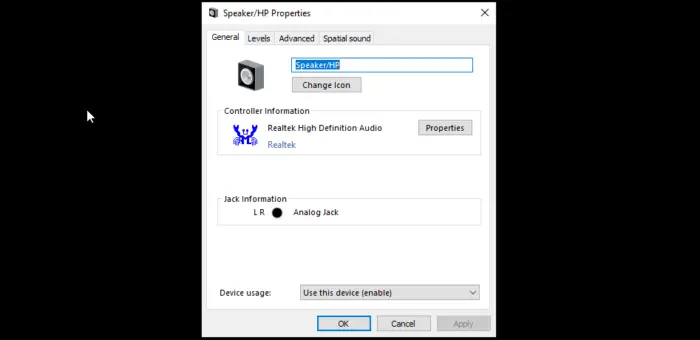 You can get 24-bit audio by setting your default audio quality on the Realtek Audio Manager app. Note that, to do so, you need to have the Realtek app installed on your computer. Follow the steps below to get 24-bit audio on your Windows 11/10 PC:
Right-click on the Realtek HD Audio Manager icon on the taskbar's system tray. This opens the Audio options.
Click on the Sound Manager option listed in the drop-down menu.
Go to the Default Format option and set the default format of the playback to 24-bits 44100 Hz Studio quality. Then, choose the DVD format that is below it.
Finally, exit the Sound Manager windows and reboot your computer.
Note that you can use any other audio software you prefer, and you should get these settings inside the program.
We hope one of the methods helps you get 24-bit audio on Windows 11/10.
Read: How to fix Sound Distortion issues in Windows
Is 24 or 32-bit better for audio?
24-bit and 32-bit audio are great for quality sound and editing purposes. However, 24-bit can record a dynamic range of up to 144 dB, while 32-bit can record absolutely high ranges of up to 1528 dB. These are imaginable ranges, and perhaps no audio output can possibly offer them in the real world.
Does 24-bit music sound better?
There is a notion that 24-bit audio is better than 16-bit and this makes some users feel like they have poor audio if their systems have the latter. Well, that is true for scientific and computing accuracy. The truth is that 24-bit offers higher dynamic range, and noise reduction and is good in the editing studio, but if you compare the two, a human ear will not hear much difference.
Read also: How to use Realtek HD Audio Manager to boost PC Sound.