Realtek's High Definition Audio Driver is one of the most used sound drivers which provides high-quality DTS, Dolby, Surround Sound. This driver software comes with a number of features and functionalities such as a six-channel Digital to Analog Converter (DAC) that fully supports the 16/20/24-bit Pulse Code Modulation format for 5.1 channel audio. Realtek HD Audio Driver is typically required for your audio device to be in working condition.
When you install this driver on your Windows 11/10 PC, you are provided with Realtek HD Audio Manager using which you can tune and play with the PC sound. In this guide, we will explore the Realtek HD Audio Manager portal to configure the speakers and microphone on your PC.
Realtek HD Audio Manager
This software gets installed on your PC along with the package when you install any Realtek HD Audio Driver. You can easily launch the software from your system tray by double-clicking the Speaker icon.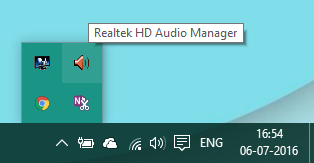 Alternatively, you can also launch it from Program Files location in your system drive:
C:\Program Files\Realtek\Audio\HDA\RtHDVCpl.exe
The executable filename can be different based on the software version you install.
Once you launch Realtek HD Audio Manager, it looks like this: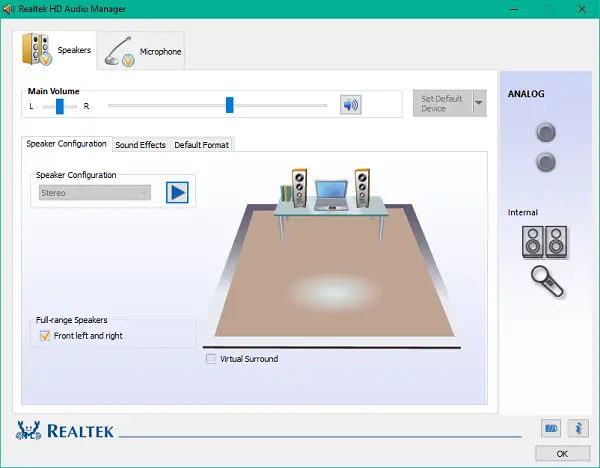 You can see two tabs in the above image:
Speakers
Microphones
Let's explore them one by one.
1] Speakers Tab
In this tab, you can modulate the settings related to speakers on your PC. Under the Main Volume section, you can adjust the system volume or balance the left-right speaker audio output using the slider provided there. Also, you can muffle up the speakers using the mute button.
Down below, we can see three tabs using which you can configure the way sound is played on your PC.
Speaker Configuration
In this tab, you can test the stereo output of the speaker or headphones that are connected to the PC. Once you click on the play button provided there, both left, and right speaker output will be tested by playing a sample audio clip. You can identify if there are any discrepancies by comparing the output for each. You can also use Headphone Virtualization, which uses advanced processing to create the illusion of a home theater while using stereo headphone. It's quite same as Surround Sound system. Apart from this, you can configure the usage full-range speakers as well.
Sound Effects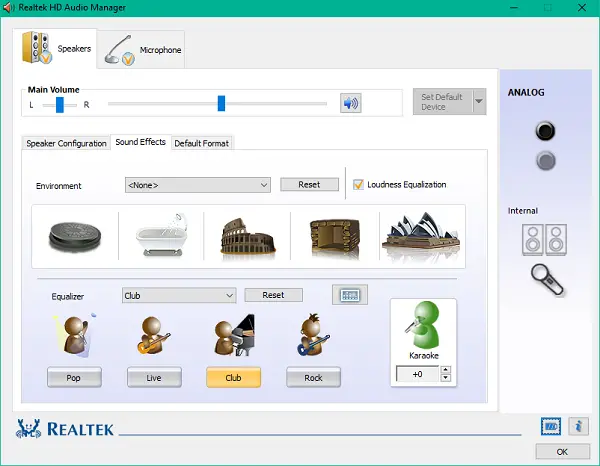 You can apply effects to the sound output using the functions provided in this tab. It provides you with a long list of available Environment effects with loudness equalization to reduce perceived volume differences. You can choose from the numerous options to intensify your speaker/headphones sound with impressive environmental effects. You can also use a native Equalizer and Voice Cancellation feature to set the sound effect per your comfort.
Default Format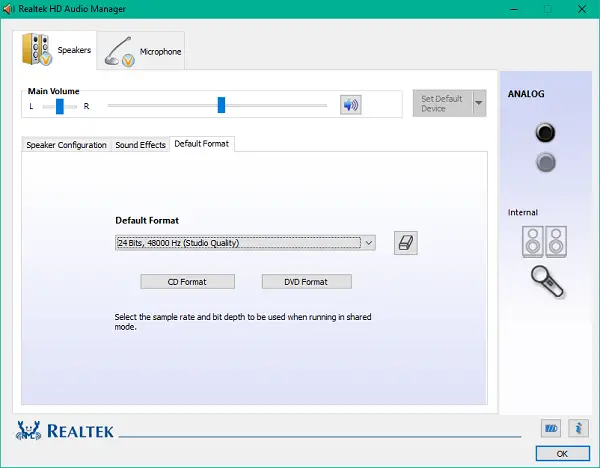 Under this tab, you can select the default sound quality in terms of sample rate and bit depth. If you are using an audio CD or a DVD, then you can set the sound format using CD Format and DVD Format options respectively.
Related: How to download and reinstall Realtek HD Audio Manager.
2] Microphones Tab
Under this section, you can configure the way microphones work on your PC. Below are the available sections to induce effects for Microphone device:
Microphone Effects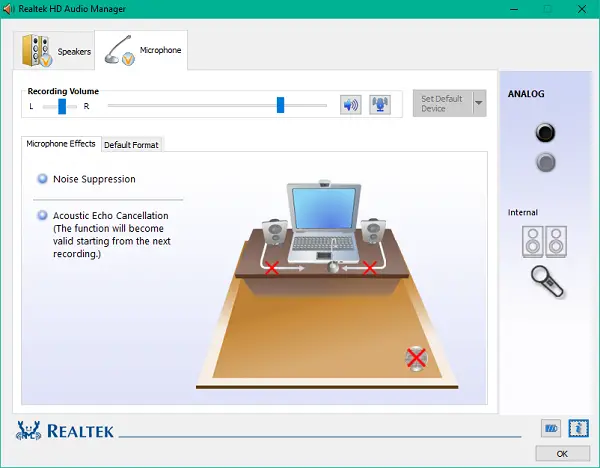 It provides an option to suppress the static background noise when you are recording some audio. Apart from this, you can reduce the acoustic echo caused by front speakers during recording. These functions help you record clear audio.
Default Format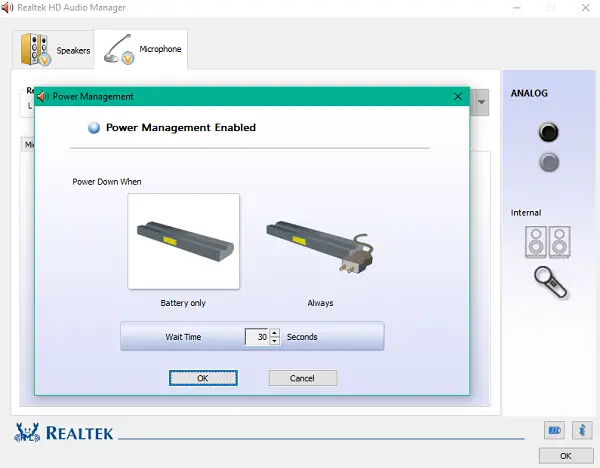 Like the Speakers settings, you can use this function to select the default sound quality format.
Modulating these settings as per your requisites can help you utilize the full potential of your speakers and microphones. You can even manage the power wielded into modulating these settings by using the inbuilt Power Management option.
Clicking on the little battery icon on the bottom left position opens up the Power Management window where you can choose to disable the changes when your PC is running on battery power.
What does the Realtek HD Audio Manager do?
Realtek HD Audio Manager is a settings panel to manage your audio devices. Apparently, you can increase or boost the audio with the help of Realtek HD Audio Manager on Windows 11/10. To get it on your PC, you need to install the corresponding driver given to you by your motherboard manufacturer.
How do I increase the volume of my Realtek audio?
There are several things you need to check to increase the volume of your Realtek HD Audio Manager. However, there are mainly two primary sections – Speakers and Microphones. Depending upon your needs, you need to change the speaker configuration, apply sound effects, change the default audio format, etc.
What are the best settings for Realtek HD Audio Manager?
Realtek HD Audio Manager doesn't act independently. It requires a physical device, such as headphones, speaker, etc. That said, the best settings for Realtek HD Audio Manager depend on the type of audio device you have, your room condition, etc. However, a ready-made setting is mentioned in this article that you can follow to get the most out of your audio system.
Do check out the features provided in the Realtek HD Audio Manager and make the most of it.
Sound problems? Read No sound in Windows PC.