Many Windows users are unable to access the Microsoft Store and receive Error code 0x80073D12. When they try to install an application, especially a game they see the following error messages.
Install the app or game. Before you can install this add-on, you'll need to install the app or game it works with.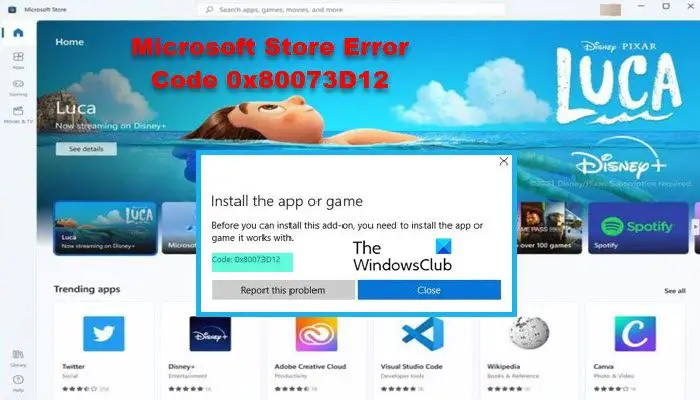 This is frustrating for a lot of users, that Windows Store keeps on showing error messages. Sometimes, the issue can be on your side as well. We are going to talk about that in detail and see some easy solutions to resolve Microsoft Store error code 0x80073D12.
What is error code 0x80073D12 on Microsoft Store?
Error code 0x80073D12 on Microsoft Store means that you are trying to install a game add-on or downloadable content without installing the game itself. A game add-on or expansion can't work individually. This error code may also occur in other scenarios, such as the game is corrupted, there is not enough disk space, etc.
Fix Microsoft Store error code 0x80073D12
To fix Microsoft Store error code 0x80073D12, you should first try to update your system. Make sure that you are on the latest Windows version. Sometimes, just updating to the latest version can resolve the issue as it installs the latest drivers and programs required. Other than that, try restarting your system. A good-old-fashion restart has saved a lot of us from wasting time trying to fix some of the most peculiar issues. If they are to no avail, then try to following solutions.
Check if you are installing an expansion
Check  the installed game
Check your Internet
Check if you have enough space
Check your date and time
Let us talk about them in detail.
1] Check if you are installing an expansion
First of all, check if the app that you are trying to install is an expansion. There are some games on the Microsoft Store, that require you to have the game before installing the add-on. For example, Forza Horizon 3 Hot Wheels is not a game, instead, it is an add-on that someone who has installed the game and it has played a few levels can install. So, if you try to do a fresh installation of the game from the Store, you will see the error message along with the error code. You can do a quick online search if you want to whether the game you are installing is an add-on or not.
2] Check the installed game
If you know that you are installing an add-on and you have the required game needed to install the add-on then you check if there is something wrong with the game. Make sure that it is not corrupted and is launching perfectly. In case, there is some issue with the game, try resetting or repairing it from the Windows Settings.
3] Check your Internet
You won't be able to download or install a game from the Microsoft Store if there is some problem with the Internet Connection. You can use an Internet Speed checker to know your bandwidth and if it's low, test some other device connected to the same network. If all the devices are having a similar problem, restart your router and if that's to no avail, contact your ISP. But if yours is the only device with an Internet issue, fix the slow Internet connection.
4] Check if you have enough space
If you are installing the add-on in a drive with very low space then you won't be able to install the game. You can always check the remaining storage of your drive from Windows File Explorer. Hit Win + E to open the app, go to This PC, and there you will see different disks and their remaining spaces.
5] Check Date and Time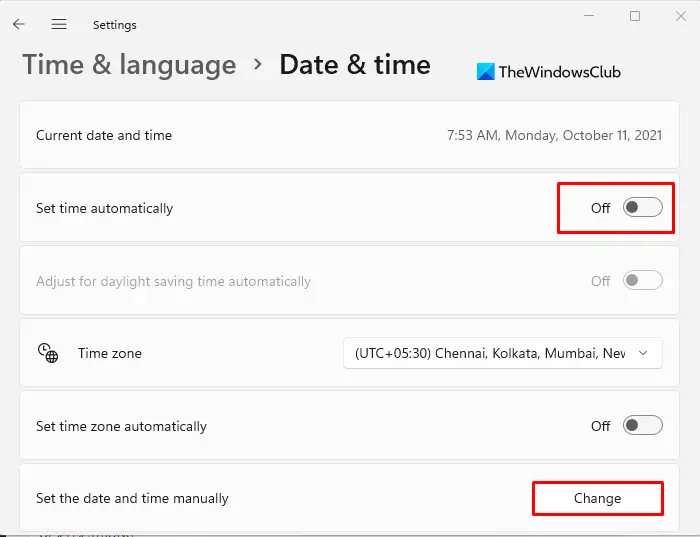 Next up, if the issue persists then you should check your date and time and make sure that it's correct. To do that, follow the given steps.
Right-click on the Date and Time placed in the Taskbar,
Check if Set time automatically and Set time zone automatically is enabled or not.
If they are disabled, enable them.
In case, both the options are enabled and you are still not getting the correct date and time, disable them, click Change from Set the date and time manually option, and adjust your time and date.
Finally, restart your computer and check if the issue persists.
How do I fix Microsoft Store error 0x80073D05?
You may receive Microsoft Store error 0x80073D05 while installing or uninstalling the apps. If that happens, then first close the simulator for Microsoft Store apps and then try again. If this doesn't help, then run the Windows Store Apps troubleshooter to check for issues and resolve them.
Read Next: