For a variety of reasons, you may want to factory reset your Windows 11 computer. There are a few methods you can use to do this, but they all require that you are logged into your computer with your admin password. However, there are occasions when you could get stuck on the login screen, possibly because you forgot your password or because your computer is acting up, in which case you need to reset the computer.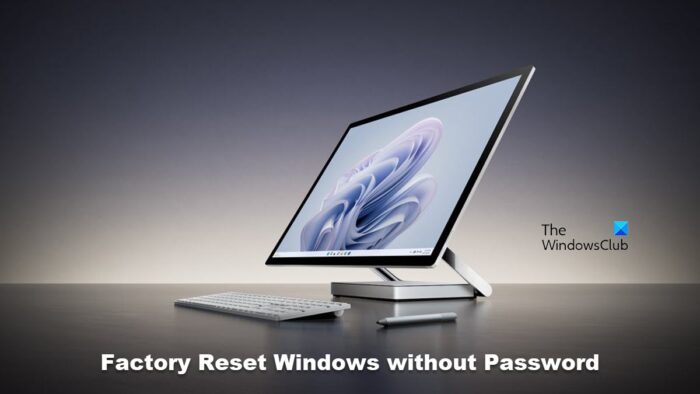 When your computer won't start up because of corrupt data or malware on your PC, resetting your computer can help. By doing so, all of your files will be deleted, and the issue will be fixed. Those are possible situations where you might need to factory reset your Windows 11 PC. Here, we'll talk about the best ways to reset your Windows 11 PC from the login screen in this article.
How to Factory Reset Windows 11 without Password
There are two straightforward ways to reset your Windows 11 without an admin password, and we are going to talk about them below:
Use Recovery Options
Clean install Windows using a bootable USB
Here are the details about each of the methods to reset your computer without a password.
1] Use Windows Recovery Options
The Windows Recovery option is a function that contains several tools that can come in handy when your PC is experiencing issues while booting or when you can seem to get past the Windows login screen. With this option, you can reset your Windows 11 PC without a password, and here is how to do it:
Switch on your computer and wait for the login screen to appear.
At the bottom-right corner of the login screen, tap the Power menu.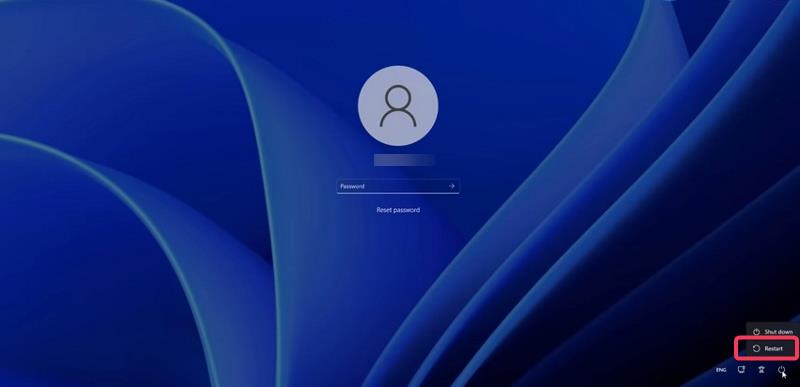 After the Windows power options come up, press and hold the Shift key and then tap on Restart. You should still hold the Shift key after tapping on Restart.
If prompted, click on Restart Anyway.
When you see the 'please wait' screen, release the Shift key.
Your computer will restart and enter the Recovery option.
After the PC restarts, the Choose an option screen will appear; tap on the Troubleshoot option.
Now, select Reset this PC in the Troubleshoot screen.
In the Reset this PC screen, you'll be presented with two options: Keep my files and Remove everything. Depending on what you want to do, click on one of the two options.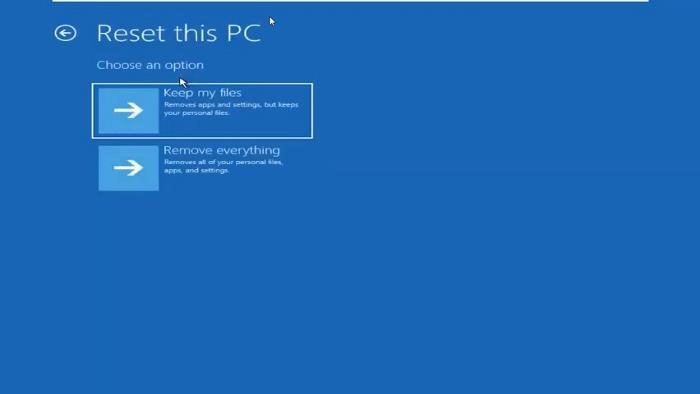 Again, you'll be presented with two options for the reset: Cloud Download and Local Reinstall. We recommend you select the Local Reinstall option, but if that doesn't work, you can try the Cloud Download.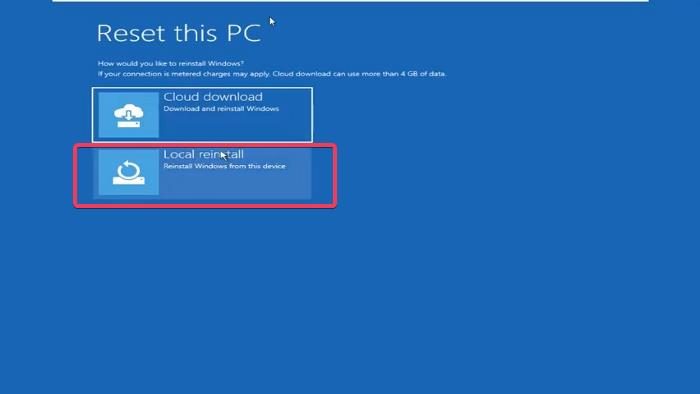 You will then be prompted with the Are you ready to this device screen, where you will have to click on Reset to kickstart the process.
Resetting the Windows 11 PC may take some time, so you have to wait till the process gets completed.
Note: If you cannot use the steps above to enter Windows Recovery Options, you can force shut your computer 2 to 4 times to enter the recovery mode.
Read: How to recover files when Windows computer won't boot
2] Clean install Windows using a bootable USB
Another method you can use to reset a Windows 11 computer without a password is by using a bootable USB to clean-install Windows on the computer. However, this method won't give you the option to keep your computer files, so all the files will be erased with the process.
If you want to clean install Windows using a bootable USB, here is how to do it;
Connect the Windows 11 USB flash drive to your computer.
Restart your computer and start pressing F8, F9, or Esc, depending on your PC manufacturer, to enter the Boot options.
On the Boot options screen, select the USB flash drive you connected earlier as the boot drive and press Enter.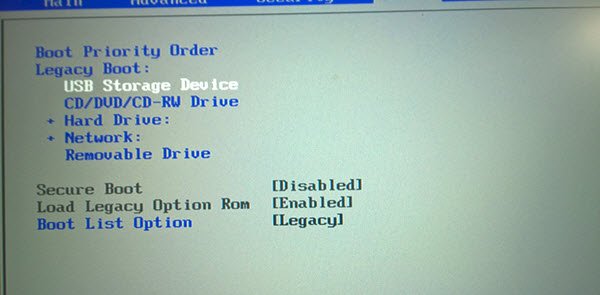 You'll be taken to the Windows Setup page, where you will set the Language to install, Time and currency format, Keyboard, or input method. After that, click on Next.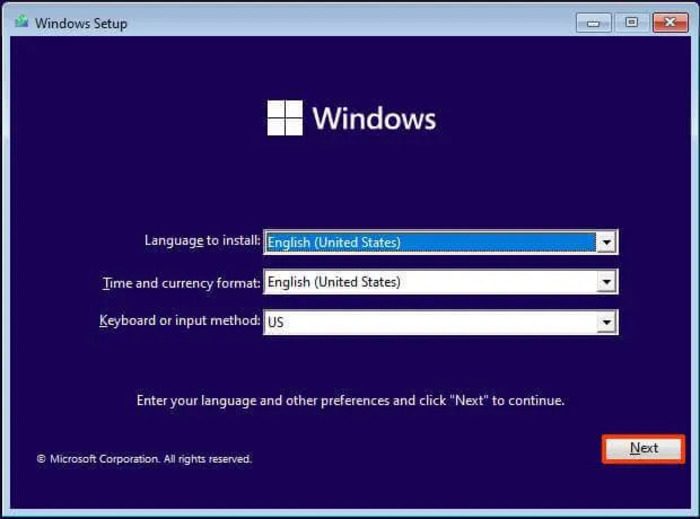 Tap on the Install now button.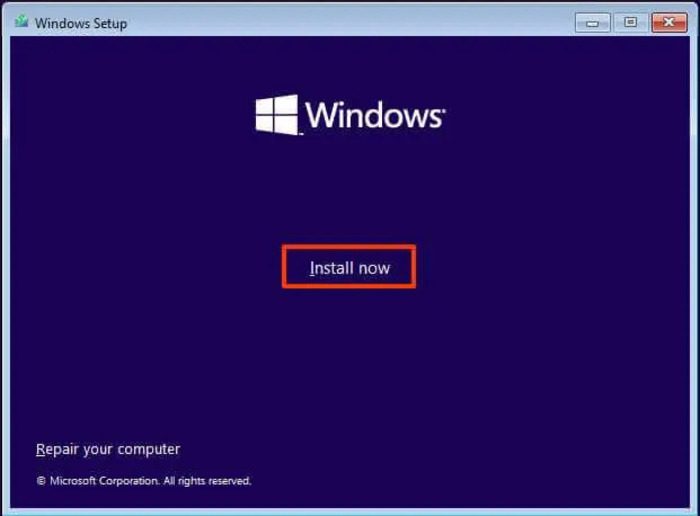 If prompted with the Activate Windows screen, select I don't have a product key.
Now, select the edition of Windows 11 you want to install.
Check the I accept the license terms option and click on Next.
On the resulting page, select Custom Install Windows only (advanced).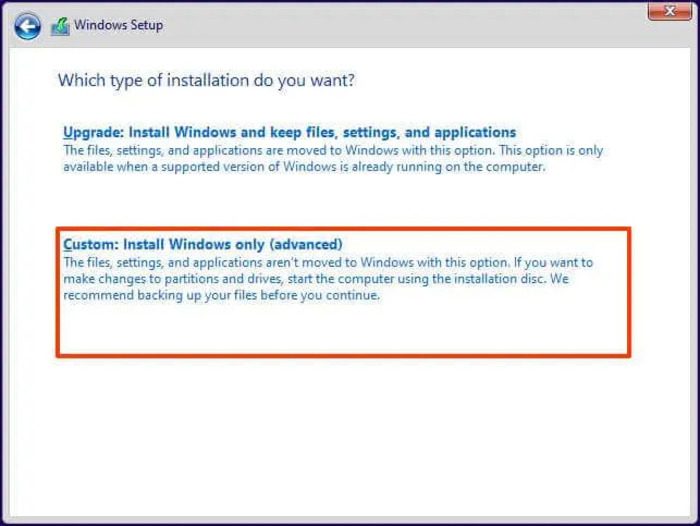 Then click on your installation hard drive and hit Next.
After these, wait for the installation to complete and follow the on-screen prompts to set up your computer afresh.
Related reads:
How do I force a factory reset on Windows 11?
If you forget your password, you may force the factory reset or you may reset your computer right from the Windows login page. You have two options for these: using the System Recovery option or performing a clean installation of Windows on your computer using a USB drive. Any of these two techniques will clear your PC and enable a fresh load.
Read: Windows Startup & Boot problems – Advanced Troubleshooting.
Does resetting my PC clear my data?
Resetting your PC through the general method gives your options to either keep your file or erase everything. You just have to select one depending on what you want to do with your computer. However, if you're going to reset your computer by clean-installing Windows on it, then you'll lose all data with the process.
Also read: