The habit of staring at your computer screens or mobile devices for a longer period can put a strain on your eyes. Realizing this, more and more operating systems and browsers are switching to dark mode. We have already seen how to use Dark Mode in Chromium-based browsers like Chrome and Edge. So, today's post will focus on how to enable Dark Mode in Firefox browser.
Firefox supports a built-in dark mode theme to help PC users browse the web. Users can also download hundreds of themes that suit their preferences by visiting the official Firefox themes page.
Enable Dark Mode in Firefox on Windows 11/10
Like other browsers, Mozilla recently added support for Dark Mode or Night Mode. You can enable Dark Mode by following these steps:
Launch Firefox
Open the Firefox Menu
Select Customize
Click on the Themes button
From the popup, select Dark.
You can restore the default theme by choosing it in the same drop-down list or Get More Themes. There are thousands of themes you can choose from to give Firefox the look you want.
Launch the Firefox web browser and go to 'Open Menu' visible as three horizontal bars in the upper-right corner.
Select 'Customize' from the menu list.
From the bar displayed at the bottom of the Customize page, press 'Themes' drop-down arrow.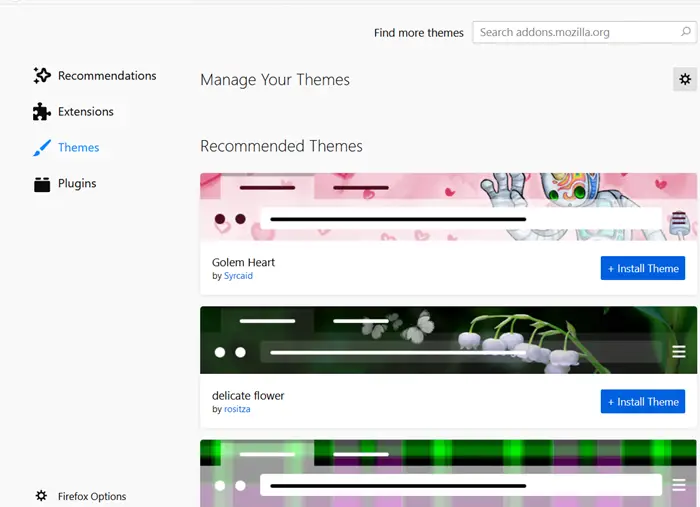 Alternatively, you can choose 'Manage' to choose from 'Recommended Themes'. These include-
Golem Heart
Delicate flower
Purple & lime green plaid.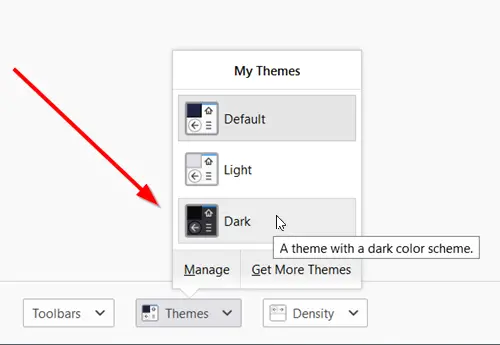 Under 'My Themes', select 'Dark' to enable Dark Mode in the Firefox browser.
Hit 'Done' button when done.
Following Google Chrome and Microsoft Edge, Firefox is yet another browser to offer a dedicated dark mode. The option is refreshingly easy to enable.
Also read: Night Mode Page Dim: Firefox and Chrome extension for night browsing.