In this tutorial, we will show you how to enable and use Quick Actions in the Firefox browser on a Windows 11/10 computer. Quick Actions is a built-in feature of Firefox that helps to perform various actions using the address bar. For example, you can use the Quick Actions to open the Add-ons Manager page, View Bookmarks, Open Private Browsing Window, Restart Firefox, and open the Logins & Passwords page to find and manage saved passwords, etc. All such options or features can also be accessed in other ways, but using Quick Actions for them is faster and easier. You just need to find an action and trigger it using the address bar.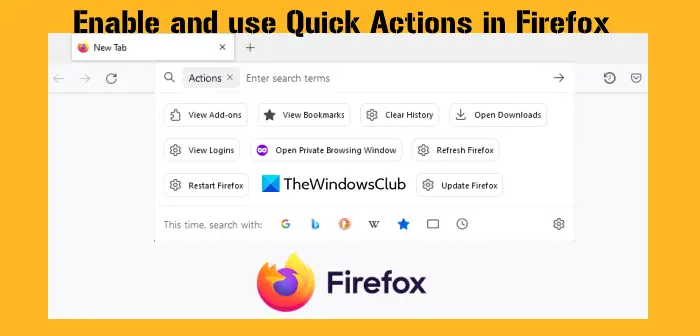 A similar feature is also present in other browsers and tools. We can use the Command Palette feature in Edge browser, Commander feature in Chrome browser, and Command Palette in Windows Terminal. And now, we have this Quick Actions feature in Firefox. By default, the Quick Actions feature is not enabled so you can't activate it for use. But you can easily enable it and then use it whenever you like. Let's check how to do it.
How to enable Quick Actions in Firefox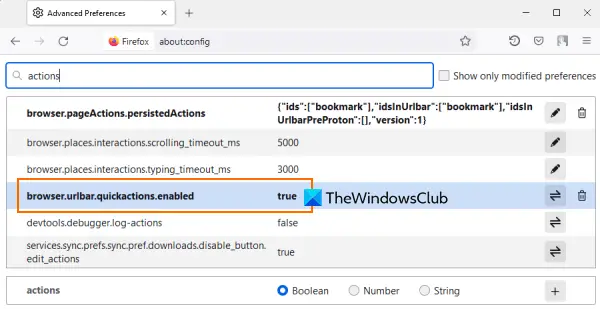 To enable Quick Actions in Firefox, follow these steps:
Open the Firefox browser
In the address bar, type about:config
Hit the Enter key to open the Advanced Preferences page
You will see a caution message. There, tap on Accept the Risk and Continue button
Look for browser.urlbar.quickactions.enabled preference
Double-click that preference to set its action from false to true. If it is already set to true, then don't need to do anything
This will enable the Quick Actions in Firefox. You might need to restart the browser if it is not enabled for some reason. Now you can activate and use Quick Actions. Let's see how this can be done.
Related: How to automatically Remove Trackers from URLs in Firefox.
How to use Quick Actions in Firefox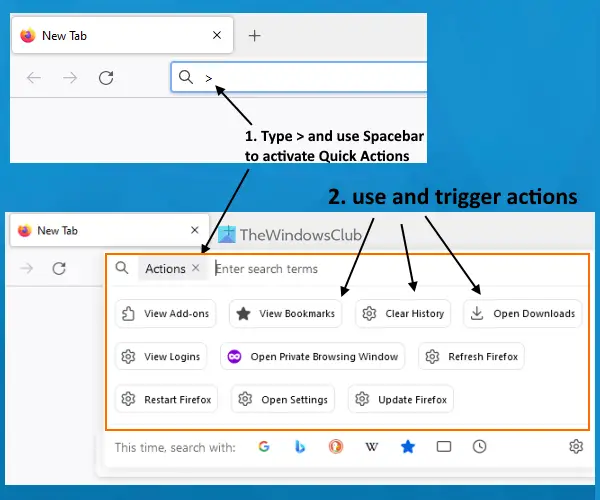 You can use Quick Actions in the Firefox browser using the following steps:
Open the Firefox browser
Type > in the address bar
Press the Spacebar key. This will activate the Quick Actions
Now you will see the actions that can be triggered. Some of the available actions are View Bookmarks, View Logins, Clear History, Open Downloads, Restart Firefox, View Add-ons, etc. You can also filter the list by entering a search term
To trigger an action, use the left mouse button or Up and Down arrow keys to select an action and hit the Enter key. This will open the associated setting or option instantly.
In addition to that, Firefox will also show you Quick Actions options when you type something in the address bar. You don't have to activate Quick Actions for that. If the typed query or keywords matches any of the Quick Actions, then it will show the related action in the address bar suggestions.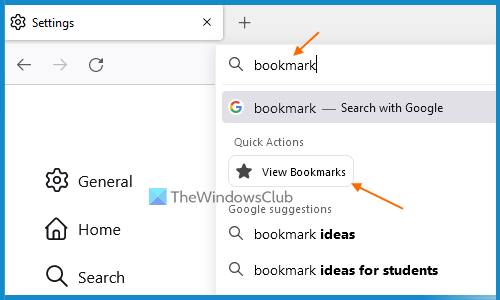 For now, the actions are limited but it is possible that we will have more and more actions like Take a screenshot, Print, Open Inspector, etc., in future updates. Such actions are already in the developer builds of Firefox so there are chances that we will have them in the stable version too.
Also, all the actions work as they should except for a couple of them. For example, the Refresh Firefox action results in a page not found action. This could be a bug that we hope would be fixed with new updates.
Hope this helps.
How do I enable page actions in Firefox?
If you want to enable or turn on Quick Actions in Firefox, then it can be done from the Advanced Preferences page of Firefox. You need to set the browser.urlbar.quickactions.enabled preference to true. This post above contains all the necessary steps for enabling the Quick Actions feature. The steps to activate Quick Actions to view the available actions and use those actions are also covered.
How do I get Firefox to open PDF instead of downloading?
If you want Firefox to open PDF instead of downloading it, then use these steps:
Type about:preferences#general in the address bar
Hit the Enter key
Access the Applications section
Open the drop-down menu available for the Portable Document Format (PDF) option
Select the Open in Firefox option available in the drop-down menu.
Later, you can use the same steps to download PDF instead of previewing or opening in Firefox using the above steps.
Read next: How to Password Protect Bookmarks in Chrome, Firefox, and Edge.