Commander feature in Google Chrome helps to search and use features present in Chrome browser. For example, you can use it to open incognito mode, close the current tab, clear browsing data, toggle developer tools, bookmark the current tab, close unpinned tabs, and lots more.
You can simply use the Search box of Commander feature and type some letters and options related to your search query will visible, just like it is visible in the screenshot below. This feature is pretty good but it remains disabled or turned off by default. This post will help you with how you can enable the Commander feature in Google Chrome and start using it.
Once the Commander feature is enabled, you can activate it with a hotkey and use it on any tab. You don't have to use the mouse cursor to perform some action on the Chrome browser. Just type in your search query and execute the action. This feature is a bit similar to desktop application launchers and quite useful also.
Enable Commander feature in Google Chrome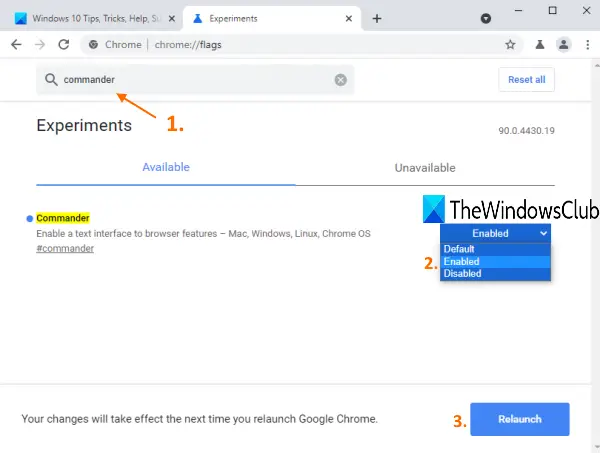 Here are the steps:
Open Google Chrome browser
Type chrome://flags in Omnibox (address bar)
Press Enter
Search for Commander option or experiment
Use Enabled option available in the drop-down menu of Commander option
Press the Relaunch button.
After relaunching the browser, the Commander feature will be turned on. Now, let's check how to use it.
Using Commander feature in Google Chrome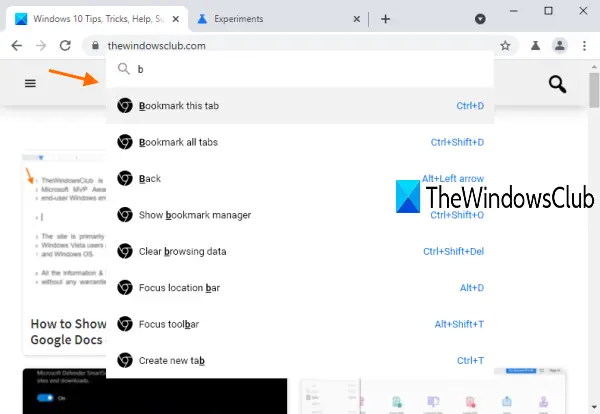 To use the Commander feature, activate it by pressing Ctrl+space hotkey. You will notice that a search box has appeared on the Chrome browser.
Now type something and options related to your search will visible. If there is some hotkey associated with a particular option, that hotkey will also visible. Use up or down arrow keys to select an option and press Enter to use it.
You can also use the mouse cursor or hotkey to use a particular feature visible in the search results.
Hope you find the feature useful.