If you want to copy or duplicate someone's Spotify playlist in your account, this article will help you do that – whether you have a free or paid account.
Spotify is one of the best music apps that you can download from the Microsoft Store. As it offers countless free music, you can choose any genre and start listening to someone of the best creations on the go. Apart from having some other features, Spotify allows users to create a playlist so that you can listen to some specific songs whenever you like.
Let's assume that you copy all songs from a Spotify list playlist. There are two methods to do that.
First, you can create a playlist in your account, search for all the songs one after one, add them to your playlist.
Second, follow this tutorial to make it happen within moments.
Although the free version users won't get the "Create Similar Playlist" option, they can copy the playlist for sure.
Please note that we have mentioned the steps for the Spotify app for Windows 10. However, it is possible to do the same even if you are using it on a different platform.
How to copy someone's Spotify playlist
To duplicate someone's Spotify playlist, follow these steps-
Open the Spotify app on your computer.
Click on the New Playlist button.
Name your playlist, and click the CREATE button.
Search for a source playlist.
Select all the songs by pressing Ctrl+A.
Click on the songs, drag them over your playlist name on the left-hand side.
Open your playlist to find them all.
Let's check out these steps in detail.
At first, you will need a playlist. If you want to add new songs to an existing playlist, there is no need to create a new one. However, if you want to create a new playlist, click the New Playlist button in the bottom-left corner, and give it a name.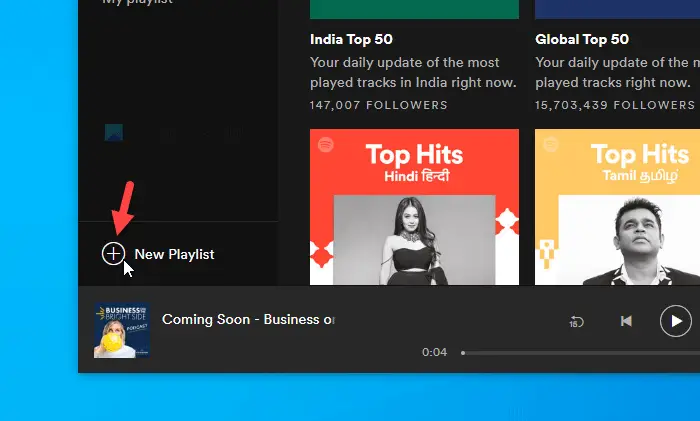 After that, search for a playlist using the search box and open it, respectively.
Following that, select the songs that you want to copy to your playlist. In case you want to copy all of them, press the Ctrl+A button. Then, click on the selected songs, and drag them over your playlist name on the left-hand side.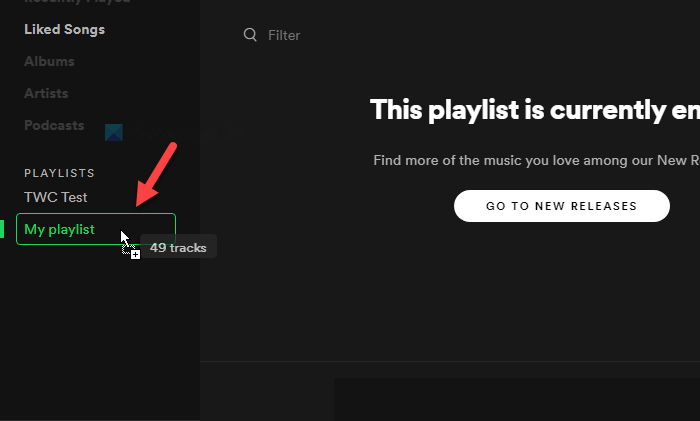 Now, you will find all the new songs in your playlist.
For your information, if you have a paid account, you can click the three-dotted icon after opening a playlist and click on the Create Similar Playlist button.
Good reads: Spotify keeps crashing | Spotify Tips and Tricks.
That's all! Hope it helps.