Spotify is one of the world's largest music streaming services. It is available across a variety of platforms including iOS, Android, Windows, macOS and more. Recently, Spotify released its application on the Microsoft Store. It is a Windows Classic application and not a Universal Windows Platform application. Some users are reporting an error for the Music streaming application on Windows 11/10 where it constantly crashes and gives a message saying-
SpotifyWebHelper has stopped working
There are many causes for this issue, and we will be covering all the probable fixes for the same issue.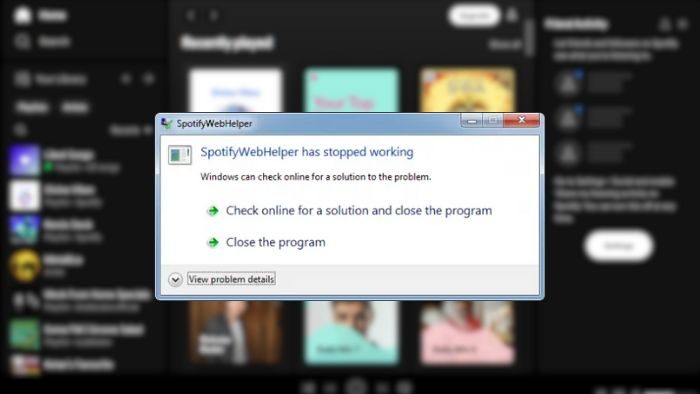 Spotify keeps crashing on Windows PC
We will be taking a look at the following fixes to get rid of the SpotifyWebHelper has stopped working message on Windows 10:
Format your SD Card.
Uninstall and Reinstall Spotify.
Run it in Compatibility Mode.
Make sure to take a backup of files wherever required.
1] Format your SD Card
If you are trying to play the music stored on your SD Card, there might be a high chance that the content on that SD Card might have gone corrupt, and Spotify might not be able to read it.
Open this PC while your SD Card is plugged in.
Right-click on the entry for the SD Card and click on it.
Select Format…
A new mini window will show up. You need to select the File System and other values. Check the checkbox that says Quick Format.
Finally, click on Start to start formatting the SD Card.
You need to back up all your data from the SD Card separately and restore it when the formatting completes. Because by formatting your SD Card, you will be deleting all the data on your SD Card.
2] Uninstall and Reinstall Spotify
Start by typing appwiz.cpl in the Start Search box and hit Enter to open the Uninstall a program Control Panel applet.
From the populated list in the new window, look for an entry called Spotify. Right-click on it and click on Uninstall. Reboot your computer.
If you do not find Spotify there, you need to open the Settings App and navigate to Apps > Apps and Features, and on the right-side panel, look for Spotify to uninstall it from there.
After rebooting your computer, you must delete all the residual files & folders left by this software.
Make sure that your hidden files are visible, and then navigate to the following path,
C:\Users\<username>\AppData\Roaming\Spotify
Delete the contents of this folder.
After you are done, get the required setup file or the Store app of the latest version of Spotify and install it.
3] Run Spotify in Compatibility Mode
The file may not be intended to run on your current version of Windows. You may try to run the application in Compatibility Mode. This will let the application think it is running in the compatible environment as intended.
I hope this makes your copy of Spotify working fine.
Why is my Spotify glitching on Windows?
The glitch can be because of many reasons, and one of the primary reasons we have experienced is unstable internet. One of the easiest way to figure it out is trying on another device, and if its not working, make sure to fix the internet issue.
Why is my Spotify closing itself on PC?
It usually happens when the app's cache is corrupt or an update hasn't been completed. So we suggest clean install the application once again, preferably from the Microsoft app. We have noticed that a few applications get corrupted with time, and the only way to fix them is by reinstalling the application.