In case you find that your sound volume is not to your satisfaction or not as loud or clear as you would like it to be, even though both, the volume mixer and the application's volume is set to the maximum level, you may try to enhance the sound quality by making a few changes to your current speaker configuration.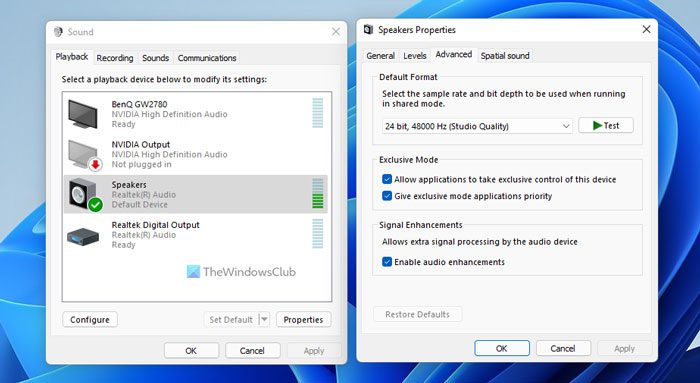 Improve Speaker Sound Quality in Windows 11/10
To do so, right-click on the speaker's icon on the right side of your Windows 11/10/8/7 taskbar and select Sounds.
Click on the Playback tab, select Speakers, and click on Properties.
Here you can select or deselect the enhancements to apply for your current speaker configuration.
Click on Settings tab of each of these options to further fine-tune the sounds:
Bass Boost will boost the lowest frequencies
Virtual Surround will encode surround audio for transfer as stereo output
Room Correction will compensate for room & speaker characteristics
Loudness Equalization uses understanding human hearing to reduce perceived volume differences.
How do I customize sound effects in Windows 11/10?
If you are using a third-party media player, you can use the corresponding settings. However, if you use the Groove Media Player, you can open the app and go to the Equalizer section. Then, you can choose a preset or customize the sound effect as per your requirements.
How can I make my computer speakers sound better?
To make your computer speakers sound better, you need to follow the aforementioned guides. You can tweak the following settings – Bass Boost, Virtual Surround, Room Correction, Loudness Equalization, etc. All of these options are available in Windows 10 as well as Windows 11.
Checking the Loudness Equalization option may increase the volume a bit.