A Search Folder is a virtual folder in the Microsoft Outlook app that provides all email items that match a set of search criteria if you want instant access to messages that match a specific set of criteria, irrespective of the folder the messages are in. After the folder is created, it is found in the navigation pane on the left. The folder containing the unread items is bold, and the folder whose content is not up to date is italic.
Although unique messages are stored in a  single folder, they may appear in more than one Search Folder, so if the user tries to change or delete the message, the messages in the original folder will also be altered or deleted. The Search Folder also keeps content up to date. Search Folders are a time saver that allows you to find messages easily so that you can get back to them.
How to create a Search Folder in the Outlook app
To create a search folder, you must follow these steps to create a search folder in Outlook.
Launch Outlook
Select the Folder tab
Select New Search Folder
Select the type of Search folder you want
Click OK
Restart Outlook.
Launch Outlook.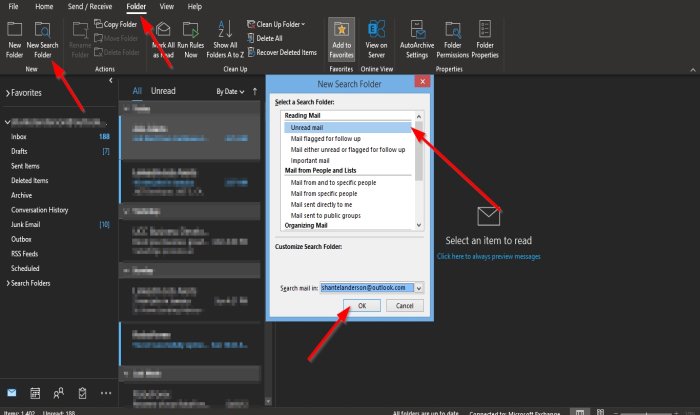 Click the Folder tab on the menu bar.
In the New group, select the New Search Folder button.
You can also press the Ctrl + Shift + P key on the keyboard.
A New Search Folder dialog box will appear.
Inside the dialog box, click the type of search folder you want to create in this tutorial; we selected Unread.
Then OK.
You will see the Unread Search Folder in the navigation pane on the left.
If you want to delete the Search Folder, right-click the folder and select Delete Folder from the context menu.
The folder is deleted.
We hope this tutorial helps you understand how to create a  Search Folder in Outlook.
If you have questions about the tutorial, let us know in the comments.
Read next: How to customize the Navigation Pane in Outlook.