If you are looking for a solution to how to insert a drop-down list in Microsoft Word, here is your stop. This tutorial will discuss a detailed step-by-step procedure to create a drop-down list in your Word documents.
Drop-down list is a type of content control element that allows users to select one of the multiple choices. It displays a list of choices to readers in a drop-down menu from which they can choose their preferred option. If you need to create a Word document with a drop-down menu list, you will have to set up some configurations.
How to create a drop-down list in Word
You can follow the below steps in order to insert a drop-down menu list in a Word document:
Step 1: Open Microsoft Word and go to the File menu and click on Options.
Step 2: Click on the Customize Ribbon option and then from the Customize the Ribbon panel, tick on the Developer checkbox, and press the OK button, as depicted in the below screenshot.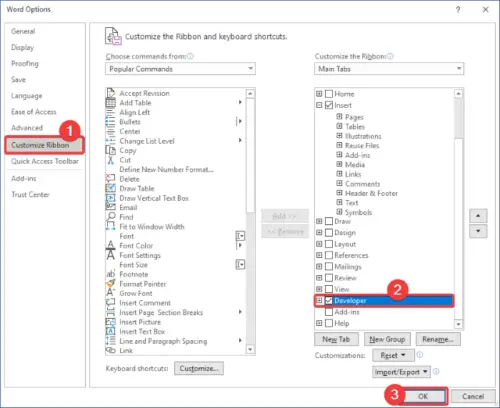 Step 3: You will now see a Developer tab on the main interface in Word. Create a new document or import an existing document in which you want to add a drop-down menu.
Step 4: Now, from the Controls section, click on the Drop-down List Content Control option.


Step 5: A drop-down box will be added to your Word document. You can now customize the drop-down menu by clicking on the Properties button.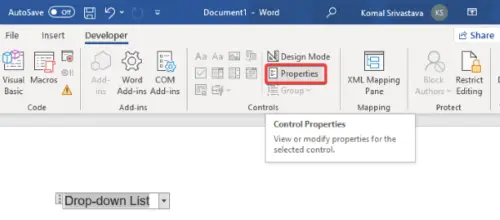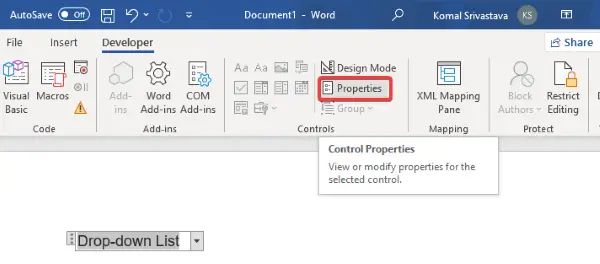 Step 6: In the Content Control Properties dialog box, enter title, tag, color, and set up other drop down list properties like Content control cannot be deleted, Content cannot be edited, etc.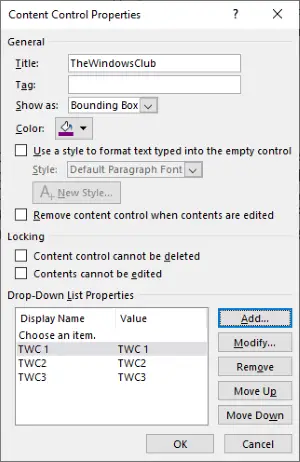 Step 7: After that, click on the Add button and enter a choice with its display name and value and then press the OK button.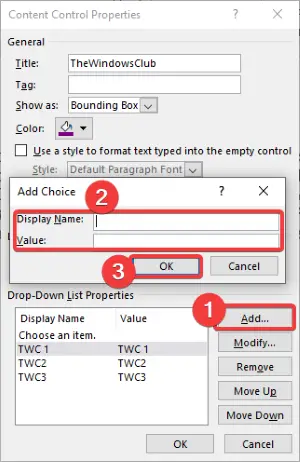 Step 8: Repeat Step (7) to enter multiple choices to your drop-down list one by one.
You can also modify choices, remove a choice, or rearrange their order.
Step 9: When done adding required choice items, click on the OK button in the Content Control Properties window and a customized drop-down list will be added to your document.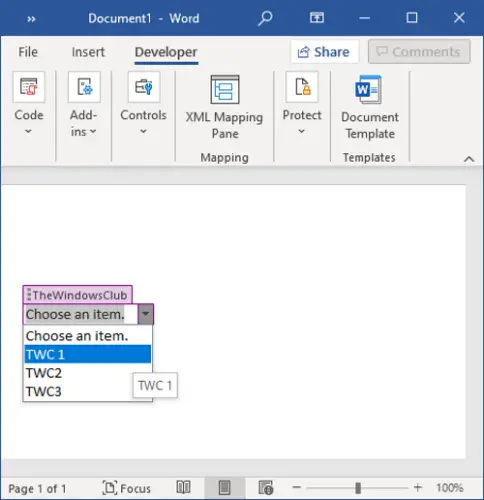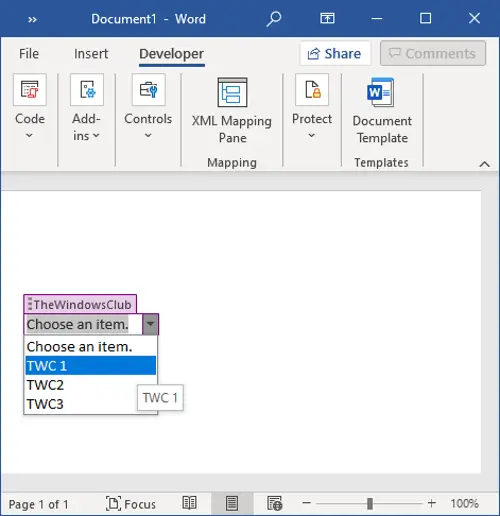 Similarly, you can also add a check box, combo box, date picker, etc., in Word.
Hopefully, this article helps you to create a drop-down list in Microsoft Word. You just have to tweak some settings and then you can start inserting drop-down menu lists into your documents.
Related read: How to create a drop-down list in Excel and Google Sheets.