Usually, to access the Bluetooth feature on your Windows 10 device, you need to click the icon on the system tray/notification area on the right of the taskbar. In this post, we will walk you through the steps on how to create a Bluetooth shortcut that provides direct access to the function of sending and receiving files via Bluetooth.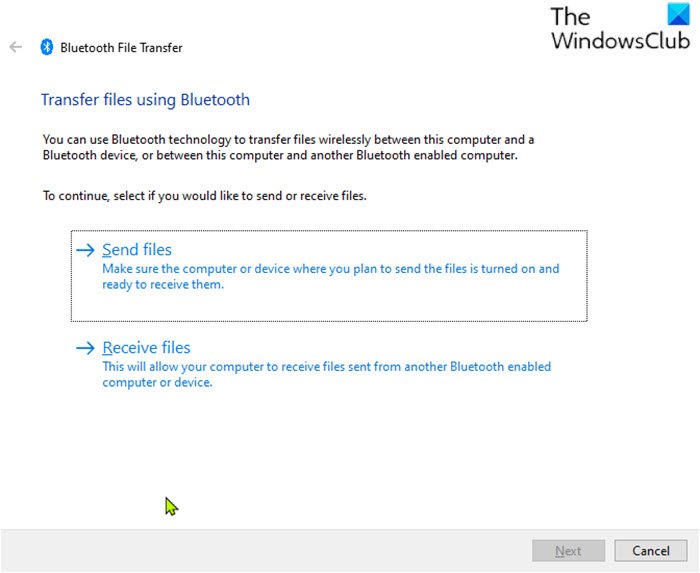 Create Bluetooth shortcut in Windows 11/10
In Windows 11/10 you can find the Bluetooth icon in the system tray which is the only quick access to Bluetooth menus. If the Bluetooth icon is missing, you can restore the icon in a few simple steps.
To create Bluetooth shortcut in Windows 11/10, do the following:
C:\Windows\System32
At the location, search for or scroll and find the file named fsquirt.
Next, right-click on the fsquirt.exe file and select Copy from the context menu.
Navigate to the Windows 10 desktop, and right-click on an empty area, select Paste from the context menu to paste the copied file or, at the desktop, simply press CTRL+V keyboard shortcut.

Now that you have the file on the desktop, you can make it easier to remember by right-clicking on the fsquirt file, select Rename from the context menu and name it as Bluetooth.
That's it! We've successfully created a Bluetooth shortcut on the Windows 10 desktop.
Read: How to rename a Bluetooth device.
To use it to send and receive files, simply double-click on the Bluetooth shortcut, the Bluetooth File Transfer wizard will pop-up instantly.
Now, that you've created the Bluetooth shortcut on the desktop, you can pin the program shortcut to the taskbar or Start Menu.