In this post, we will show you how to convert WebP to a PDF document on a Windows 11/10 computer. WebP is an image file format (by Google) with lossy and lossless compression support and these image files are smaller than PNG and JPEG images. All popular browsers (Microsoft Edge, Google Chrome, Safari, Firefox, etc.) support WebP format, and webmasters also use WebP image files on the webpages. Now if you have some WebP images that you want to save in PDF format to share with others or for any other reason, then the options covered here will surely be helpful.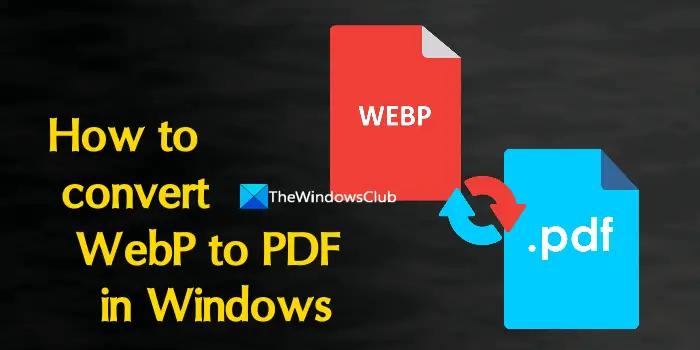 We have included some best free WebP to PDF converter software and online WebP to PDF tools in this post. Most of these tools support multiple input files and output can be saved as a single PDF or separate PDF files.
How to convert WebP to PDF in Windows 11/10
To convert WebP images to PDF files in Windows 11/10 system, you can use the following tools:
Online2PDF
i2PDF
FreeConvert
Pixillion
Converseen.
Let's check all these WebP to PDF converter tools one by one.
1] Online2PDF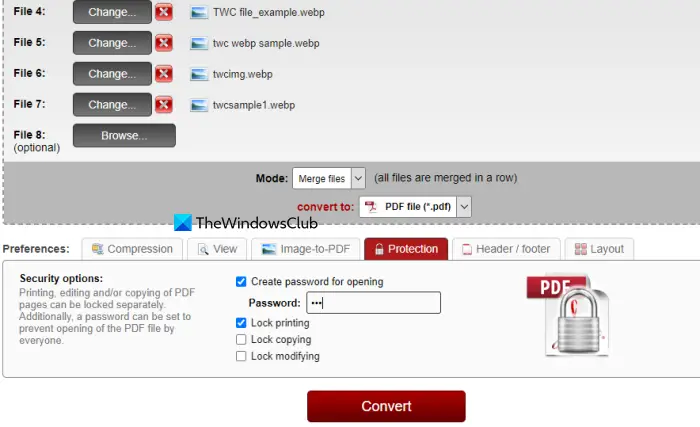 Online2PDF is one of the best options on this list. This service can convert 20 WebP images together. The size limit for a single image is 100 MB and the total size of the input images should be up to 150 MB. The best part is you can create a single PDF file from the input images by merging them or generate one PDF for each WebP image separately.
You can open this online WebP to PDF converter homepage from online2pdf.com. There, drag and drop WebP images or use the Select files button to add the input items.
For output PDF, select Merge files mode or Convert files separately mode using the drop-down menu. You can also use other useful options such as set the quality of images, generating the black and white images in the output, locking the copying, printing, setting an opening password for PDF, adding header and footer, etc., or you can leave them as it is.
When everything is set, use the Convert button. The upload and conversion process will start and finally, you can get the output PDF.
2] i2PDF
i2PDF service comes with some very interesting features which are as follows:
You can create a single PDF file from the input images
Animated WebP images are also supported and each frame is converted into a PDF page
Each input image is set as a page for PDF. You can select even pages, odd pages, or custom pages and then remove those pages from the list, rotate them, etc.
PDF page size can also be changed. Available options are Fit to image, A5, Legal, A1, A4, A2, Letter, Executive, Tabloid, and more
PDF page orientation can be set to landscape or portrait
Page margins can be set to 0, 0.5, and 1.0.
You can open this WebP to PDF converter from i2pdf.com. After that, use Choose Files button to add WebP images. It offers unlimited uploads and all your files are deleted automatically after 30 minutes.
Once the files are uploaded, you can view their thumbnails, arrange them, delete unwanted input files, and access Options for PDF page size, margin, etc.
At last, use the WEBP to PDF button for conversion, and save the PDF using the Download button that will include all the WebP images as pages in a single file.
3] FreeConvert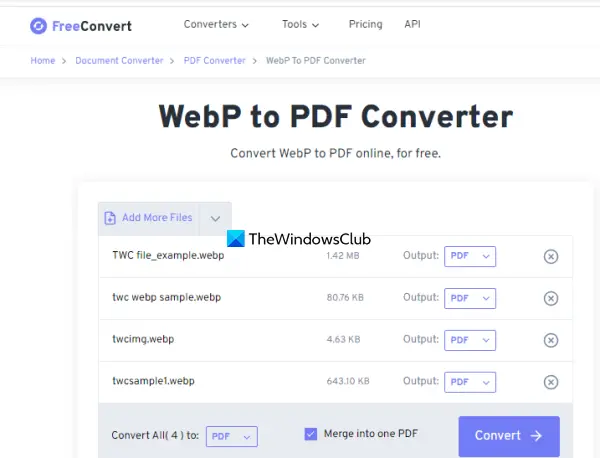 FreeConvert service lets you use 25 conversion minutes (10 conversion minutes for one file) per day in its free plan that you can use without creating an account. You can add multiple WebP images from your desktop, Dropbox account, or Dropbox and merge them into a single PDF or create a separate PDF file for them. Animated WebP image file is also supported, but the output may not come as expected.
Some important options such as page size (same as the original image, A3, A4, ArchB, Letter, etc.), Margin, Image Alignment, etc., can also be used for the output PDF.
To use this online WebP to PDF converter, access its homepage from freeconvert.com, and use Choose Files button to add WebP images (1 GB size limit per file). For each WebP image, you can also use the Settings icon to set the page options for output.
Select PDF for Convert All to option using the drop-down menu. Tick mark the Merge into one PDF option to generate a single PDF file and hit the Convert button. Use the Download PDF button to save the output to your Windows 11/10 PC.
Related: Best free WebP Viewer software for Windows 11/10
4] Pixillion
Pixillion is an image converter software (free for non-commercial home use only) that supports BMP, TIFF, JPEG, GIF, PDF, JPS, IFF, ICO, and many other image formats. WebP to PDF conversion is also possible with this software. You can convert all input WebP images to separate PDF files or combine WebP images to create a single or merged PDF.
PDF paper size (A0-A4, Legal, and Letter), page orientation, margin level, positioning mode (center, top-left, and bottom left), image rotation (invert 180 degrees, 90 degrees left, or 90 degrees right), image quality (low to high), etc., can also be adjusted easily.
For WebP to PDF conversion, use Add Folder or Add File(s) button. After adding the images, you can also preview a selected image. Now to create a merged PDF, select all your WebP images, set the output folder using the Browse button, and use the Output format drop-down menu to select PDF format. You can also use the Effects option to crop, filter, flip, watermark input images, etc., for the output.
Press the Combine button and a separate box will open. There, click on the PDF Settings button so that you can set the paper size, margin level, etc., and press the Save button. Finally, click on the Combine button in that box and use the Save As window to select the output folder and name for your PDF file. Once the process is completed, you can open the PDF and use it.
5] Converseen
Converseen is a cross-platform and batch image converter software. It supports 100+ formats for conversion which include PNG, GIF, JPEG, SVG, AVS, PSB, WEBP, etc. WebP to PDF conversion is also possible with this tool. You can convert multiple WebP files at once but only a separate PDF is generated for each input file.
For output PDF, you can also flip the input images, scale images, change the rotation to 90 degrees anticlockwise, use rename prefix, replace background color, etc.
To use this WebP to PDF converter tool, download its setup from converseen.fasterland.net, and install it. It requires Ghostscript for conversion so you must install that if you haven't already. After this:
Open the software interface
Use Open images or Add images to add WebP format files. A preview of a selected image can also be seen on the left section
You can also scroll down the left section to use rotate and flip scale image, rename, set the output folder, and other options
Select all the input images for conversion using the Check all button
Use the Convert to drop-down menu to select PDF as the output format
Hit the Convert button.
That's it!
Can you change a WebP to JPG?
Yes, you can change or convert a WebP image to JPG in Windows 11 natively. For this, first, copy a WebP image from a webpage and then open the native Paint app of Windows 11. Paste the copied image in the app, access the File menu, and select the JPEG picture option in the Save as section. Some free third-party tools like XnConvert and Ezgif can also be used for WebP to JPG conversion.
How do I stop my computer from saving images as WebP?
If you try to save an image from a webpage and it is saved in WebP format, then it is because the image is served on the website in WebP format only. So, you can't stop it. But, there are some simple tricks to save a WebP image to PNG, JPG, BMP, etc. You can use a free Save image as Type extension if you use Chrome browser, use an online converter tool (like Coolutils, Zamzar, etc.), or save the WebP image to GIF, JPEG, BMP, etc., using the Paint app of Windows 11.
Read next: How to edit WebP images in Windows 11/10.