WebP is an image format developed by Google which is comparatively smaller in size than JPEG and PNG formats and gives better quality images in small size. While many modern browsers like Microsoft Edge, Google Chrome, Firefox, etc., let you view WebP images, there are some free WebP image viewer software also available that provide more features to view WebP images. This post covers such free WebP image viewer software for Windows 11/10.
Free WebP Viewer software for Windows 11/10
These WebP image viewer software also support many other image formats like JPEG, PNG, BMP, TIFF, etc. We have covered the following in this post:
Windows Photos app
lightGallery
FastPreview
Paint.NET
XnView MP
FastStone Image Viewer.
Let's check these software one by one.
How to view WebP images in Windows 11/10
1] Windows Photos app
Windows 11 Photos app now supports opening of the WebP image format. So update your Windows 11 and the Photos app, and then install the WebP Image Extension from Microsoft Store to get started.
2] lightGallery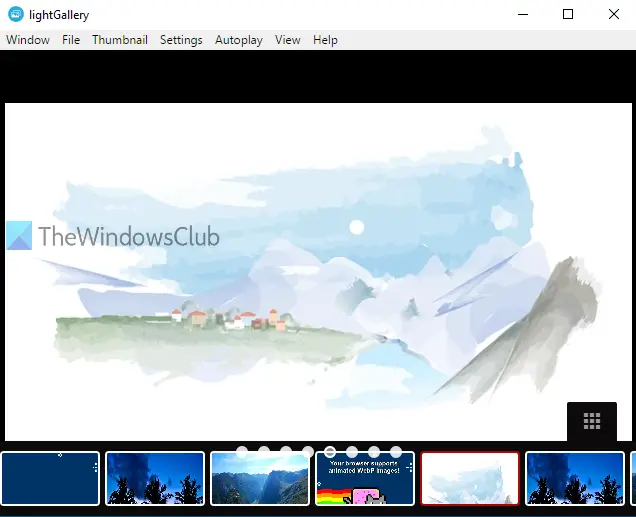 lightGallery is an open-source WebP viewer software for Windows 10. The interface is clutter-free and there is only a menu bar on the top part to use available options. The unique feature that comes with this software is it can play animated WebP images also.
Download this software using this link and add WebP images using the File menu. It also supports drag n drop feature to add images. To make it convenient to users, the thumbnails of added images are visible on the bottom part of its interface. If you don't want to see thumbnails, then you can hide it using the Thumbnail menu.
It also comes with an autoplay or slideshow option that shows the next images automatically. Autoplay speed can also be adjusted in ms using Speed option under the View menu. There are some other features that you can use like set view mode or style to open next images, change thumbnail preview size, disable autoplay, etc.
3] FastPreview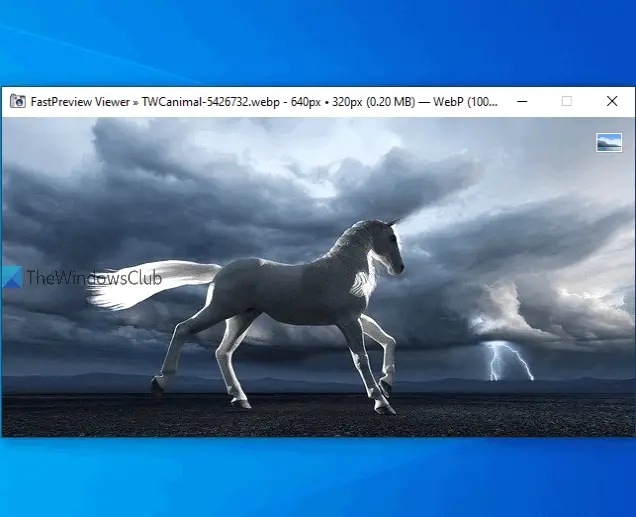 FastPreview is another open-source image viewer which supports WebP and many other image formats. The thing that I like about this WebP viewer is there are no menus, sidebars, or other options on its interface. It only shows the image and nothing else. Another interesting feature is it automatically opens the image in best-fit view mode. You can also open an image in full size or free size mode using the right-click context menu.
This WebP viewer software has a couple of other interesting features. It shows the image preview in the right-click menu of an image. Also, inside the Properties window of an image, it places its own FP tab where it shows EXIF data of that image. You can also copy all the EXIF information using that tab. Its download link is here.
Read: Create animated WebP images using free animated WebP Maker services and software.
4] Paint.NET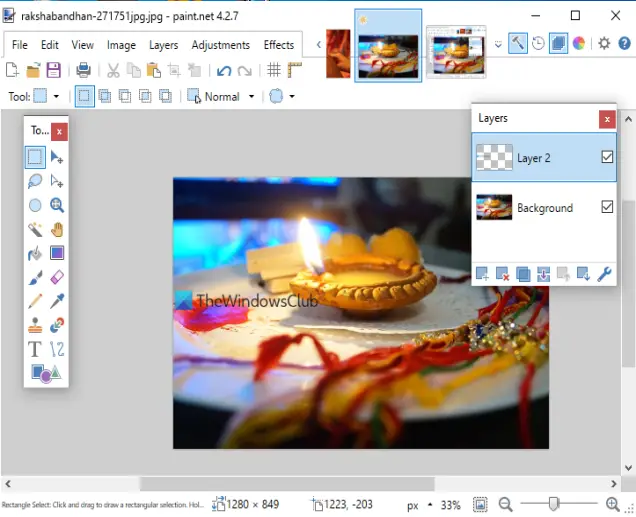 Paint.NET is one of the best and my favorite image viewer and image editor software. It has tons of features. You can use it to add layers to images, add drop shadow effects, apply different effects, adjust hue/saturation, brightness & contrast, flip an image vertically and horizontally, rotate images, annotate an image, and more. WebP images are also supported and you can open multiple images on its interface.
To open a WebP image, use Open option in the File menu. When WebP image is visible, you can zoom in and out using the slider available on the bottom right corner, use Layers menu to add multiple layers in that image, apply blur, noise, distort, and render effects using the top menu, use Image menu to resize, rotate, crop, and flip WebP image, etc. Just play with options available in different menus. Once you have edited the image, use Save As option in File menu to save WebP image in the same or some other supported format.
Read: Free tools to convert WebP to PNG online.
5] XnView MP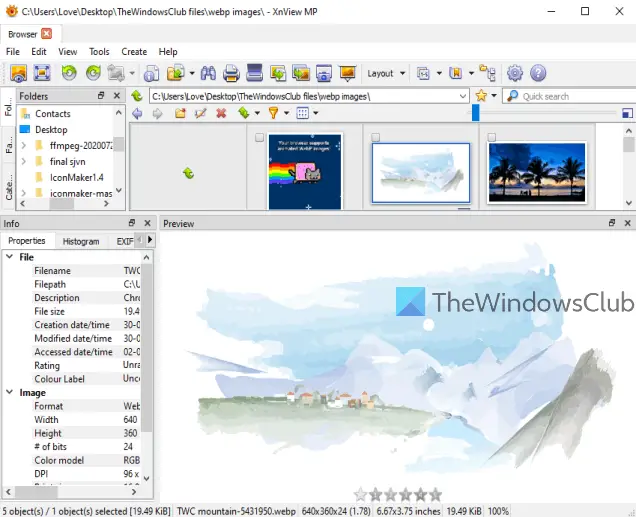 XnView MP is an image organizer and you can use it free for educational or personal use. This software has a lot of features. You can use it to capture screenshots, play slideshow of images, compare images, edit images by applying filters and effects, crop images, rotate, adjust contrast, brightness, and more. Among the huge list of features, viewing WebP images is also possible.
To open WebP images, use its navigation pane. Select a folder containing WebP images and thumbnails of those images will be visible to you. After that, select an image, and you can view it. Once WebP image is visible, you can zoom in (up to 1600%), copy that image, move it to some other folder, delete, rename it, etc. Simply right-click on an image to use such options. Apart from that, you can also view the left sidebar that shows image details, EXIF data, and histogram.
Read: How to convert WebP images to PNG and JPG with WebP Converter.
6] FastStone Image Viewer
FastStone Image Viewer is an image organizer, editor, image watermark, and converter software. It is also available free for educational or personal use. Like XnView MP, you can use it to add effects to images, crop images, resize, and more. Red-eye removal, play an animated GIF, add borders to images, etc., features are also present. On top of that, you can view WebP images and use all these features for those images.
Use its navigation pane to select a WebP image folder. When the folder is selected, thumbnails are visible. Now, to view a WebP image, double-click on the image thumbnail. It will open it in full-screen view mode. In addition to view WebP images, you can right-click on a WebP image to play slideshow, move, copy image to a folder, rename image, and view image properties.
This software also comes with batch image rename and batch image converter features. This feature-rich WebP viewer software is definitely a good option.
Among all these free WebP viewer software for Windows 11/10 PC, lightGallery has an advantage because it can help you view animated WebP images too. Otherwise, all are good enough to view WebP images.
I hope these will be helpful.