There is a Standard, Work & School, Child, Guest, and Administrator account feature in Windows 11/10 which is pretty good. You can easily create a new user account and add other accounts anytime. But we need an administrator account to run things that need elevated privileges. In that case, we have to check which account is an administrator. This tutorial will help you easily check your administrator account in Windows 11/10 so that you can access it and use it.
How to check if you have Admin rights on Windows 11/10
We have covered four different and built-in ways to find out which account is an administrator account:
Using Settings app
Windows PowerShell
Control Panel
Local User and Groups.
Let's check all these options.
1] Using the Settings app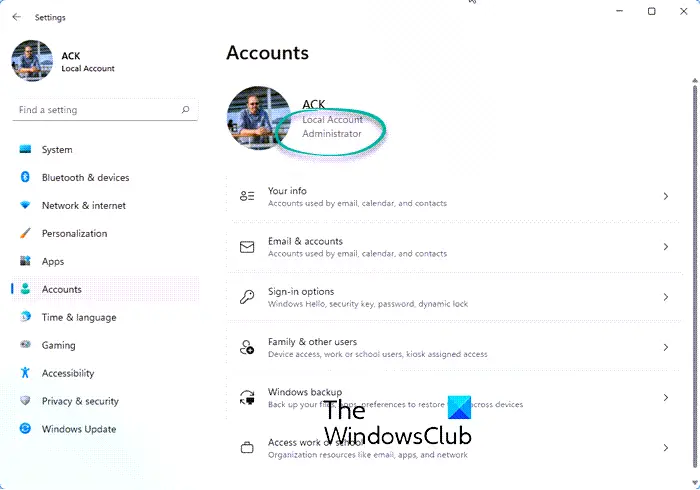 The modern Settings app of Windows 11/10 lets you access and use numerous options related to Personalization, Devices, System, Update & Security, Cortana, etc. You can also use this app to check if your user account is administrative or not.
For this, open Settings app. The quickest way to open this app is using the hotkey/shortcut key 'Windows key + I'. After opening the app, click on the Accounts section.
Under the Accounts section, you will see Your Info on the right part. There you can easily check if you're logged in with an administrator account or not.
If the account is not an Administrator, you can log out from that account and log in with another account and repeat the same steps.
2] Using PowerShell
PowerShell is an easier way to find out administrator accounts including the built-in Administrator account of Windows. Just a simple command will provide the output.
First of all, open PowerShell using the Search box. Just type powershell and press the Enter key.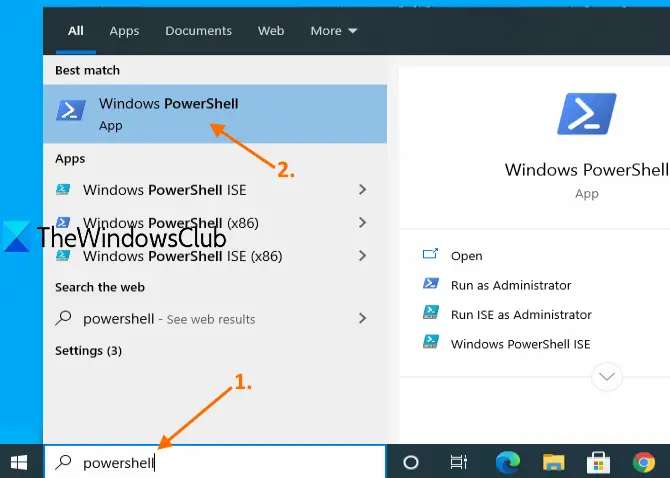 Or else, you can use Run Command box (Windows key + R), write powershell, and hit the Enter key.
When PowerShell window is opened, enter and execute the following command:
net localgroup administrators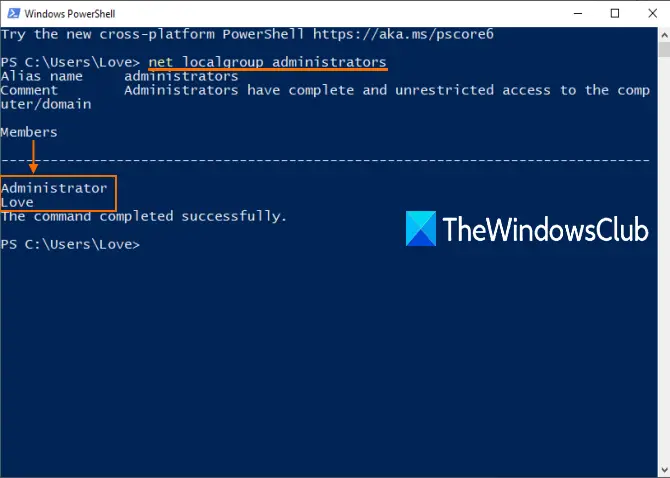 This will show the list of administrator accounts as highlighted in the image above.
3] Using Control Panel
Type control panel in the Search box and press Enter.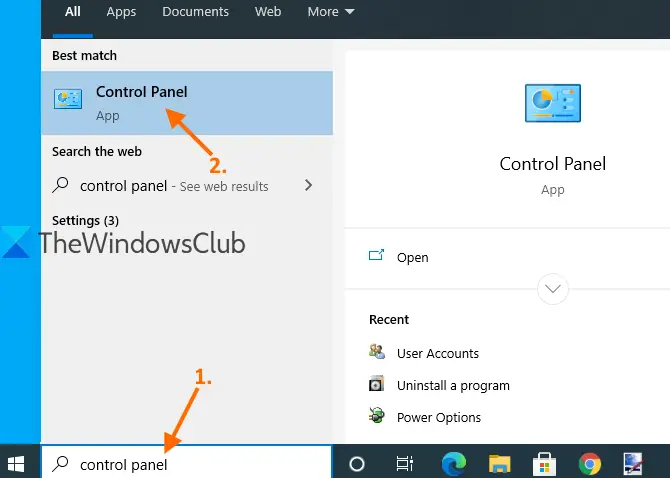 When Control Panel is opened, select User Accounts. After that, again click on the User Accounts option.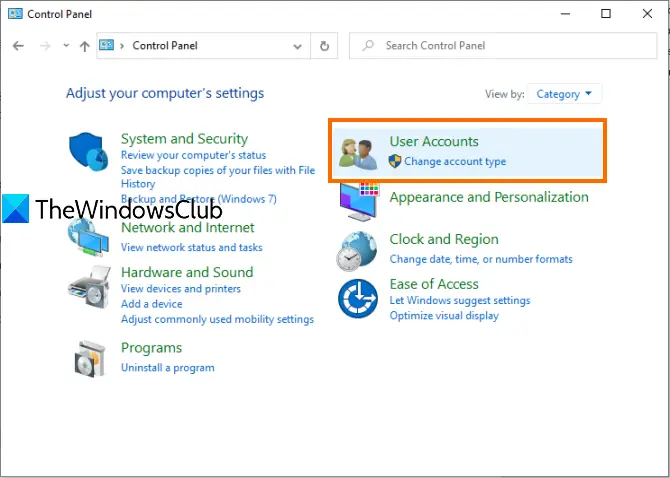 Now, on the right-hand part of the Control Panel window, you can see the information related to your account.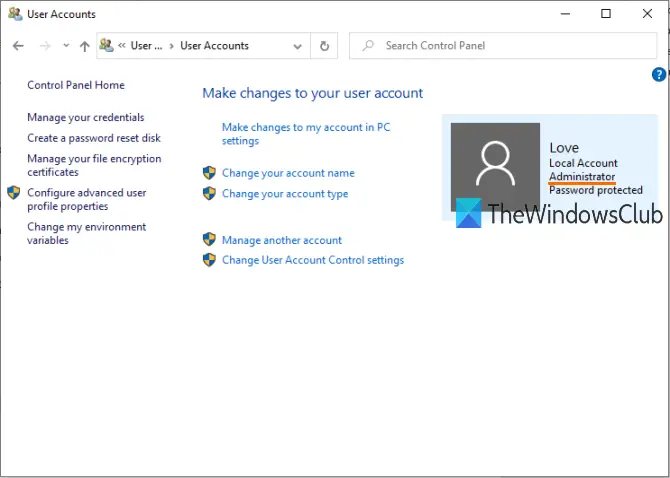 It will show if the account is standard or Administrator, local or Microsoft account, and password protected or not.
4] using Local Users and Groups
This option also shows a built-in Administrator account and other Administrator account created by you.
For this, open Local Users and Groups window.
When the window is opened, click on the Groups folder. You will see the list of different accounts and members on the right part. Double-click on the Administrators option.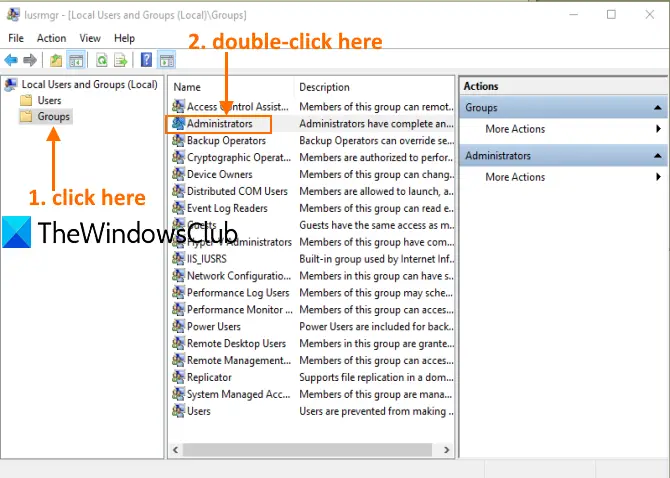 It will open the Administrators Properties window. There you will see all the administrators' accounts under the Members section.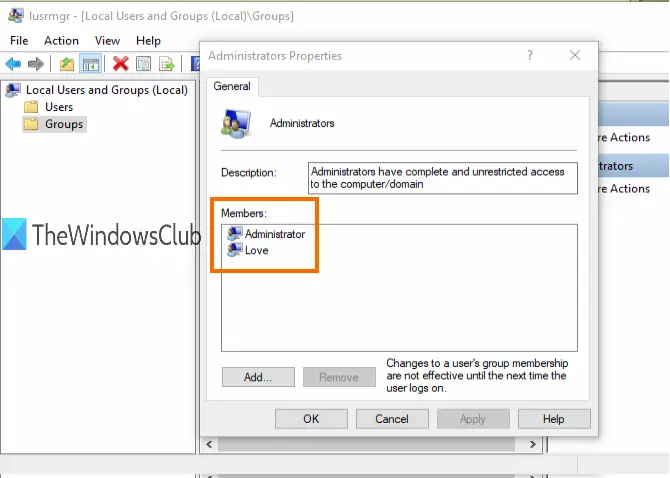 That's all.
The next time whenever you have to check for an administrator account in your Windows 11/10 PC, we hope that these options will be helpful.
Read: Complete Guide to Manage User Accounts in Windows 11/10.