When you browse the Internet, more often than not, your browser tracks your activity and saves your history. But do you know that even the network device that you are connected to saves the history? Well, yes, most modern router monitors your activity and save your history. In this post, we will see how you can check your Browsing History on WiFi Router.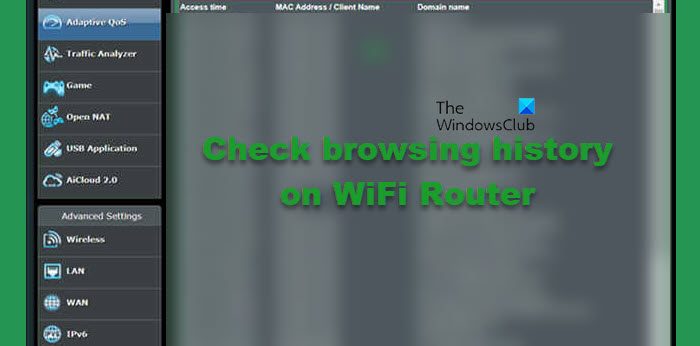 How to check Browsing History on WiFi Router
If you have modern WiFi, it creates logs that have the history and other data and metadata. There are various important pieces of information embedded in these log files. We can fetch these logs from the router's admin and then analyze them. In this guide, we will see how you can get the same. If you want to check your browser history on your WiFi Router, follow the steps mentioned below.
Get your router's default gateway
Check browser history using WiFi's default gateway
Let us talk about them in detail.
1] Get your router's default gateway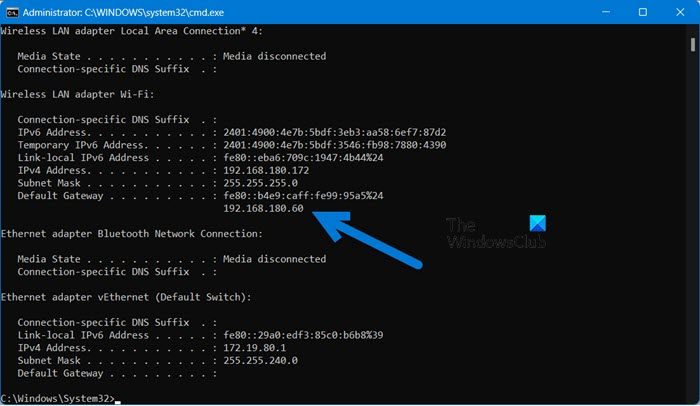 First of all, we will learn how to use the default gateway of your router. You would require the default IP address of the router if you want to fetch the history log. To do the same, follow the steps mentioned below.
Open Command Prompt as an administrator by searching it out of the Start Menu.
Click Yes when the UAC prompt appears.
Now, execute the command mentioned below.

ipconfig

Then, look for the Default Gateway entry and make a note of the given IP address.
In case you are unable to fetch the default IP address, check your router's manual and check if they have mentioned some other way or have mentioned the IP themselves.
2] Check browser history using WiFi's default gateway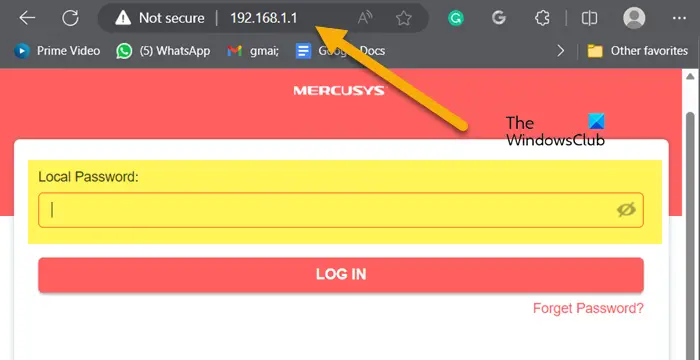 Now that we know the default gateway of the router, let us use it to fetch the history. To do the same, open any browser of your choice. In the address bar, enter the Default gateway we asked you to note earlier. This will open your router's firmware. You need to enter credentials provided by your ISP or router manufacturers to sign in. Once done, look for Logs or History. You need to download Internet History, Activity Logs, or something that sounds similar. For this, you may have to look into a few tabs such as it totally depends on your OEM.
This will do the job for you.
Also Read: How to generate a WiFi History or WLAN Report in Windows?
Can I see the browsing history of my router?
Yes, your router stores the browsing history of the router in the form of logs. These logs can be accessed from the admin center. All you need is the default IP of the router and credentials provided by your router's OEM. Check the guide mentioned above to know more.
Read: What's My IP Address and How to Find It?
How do I delete my WiFi history on my router?
When you log into your account in the router firmware and navigate to the logs, they can be named System log, History, or Administrative Event log, and then check the option to delete it. There will be an option to do the same.
TIPS: WiFi Security Tips: Precautions To Take At Public Hotspots.