In this post, we are going to see how you can change Four-finger Tap Gestures on Windows 11 or Windows10 computers. This feature is great for someone who wants to create shortcuts and make their OS more efficient. Let us go to the guide and see how you can configure this option for your touchpad.
Change Four-finger Tap Gestures in Windows 11/10
The following are the three methods to change Four-finger Tap Gesture in Windows 11/10.
Via Windows Settings
Via Registry Editor
Via Advanced Gestures
Let us go through them one by one.
1] Via Windows Settings
Let us start customizing from something you must be familiar with. We are going to configure Windows Settings and set the gestures. However, Windows 11 and 10 have different steps, that is why we have mentioned steps for both the OSs below. Follow the prescribed steps to do the same.
Windows 11
Open Settings by Win + I.
Go to Bluetooth & devices.
Click on Touchpad and then on Four-finger gestures.
Select any of the following methods.
=> Nothing
=> Open search
=> Notification center, Play/pause
=> Middle mouse button
Close Settings.
Windows 10
Launch Settings.
Go to Devices > Mouse & touchpad.
Navigate to the Four-finger swipe and choose any of the options using the drop-down menu.
Hopefully, you are able to configure the Four-finger swipe using the steps mentioned above.
2] Via Registry Editor
Next up, let us configure a registry called FourFingerTapEnabled using the Registry Editor. But before that, you need to create a backup before going forward. This is for the time if something goes wrong. You can restore the backup in that case.  That is why it is important to create a backup. Once you have created the backup, open Registry Editor and go to the following location.
Computer\HKEY_CURRENT_USER\Software\Microsoft\Windows\CurrentVersion\PrecisionTouchPad
Look for FourFingerTapEnabled. If there is no FourFingerTapEnabled, we need to create it, for that, right-click on PrecisionTouchPad and select New > DWORD (32-bit) Value. Now, name the newly created value FourFingerTapEnabled. Right-click on it and set the Value data to any of the following options.
00000000 for Nothing
00000001 for Open search
00000002 for Notification center, Play/pause
00000003 for Middle mouse button
After configuring the registry, close the Registry Editor and the feature will be enabled.
Read: How to change Three-finger Swipe Gestures in Windows 11/10
3] Via Advanced Gestures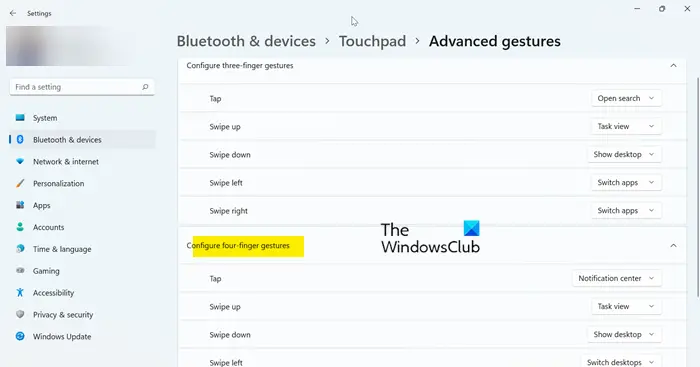 If you think the first method was a bit jarring and you don't understand how to configure the Four-finger gesture using it, no problem! Windows Settings has a different method that you can use instead of the first one. Or to flaunt your knowledge, we are not judging.
Follow these steps to do the same.
Open Settings by Win + I.
Go to Bluetooth & devices.
Click on Touchpad and then go to Advanced gestures.
Go to Four-finger Swipe Gesture and make the changes from the window.
Hopefully, now you know every single method to configure the Four-finger Swipe Gesture.
Read: Enable, configure & use Precision Touchpad settings in Windows 11/10 
How do I turn off 4 finger gestures in Windows 10?
To turn off 4-finger or Four-finger gestures, you need to set it to Nothing. Check the steps we have mentioned above to configure the option. When you are on the drop-down menu, make sure to select Nothing. In case you are using Registry Editor, change the value of FourFingerTapEnabled to 00000000. Hopefully, this will do the job for you.
Read: TouchPad not working on Windows 11/10 
There are a lot of Touchpad shortcuts that can be changed on your Windows computer. You need to go to Settings > Bluetooth & devices > Touchpad on your Windows 11 system and Settings > Devices > Mouse & touchpad on your Windows 10 computer. From there, configure any of the shortcuts.
Also read: List of Touch Screen and Touchpad Gestures in Windows 11.