Uniqueness is a major factor that sets Apple devices apart from their competitors. Apple has a closed ecosystem of apps and devices, and iMessage is an integral part of this ecosystem. This is why there is no official way to access iMessage on non-Apple devices, such as Android smartphones and Windows computers. Although there are tools to send SMS from PC, iMessage is not one of them. Do you use iMessage on your iPhones or iPads and want the same experience on your Windows computer?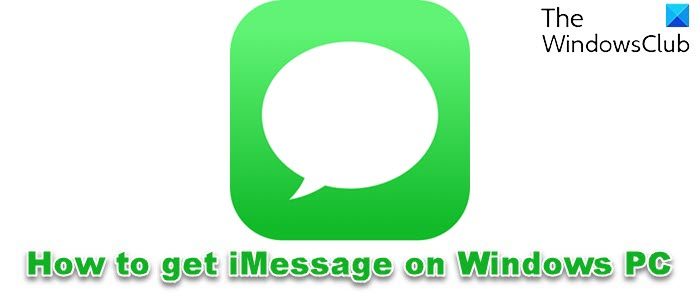 Unfortunately, there's no iMessage on Windows 11 or Windows 10 operating system version at this time. However, I'll show you three easy ways to access it on your Windows computer. We will discuss the following methods in this guide:
How to get iMessage on Windows 11/10
With iMessage unavailable for non-Apple devices, there is no official way to access it on your Windows 11/10 computer. However, there are two unofficial ways that work like a charm. In this guide, you will learn how to access iMessage on your PC using the following methods:
Use iMessage on Windows with Chrome Remote Desktop.
Access iMessage on Windows by using iPadian Emulator
Use Phone Link app to access iMessage
Without further ado, let's get right to it.
1] Use iMessage on Windows with Chrome Remote Desktop
The first way to use iMessage on Windows 11 is with Chrome Remote Desktop. For this, you also need a MacBook with iMessage installed on it.
Do note that this Google Chrome option works with earlier iOS versions only and does not work anymore with iOS 15.
To begin, launch the Google Chrome browser on the MacBook and your Windows 11 computer. Next, download the Chrome Remote Desktop Chrome extension on both systems.
To commence the download, click the link and hit the Add to Chrome button. When prompted, click Add extension.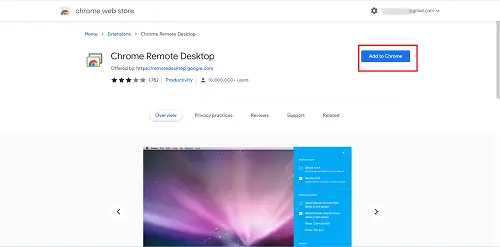 After installing the Chrome Remote Desktop extension on your Windows PC and MacBook, click on the icon on both systems to launch them.
In Chrome Remote Desktop, switch to the Remote Access tab and click on the Download icon in the bottom right corner of the Set up remote access section.
This downloads the Remote Access files, and you need this file from both systems. So, remember to do this on the MacBook and Windows PC.
On completion of the download, install the downloaded packages named Chrome Remote Desktop Host.pkg on the MacBook and Windows 11 PC separately.
Return to the Chrome Remote Desktop window on the Chrome browser on the MacBook and click on the Turn On button to allow remote access to the machine.
Still, on the MacBook, click on Remote Support and then click on the Generate Code button.
Next, head over to the Chrome Remote Desktop window on the Chrome browser on your Windows 11 computer and navigate to the Remote Support tab. This time, go to the Give Support section and enter the code generated from the MacBook.
Finally, launch iMessage on the MacBook, and you can now use the iMessage on your Windows 11 PC.
Not only does this let you use iMessage, but you can also access other applications installed on the MacBook using this method.
2] Access iMessage on Windows 11 by using iPadian Emulator
Emulators allow you to make use of software intended for a specific operating system on a different platform that otherwise would not have been compatible with the software.
The Windows operating system doesn't have a native iMessage application, so we will use an emulator called iPadian Emulator to access iMessage on Windows 11. iPadian Emulator is not free. It's a premium tool that costs $25 (one-time fee) to make use of it.
The iPadian emulator simulates the interface of iOS devices, such as iPads and iPhones on your computer. For this method, you would need Adobe Air installed on your computer. Follow the steps below to learn how.
iPadian Emulator is the primary tool for this method, so you start by downloading it from ipadian.net and installing it on your machine.
Next, launch the iPadian Emulator and look for the iMessages app on the home screen.
Open the iMessage app and proceed to do a number registration on iMessage.
3] Use Phone Link app to access iMessage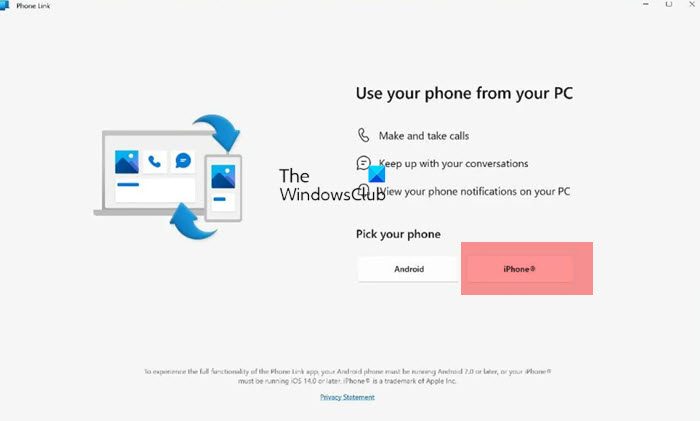 Phone Link app now lets you use iMessage from your PC. It will let iPhone users connect their phone to a Windows 11 PC to send and receive messages via iMessage, make and receive calls, and see phone notifications.
Is iMessage Available for Windows?
iMessage is currently not available for Windows. iMessage is Apple's instant messaging service that supports emojis, multimedia, message reactions, read receipts, and other features you see in conventional instant messaging apps like WhatsApp and Telegram. You can only use iMessage on Apple devices, such as iPhones, iPads, and MacBooks. A new development is that the Phone Link app now lets you access iMessage.
Why use iMessage?
iMessage comes preinstalled on every iPhone and iPad. So, it's the default text messaging app for Apple users. When you send a text message, iMessage detects if the receiver has iMessage and if yes, it converts the text message into iMessage and sends it using internet data. As mentioned earlier, iMessage has loads of functions, similar to WhatsApp, Telegram, and other instant messaging apps.
When will iMessage be available on Windows 11?
iMessage will not be available on Windows 11 for the foreseeable future. This is thanks to Apple's closed ecosystem. Over the years, Apple has built this reputation. However, things may change, and we see iMessage on PCs. The same thing happened with Blackberry Messenger. It was only available for Blackberry smartphones, but that changed as the company released the messenger app for Android and iPhones in 2013.