Mac and Windows are two operating systems that are poles apart in everything. Generally, users of mac cannot use Windows and vice-versa. If you are a Mac user and wish to use Windows on your computer, there are a few Windows emulators that can do the work. In this guide, we curated the best free Windows emulators for Mac.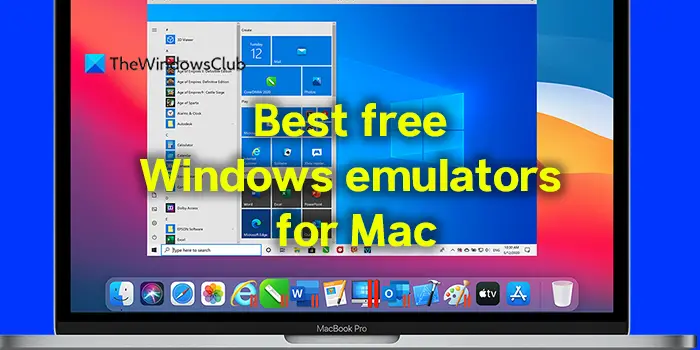 Mac and Windows don't match in anything. Their UI is different, the way they function is different. It takes some time for Mac users to get used to Windows and Windows users to use Mac. They are that different. Both the operating systems have their own set of pros and cons. If we go by numbers, Windows have more number of users than Mac. There are some apps that can be available only on Windows. If you want to use Windows on your Mac, there are some Windows emulators to help you. Let's see what they are.
Best free Windows emulators for Mac
These are some of the best and free Windows emulators available for Mac.
Boot Camp
Virtual Box
WineSkin
WineBottler
Wine
Let's get into the details of each Windows emulator.
1] Boot Camp
Boot Camp is a built-in tool that supports Dual-boot on Mac. It is accessible in the Utilities under the name Boot Camp Assistant. This emulator lets you have both Windows and Mac installed on the same disk and run them. You can either run Windows or Mac at a time and the other OS or its folders cannot be accessed.
2] VirtualBox
VirtualBox is another way you can use Windows on Mac. It lets you create a virtual machine on Mac and install Windows on it. You can use both Mac and Windows at the same time using this Windows emulator. It is available for free for personal and educational use.
3] WineSkin
WineSkin is another free emulator that can let you use Windows on Mac. You can install apps, games and play them without any hassle. It offers easy configuration and full screen support for games and apps. WineSkin doesn't have a dedicated website. You have to download it from third-party websites on your discretion.
4] WineBottler
WineBottler is one such a Windows emulator for Mac which does the work perfectly. If you need to install a particular Windows app and run it without installing the complete Windows package, WineBottler is your choice. It runs apps that don't support Mac easily.
5] Wine
Wine is an open-source Windows emulator for PC that lets you run Windows apps on Mac easily. You don't have to buy Windows with licence to run apps on Mac. Wine runs the apps easily without any problem.
Read: Best free Mac emulators for Windows PC.
Can I turn my Mac into Windows?
You cannot turn a Mac completely into Windows. However, there are some ways by which you can install and run the Windows operating system on your Mac. Parallels Desktop is one of the applications that lets Mac users install and run Windows on a Mac.
Can I run a Windows emulator on a Mac?
Yes. You can run a Windows emulator on a Mac without an issue. The emulator you choose needs to be trustworthy and help you do your job. There are both free and paid Windows emulators available to run on Mac.
Related read: How to install Windows 11 on Mac using Parallels Desktop.