Just like smartphones use our physical location to recommend shops and restaurants or help us with directions, Windows does the same thing. However, Smartphones using our physical location make sense as it asks for location permission. But how does Windows find my location automatically? Most computers do not come with GPS, which can help the computer to detect our location. Well, if you have been thinking the same, then in this post, I will be explaining everything you need to know about Windows location usage.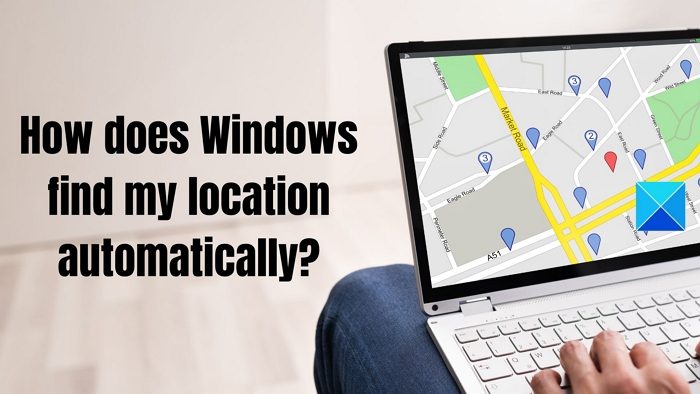 How does Windows find my location automatically?
As per Microsoft, there are a few key factors that help them to find your exact location. These key factors are GPS, nearby wifi hotspots, IP addresses, or cell towers.
Using these details, Windows can determine the precise geographic location of your Windows device so it can recommend related news, shops, or places to visit.
However, Windows's accuracy in finding your physical location depends on your device capabilities. For instance, if it comes with a GPS, it will be easier for Windows to know your actual location. If there is no GPS, it will use other methods which might not be accurate enough to know your location.
Also, if your location service is enabled, your Windows PC will share details like a wireless access point, cellular owner, and precise GPS location to Microsoft. Then Microsoft will use your shared data to improve its location service. Also, the data gets shared with Microsoft's location service providers like HERE and Skyhook in some instances.
Also, Microsoft shares your location information with apps that require location information. But you can always allow and disallow apps that access your location information.
But if you don't share your location service with other apps, they will still have access to it. But the location data will have lower accuracy.
How to Manage location settings in Windows?
Follow these suggestions to manage Location settings in Windows. Be aware that changing settings do affect the overall experience. However, it is true if you are using location-based apps.
Location Service
Location History
Default Location
You will not need an administrator account to get these done. Every user can set its location service.
1] Location Service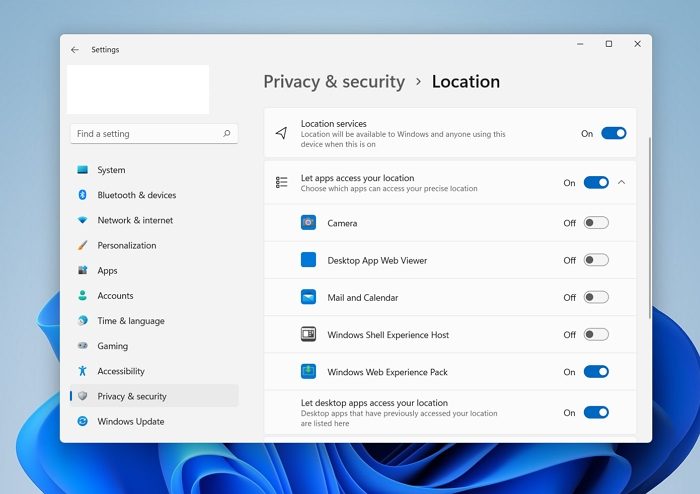 Go to Windows Setting using Win + I.
Click on Privacy & Security from the sidebar, then select Location.
Over here, you will find two settings.

The first setting is location services; you can keep it turned on/off depending on your needs. If you keep it turned on, the location will be available to Windows and anyone using your computer.
Once you enable Location services, you will get the second option: Let apps access your location. Using this, you can allow or disallow apps that can access your location information.
Once you change the settings, apps and browsers will behave based on these settings.
2] Location History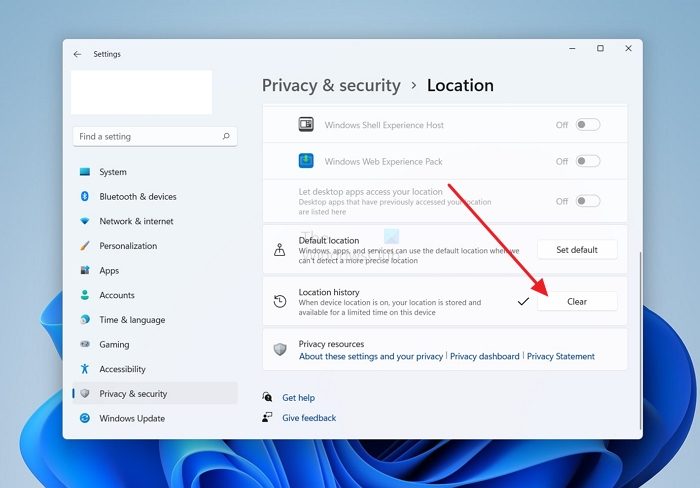 As mentioned earlier, Windows does share your location info with specific Windows apps and services. However, when the location setting is one, the location looked up by apps or services will be stored on the device for 24 hours and then deleted.
You can easily find this app on the location settings page. Apps that use location service will be labeled as Uses location history.
To clear location history, you can follow the below steps:
Use Win + I to open Windows Settings
Privacy & Security > Location.
Then click on the Clear button next to Location History.
It will delete location history from Apps that had accessed the history before it was cleared.
Also, Windows stores your Location information in the cloud. To clear that, go to account.microsoft.com, sign in using your Microsoft account, select Clear location activity, and click on Clear.
3] Default Location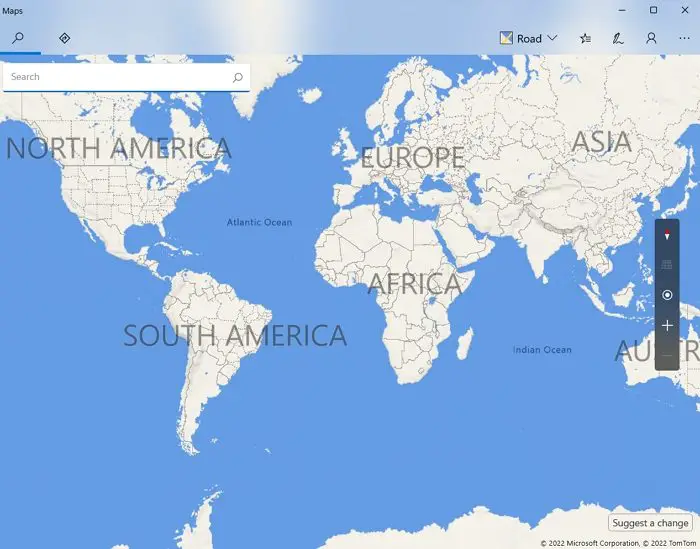 Windows gives you the option to set a default location. The default location will be used when Windows fails to detect the precise location. To set it, follow the below steps:
Go to Settings.
Privacy & Security > Location.
Click on Set Default next to the Default location.
It will launch the Windows Maps app.
From there, choose your default location, and you are good to go.
Conclusion
So that was all about how Windows find your location automatically and how you can manage your location settings. So go ahead and check the Windows location settings out.
You may choose as per your usage. If you are too concerned about your location, we suggest using a VPN and strict browser settings instead of changing Windows.
Should I allow Windows to track my location?
It entirely depends on what features you are using on your Windows machine. For instance, if you use Windows maps and other location-based apps, you will need to allow Windows to track your location. But if your activities do not include anything related to location, then there is no need to allow Windows to know your physical location.
Read: How to turn on or off Location Scripting on Windows 11/10
Is it safe to allow Browsers to find my location?
Sharing locations with web browsers can be both good and bad. By allowing location with browsers, you will get geo-targeted news that you might be interested in. However, when you share your location with browsers, they will display more targeted ads and try to personalize your browsing experience even more, which some users may not like.
Read: How to Disable Geolocation in Firefox, Chrome, and Edge.
There can be multiple reasons for this. Either Windows settings don't allow the apps or browser to find the location, or ISP is offering an incorrect location. One of the ways Windows finds the PC location is by enquiring about the server location of the ISP. If the server is not around your location and in a different city, this can also result in an incorrect location.
Also read: How to change or set Device usage in Windows 11
Why does my PC IP show a different location on the Internet?
It's because of the ISP, or you are using a VPN. Any location service queries the ISP or the Server through which you are connected and gets the location. The only way out is to allow the apps to get accurate location when they prompt about it. But that is also not foolproof.