When you need to get back and open previously opened apps or a browser window, you can use the Timeline feature in Windows 10. By default, Timeline is activated on Windows 10. If you are using Timeline for the first time, you might find suggestions like "See more days in Timeline" and so on. Suggestions in Timeline can help you understand the feature – but if you want to hide suggestions in Timeline. This post shows how to Turn on or Turn off Suggestions in Timeline on Windows 10 via Settings or Registry.
Hide suggestions in Timeline in Windows 10
There are two methods to hide suggestions in Timeline in Windows 10. The first one is via Windows 10 Settings and the second one is via the Registry Editor.
1] From Windows 10 Settings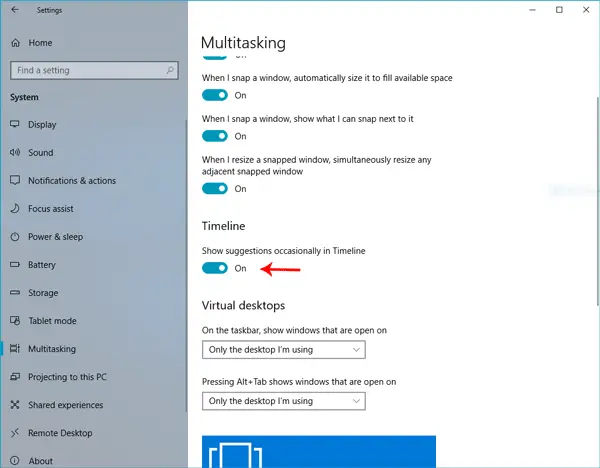 Open Settings > System > Multitasking.
On your right-hand side, you should find an option called Timeline. It should contain one option called Show suggestions occasionally in Timeline. By default, this is turned on. You need to click the toggle button to turn it off.
That's it! Now you cannot find any suggestions on Timeline.
2] Using Registry Editor
If you want to try something new, you can head over to Registry Editor and follow these steps. Before that, create a backup of Registry files or a system restore point.
After that, navigate to the following path in Registry Editor-
HKEY_CURRENT_USER\SOFTWARE\Microsoft\Windows\CurrentVersion\ContentDeliveryManager
On your right-hand side in ContentDeliveryManager, you will find a key called SubscribedContent-353698Enabled.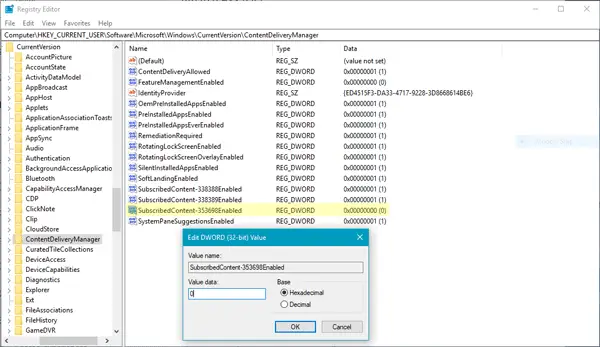 By default, it should have a value of 1 (One), which means it is enabled. Double-click on this key and set the value to 0 (zero0.
I hope this helps!