Apart from the changes introduced for display, settings options in Windows 10 new additions has been made to PC games in the Xbox app. The real-time activity of the app enables you to see at a glance which friends are online and in turn, allows your friends on Xbox Live to see when you're playing a PC game, and what PC games you recently played.
Although Xbox Live helps you connect with friends and make new friends so that you can chat, attend gamer events, and share photos, it can be a source of distraction. If you do not want to be bothered by this behavior, or if you do not want to be seen online, you can stop your friends from viewing your Xbox online status by hiding your online status.
So if you want to hide your Online Status in XBox on Windows 10, you will have to change Xbox Privacy & Online settings. When you change the settings, you will be able to stop your Friends from viewing your Xbox online status.
Hide Online Status in Xbox app
Xbox app on Windows 10 has some privacy and sharing settings. To access it, open the Xbox app.
When opened, click the Settings icon on the left and scroll down until you find Xbox.com. The option should be visible under 'Privacy' section. The option specifically is stated under the 360 Privacy section and further noted in brackets.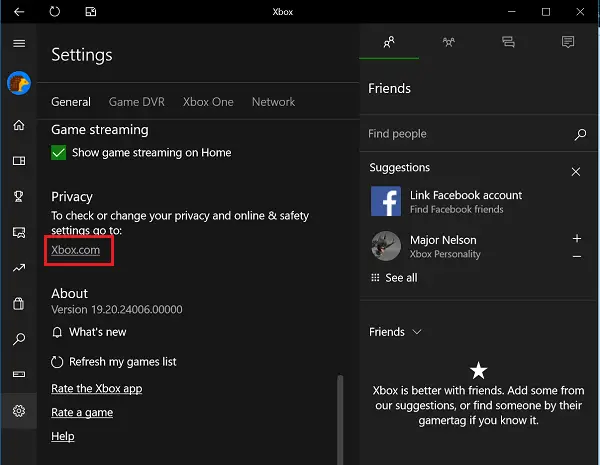 You can also access the same via Xbox Account settings site in your web browser.
Scroll down to the "Privacy & online safety" page to the "Others can:" section.
Find the "See if you're online (Xbox: Online Status)" setting and set it to "Block" to stop others from viewing when you're online and which games you're playing. When you set this option to "Friends", only your friends will be able to view when you're online and what you're playing.
Next, search for "See your game and app history (Xbox: Game History)" option and set it to "Block" to prevent people from seeing a list of games you've recently played.
Finally, click the "Save" button appearing at the bottom of the page to save your settings.
Hope that helps.