Microsoft rolled out Windows 10, and it brought numerous new features. The Taskbar clock introduces a new feature that shows the agenda for the day if you click on the "Agenda" link. Now, if you do not want that happening on your machine, and want to remove it, follow this trick to hide the Agenda from the Taskbar clock.
The Agenda section of Taskbar clock shows all the tasks that you have scheduled in your Calendar for that day. This is a pretty useful feature that helps you to find the tasks for the day without even opening the Calendar app on your Windows machine. However, if you do not use this Calendar or the Agenda or do not schedule anything, you can hide this feature.
Hide Agenda from Taskbar Clock in Windows
To hide the Agenda from Taskbar clock you do not have to install any third-party software, as the option comes included in Windows 10 Settings.
So press Win+I to open the Windows Settings panel and go to Privacy settings.
Here, select Calendar on the left side. On the right-hand side, you will get an option under Calendar. Here you can toggle the switch to the Off position to deny access to all apps, or under Choose apps that can access calendar you can select the apps like People, Windows, etc, and deny access to select apps.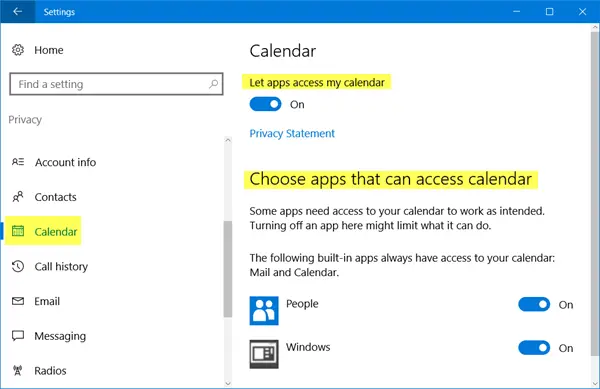 It will completely remove the Agenda section from Taskbar clock. However, if you use the Agenda but do not want to get them in that section, you can directly hit the
However, if you use the Agenda but do not want to see it in this section, you can simply hit the Hide Agenda button.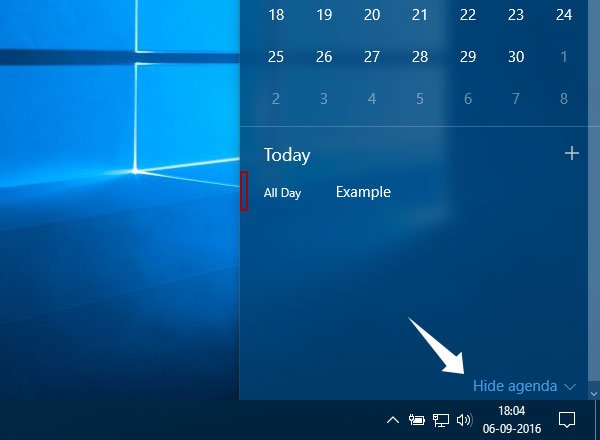 That's all there is to it. it!
Here are some more Windows 10 tips and tricks you may want to check out.