One of the worst things that can happen to you online is getting your Google account hacked. Owing to the fact that all your Google services – Gmail, YouTube, Google Plus, Adsense and more – are connected to the Google account, hacking of one account means hacking of all the services. Not only can the hacker read your emails, but he or she can also send emails from your Gmail account – risking your reputation and harming your dignity. Or even worse, it can be a case of identity theft. So what to do if Google account is hacked?
This article talks about steps to take when the Google account is hacked and how to recover from the losses arising out of the episode.
Google Account Is Hacked
There may not be any comprehensive methods to tell if your Google account is hacked. You may receive a mail from Google talking about suspicious activities from one of your Google linked accounts. You may see undelivered mail notifications to email addresses that you do not know. You may notice that email forwarding is set up to an email address that you do not recognize. There are many ways how a hacker can use your Google account once it is hacked. The most common of them all is to send messages on your behalf. If you see unknown emails in the Sent folder of your Gmail account, know that the account is hacked. In simple words, keep on reviewing the account settings every few weeks. If you find anything abnormal, consider the steps mentioned in this article.
Read: Have I been Hacked? Was my online account Pwned?
Can You Access Your Google Account?
In most cases, the hacked leaves the account credentials unchanged so that you do not suspect account compromise. In rare cases, however, the hacker may change your Google login credentials and also remove the phone and alternate email address associated with the account. In such a case, it becomes very difficult to regain control of that Google account – as Google will ask you for the exact date when you created that account. This information is hard to remember unless the email notifying you of account creation was backed up to some other email address to which, you have access.
In the simple case of the hacker changing the password, you can notify Google of the hacked account. You will be asked for the alternate email ID you provided to Google and if it matches their records, they will send the new password to that ID.
In the case where the hacker removed the alternate email ID associated with the account, it is almost impossible to regain control of the account. If you tried the above link and still did not receive the new password (after trying it two to three times), you can be sure the alternate email ID has been removed by the hacker. In this case, visit Google Help Center and tell them you have other problems accessing your account (see fig below).
The next few screens will ask you few more questions and then try to provide you with the login credentials.
If your phone information is still with Google, you may be lucky. However, I don't think a hacker who would remove an alternate email ID would leave the phone information.
Your last resort is to visit the password recovery page of Google and start a wizard that walks you through different questions to help you regain your account credentials.
You will be asked if you are having trouble signing in. Check the correct option and proceed.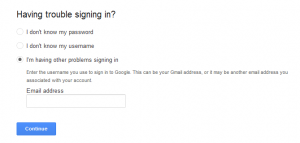 Enter the required information.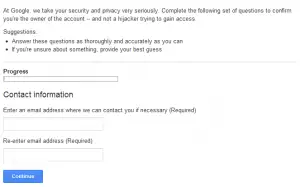 Keep it in mind that it might not be possible to recover the account when the hacked has removed your alternative email ID and phone information from your Google account and you do not remember the alphanumeric code sent to you when you created the Google account in question. In such case, the only option left is to inform about the hacked account to all those important to you so that they do not fall prey to hacker's phishing attempts. That way, you will also come to know if the hacker is using your identity for anything dangerous. You may want to file a report with local police in case of identity theft just to be on the safe side.
Read: What to do if Microsoft Account is hacked?
If You Can Access Your Google Account
If the hacker has not changed your login credentials, or if you were able to regain control of your account using your alternative email ID or phone, you need to check out for any damages done to your account.
Change the password to something that is new and has not been used anymore

If using the same password with other accounts,

change them as soon as possible so that the hacker cannot take control over them. For example, if your hacked Google account had the same password that you use on LinkedIn, you need to change the LinkedIn password as well.
Check the Sent Items folder to see if the hacker contacted anybody. If he did, contact those people and tell them your Google account was hacked and that message was sent by the hacker.
Check the Google account settings to see changes. Most often, hackers add forwarding of Gmail emails to another account. They may also set up other accounts to use your Gmail account to send emails. You need to reverse the settings. The important areas to check are 1) Accounts and Imports and 2) Forwarding and POP.
Check the CHAT area for finding out if the hacker used the feature to chat with anybody under your identity. If he did, you need to notify the person whom he contacted using chat.
Read: What to do when your Twitter account is hacked?
Scan Your Computer For Malware
One of the possible causes for a locked-down account or a compromised account is the presence of malware on your computer. Use Microsoft Security Essentials or some other trusted anti-malware to scan your computer and eliminate any possibility of any malware. You can also use the trial version of McAfee or Norton.
Read: What To Do When Facebook Account Is Hacked.
Turn on 2-Step Verification
The 2-Step Verification adds an extra layer of security to your Google Account, drastically reducing the chances of having the personal information in your account stolen.
TIP: Locked out of Google Account? Follow these Google Account recovery steps.
The above explains what to do if the Google account is hacked and how to recover and secure it.